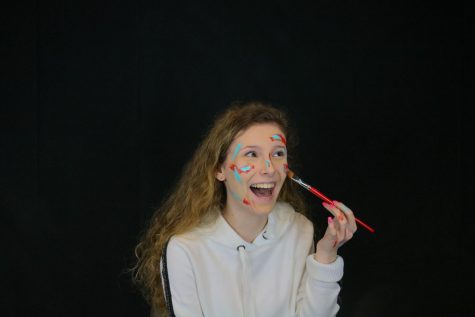 Photo:
Callie Hollis
            A well-rounded individual with an award-winning artistic career, Madeline Sisk is one of
The Lodge's
more unique budding journalists. Being the youngest staff member of the 2019- 2020 school year, she was encouraged to join
The Lodge
after several staff members noticed her illustrious academic and artistic achievements throughout her, then, only year-long high school career. With a great deal of ambition, Madeline plans on using her position as a Lodge member to give previously under-represented students a voice. Going beyond high school, Madeline hopes to use her creative aptitude in her pursuit of a career as either a journalist or architect; although, she expects to continue exercising her artistic talent in her drawings and paintings as well. Beyond her creative and hard-working demeanor, she is a diehard fan of Ryan Reynolds, enjoying both his impressive acting career and down-to-Earth personality. Altogether, Madeline provides a unique perspective, being remarkably talented both artistically and academically, and has proven herself to have substantial journalistic potential as she pursues her new job as a Lodge staff member. 
Madeline Sisk, Reporter
Apr 02, 2020

Ms. Allison's Recommended Read Alikes

(Story)

Mar 30, 2020
Dec 05, 2019

Taking a Chance on Pottery

(Story)

Dec 04, 2019

Coffee House 2019

(Story)

Oct 18, 2019

Madeline's Monthly Horoscopes: Halloween

(Story)

Sep 11, 2019

Madeline's Monthly Horoscopes: Back to School

(Story)