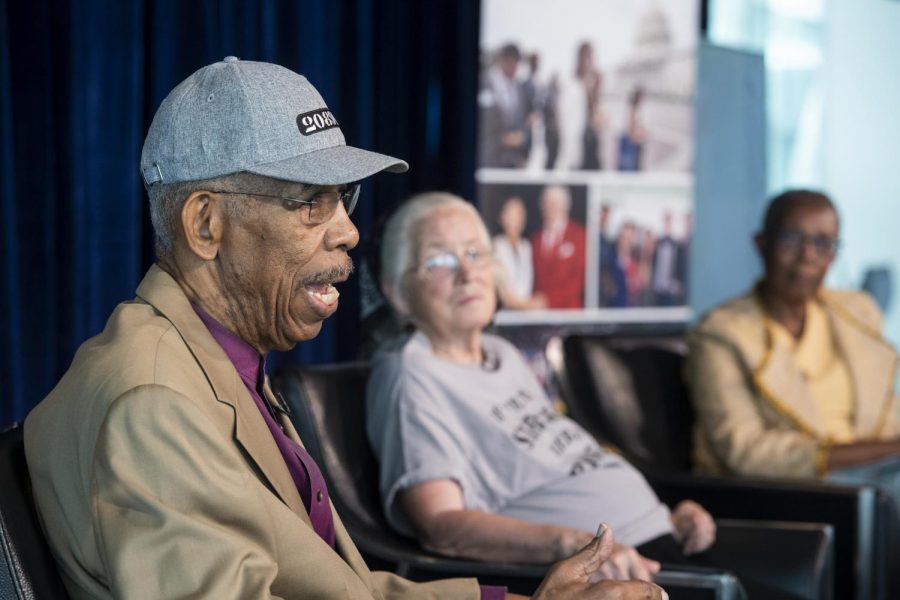 Cary Robbins, Editor of Feature Stories
November 29, 2019
"[The guards would say,] 'If you don't stop that singing, we're gonna take your mattress away from you.' So they opened the door, we threw our mattresses out in the hallway," freedom rider Dr. Ernest Rip Patton said.  This is just one of the many examples of the bad conditions freedom riders experienced during the 1960s. When guards tried to take away the mattresses of freedom riders,...
November 25, 2019
Everybody remembers the scene in "Mean Girls" when the lazy Coach Carr delivers his sum total of sex education: "Don't have sex, because you will get pregnant and die!" While the depiction of sex ed in movies and TV is laughable, having nothing at all may be even more so. Last year, St. George's Collierville campus had no formal sex education at all, and it's been over two years since...
November 12, 2019
Am I the only one worrying about Disney+? Sure, I'm excited, too. Who wouldn't be? While I am most excited for the adult-oriented Star Wars series, "The Mandalorian," fans can also look forward to the mockumentary series, "High School Musical: The Musical: The series." The service will also have multiple nonfiction series, all being published at launch on November 12. There are also dozens...
Editorial: Telling Our Own Stories
November 7, 2019
If you're in the upper school, you've seen the TED talk on "The Danger of a Single Story," likely multiple times. In her talk, author Chimamande Ngozi Adichie focuses on the pitfalls of presenting only one narrative, either of cultures or of individuals. She states that receiving a single-story closes out the possibility of under-standing the nuances of that culture or individual and creates...
Disney Live Action Remakes: More or Less?
October 28, 2019
In recent years, production companies have produced remakes of myriad classics films. According to the British online newspaper the Independent, Disney alone has created 10 remakes since 2010, which have grossed over $7 billion in the box office collectively. These remade films have garnered a wide range of opinions, ranging from disgust to disappointment to praise and sometimes a loss of words. Some...
Homecoming in the Lobby: Flop or Fly?
October 21, 2019
Ideally, a homecoming dance sets the standard for all school events, similar to fashion week in New York or the red carpet debut for award shows. This year's homecoming was extraordinarily well put together from the music to the food.  To me, homecoming has always been the model of how great the school year will or will not be. I originally was not fond of the change in location to the lobby....
2019 Tonys: Complete List of Predictions!
May 31, 2019
Just in case you get dragged to a Tonys party, check out this list, so you can seem educated and shock everyone into thinking you have an extensive knowledge of Broadway! Click below on the hyperlinks (the red titles) to be redirected to my in-depth analysis of the category, if you'd like. Also, comment below if you disagree! Who do you think will take home the Tony? Best Musical Who...
May 19, 2019
Stick to a routine Hey, is your life going off the rails? Try a routine. According to Northwestern Medicine, people who do not follow a routine often run out of time, while having a routine helps people can stay on track. "People who set routines tend to stick to them better," Dr. Stewart Burgess, a child psychologist and psychology teacher, said. "The times when you most need to take care of...
May 13, 2019
Mental Health is Not a Choice "People think of mental health as a mindset, not a chemical imbalance. You cannot just flip a switch and change your entire demeanor." - Senior Danielle Chandler "It's a biochemical thing that you have no control over. Then I think understanding it as that, breaks that stigma a little bit because you can't control it, like you can't control it if you have...
April 2, 2019
While lacking a formal definition, dark humor is widely considered to be humor which pokes fun at serious topics like natural disasters, mental illness and recent or past tragedies. A recent rise of the use of this kind of comedy on the internet has sparked controversy regarding the use of sensitive topics as a comedic medium.