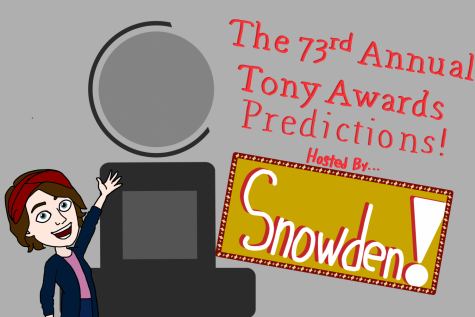 Snowden Farnsworth, Co Editor-in-Chief
May 31, 2019
Just in case you get dragged to a Tonys party, check out this list, so you can seem educated and shock everyone into thinking you have an extensive knowledge of Broadway! Click below on the hyperlinks (the red titles) to be redirected to my in-depth analysis of the category, if you'd like. Also, comment below if you disagree! Who do you think will take home the Tony? Best Musical Who...
May 19, 2019
Stick to a routine Hey, is your life going off the rails? Try a routine. According to Northwestern Medicine, people who do not follow a routine often run out of time, while having a routine helps people can stay on track. "People who set routines tend to stick to them better," Dr. Stewart Burgess, a child psychologist and psychology teacher, said. "The times when you most need to take care of...
May 13, 2019
Mental Health is Not a Choice "People think of mental health as a mindset, not a chemical imbalance. You cannot just flip a switch and change your entire demeanor." - Senior Danielle Chandler "It's a biochemical thing that you have no control over. Then I think understanding it as that, breaks that stigma a little bit because you can't control it, like you can't control it if you have...
April 2, 2019
While lacking a formal definition, dark humor is widely considered to be humor which pokes fun at serious topics like natural disasters, mental illness and recent or past tragedies. A recent rise of the use of this kind of comedy on the internet has sparked controversy regarding the use of sensitive topics as a comedic medium.
January 28, 2019
The holiday season is depicted as a joyous time, with a break from school finally leaving you time to sleep in or catch up on your Netflix shows. With winter comes a chance of snow due to dropping temperatures and longer nights. But as happy as parts of the season are, there seems to be a subtle sadness lying just beneath the facade of Christmas lights and decorations Serotonin is a neurotransmitter...
January 15, 2019
Every year, many people in the nation partake in the annual custom of making New Year's resolutions. These can include, but are not limited to, going to the gym, going on a diet or travel. Although it may seem like a light-hearted tradition, there are many controversies surrounding resolutions. Some see it as a joyous holiday tradition, while others find it an unproductive waste of time.
What the Public Deserves to Know
December 18, 2018
It's not uncommon for people to see politicians committing crimes to gain fame and political standing in TV shows like Scandal, House of Cards or The West Wing. As much as we'd like to believe this is just fiction, the United States government does not have a perfectly clean slate of being forward and honest with the American people. The country was founded on the idea that freedom of speech...
November 26, 2018
I first started looking into the complicated relationship between Trump and the media after attending the Al Neuharth Free Spirit Conference in D.C. this past summer. Famous photographer Doug Mills was one of the speakers at the conference and told the other students and I about his job of photographing every president from Ronald Reagan to current president Donald Trump. Mr. Mills told us about...
About that Kaepernick Campaign
October 29, 2018
Last month, Nike released a new marketing campaign featuring Colin Kaepernick, who has been shrouded in controversy since 2016 due to his choice to kneel during the national anthem to protest racial injustice. The campaign has been plastered everywhere, from San Francisco to New York City, and the discussion it has brought about has been virtually inescapable on social media. The ad has been divisive,...
September 4, 2018
As the 49ers prepared to take the field on Aug. 26 of last year, Colin Kaepernick, now a household name, knelt during the national anthem in order to protest police brutality and social injustice in America. Over the past year, other players, including Michael Wilhoite, have joined in the kneeling, while some teams, including the Tennessee Titans, opted to not take the field until the anthem ended....