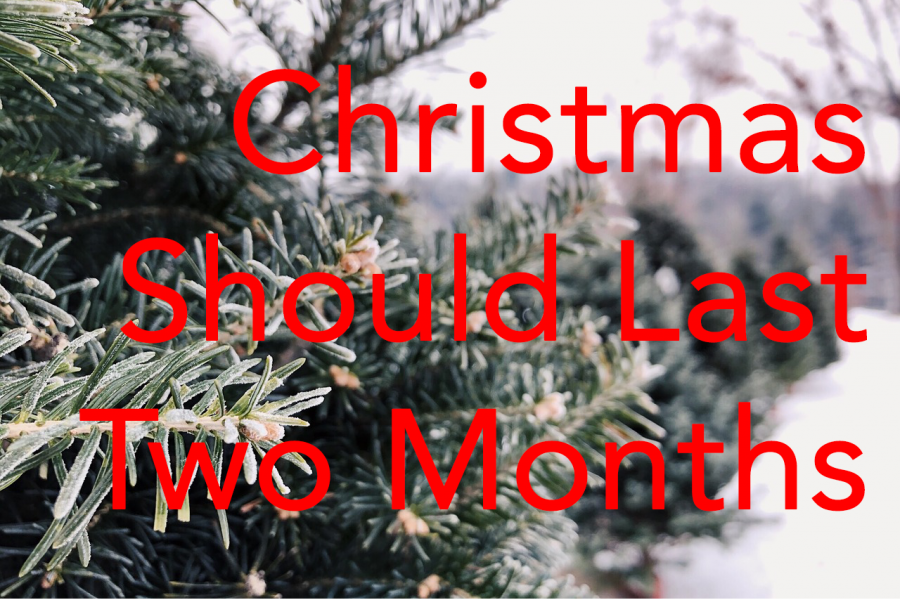 Ellie Christie, Reporter
December 11, 2020
Christmas celebrations this year should've started on the first day of November. Before anyone starts arguing with me about Thanksgiving, I'll just say it: Thanksgiving sucks! Pumpkin pie and cranberry sauce absolutely slap, yes, but I sure didn't need a whole holiday for them. Thanksgiving is so boring. Did it really make you feel any better about the state of the world? Did you spend that...
Best Hot Chocolate You Can Find In Stores
December 9, 2020
Private Selection White Chocolate Hot Chocolate: -1000/10 I know what you're thinking. Yes, this smells as BAD as it looks. It tastes just awful. I'm not going to lie, this made me almost throw up. Imagine: I take a sip and I immediately sprint to my fridge to find something to help drown out the gross taste. As one can tell, this was not a fun experience in the slightest. I could not get rid of the...
December 3, 2020
At the start of pandemic school, students had the option to turn cameras on or off, but as we got deeper into the school year "Zoom etiquette" became less of an expectation and more of a requirement. On November 6, Director of the Upper School Ms. Pam McCarthy sent a reminder to the student body of the expectations for attending school remotely via Zoom. One of the requirements is having your camera...
November 23, 2020
On school mornings, my mom fills out my app, takes a screenshot of the green "GO" sign, and sends it to me so that I can easily pull up my results and pull through to park when I get to school. Before my mom and I figured out this process, I did my own app. I would fill it out at breakfast most of the time, but on days I forgot, I would remember on the way to school. I'd find myself filling out...
November 16, 2020
This year has been a whirlwind of change, from having to wear masks to staying six feet apart to attending school virtually, which are all things I partake in. However, as luck would have it, I was close-contact traced by my school and the Shelby County Health Department. According to the CDC, this means I was within six feet for 15 minutes or more with someone who tested positive for COVID-19. As...
November 12, 2020
In March of 2017, Instagram created an "in-app shopping destination where people can discover products and brands they love." This new feature was intended to help brands promote their products more effectively through social media. Instead, users got a useless scroll of items that businesses have tagged for sale. In May 2020, Instagram phased in a new app layout to optimize small business support...
The Electoral College Is Broken
November 3, 2020
"We hold these truths to be self-evident, that all men are created equal, that they are endowed by their Creator with certain unalienable Rights, that among these are Life, Liberty and the pursuit of Happiness. – That to secure these rights, Governments are instituted among Men, deriving their just powers from the consent of the governed, – That whenever any Form of Government becomes destructive...
April 21, 2020
I live in Memphis Tenn, and as I drive downtown, I pass by streets that have freshly cut lawns and newly painted houses, but the next street over could be vacant with trash covering the lawns and homes with broken windows. I find myself asking, why is the poverty of my hometown so bad, and how can we as a community help these neighborhoods that are suffering today? The answer isn't black and white,...
Keiara's Top Ten Tik Toks:Dance challenges
April 15, 2020
Welcome back to top 10  Tik Toks with me Keiara This week's Tik Toks will feature various dance challenges. The challenges keep coming so let's get to my top ten dance challenges  The first dance I found quite interesting was one that took you way back. The  "Can't Touch This challenge" is really fun to try when you are in your room enjoying the classic fun  https://www.tiktok.com/@spencerx/video/6805268417709460742 If...
Is the United States Prepared for the Pandemic?
April 5, 2020
The coronavirus, COVID-19, is hitting the United States hard, and on Friday March 27, the U.S. grew in the number of coronavirus cases. It became the number one country in the world with the most reported cases. As of April 1, there is reporting of 208,029 cases in the United States alone, which has gone up significantly from Friday when there were about 82,000 reported cases. The big question is how...