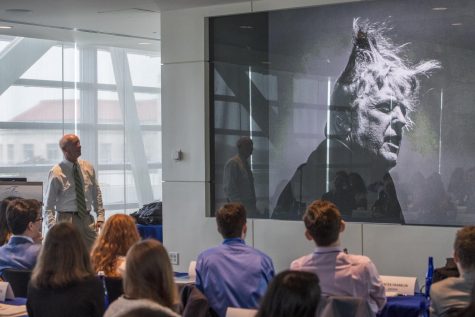 Emma Bennett, Co-Editor-in-Chief
November 26, 2018
I first started looking into the complicated relationship between Trump and the media after attending the Al Neuharth Free Spirit Conference in D.C. this past summer. Famous photographer Doug Mills was one of the speakers at the conference and told the other students and I about his job of photographing every president from Ronald Reagan to current president Donald Trump. Mr. Mills told us about...
About that Kaepernick Campaign
October 29, 2018
Last month, Nike released a new marketing campaign featuring Colin Kaepernick, who has been shrouded in controversy since 2016 due to his choice to kneel during the national anthem to protest racial injustice. The campaign has been plastered everywhere, from San Francisco to New York City, and the discussion it has brought about has been virtually inescapable on social media. The ad has been divisive,...
September 4, 2018
As the 49ers prepared to take the field on Aug. 26 of last year, Colin Kaepernick, now a household name, knelt during the national anthem in order to protest police brutality and social injustice in America. Over the past year, other players, including Michael Wilhoite, have joined in the kneeling, while some teams, including the Tennessee Titans, opted to not take the field until the anthem ended....
September 4, 2018
The Deferred Action for Childhood Arrivals program was an executive order signed into law by President Barack Obama. DACA protected children of undocumented immigrants from being deported as long as certain criteria were met like one has to be under 16 when one came to the US, have a high school diploma or GED and have no felony or serious misdemeanor convictions. DACA remained in place until President...
September 4, 2018
The battle royale video game genre has become incredibly popular in the past year. This type of game involves 90-100 people dropped into an area where they are meant to gather supplies and survive. The last man standing is the winner. Currently, there are two battle royale games that dominate the genre and have become a matter of debate among players: Fortnite and PUBG. Fortnite is a cartoonish, playful...
Five Quick Breakfasts To Change Your Life
August 24, 2018
For the Hungry: A Big Ole' Bowl of Oatmeal Great for test days, oatmeal fills you up without making you crash later. Just a half cup of old-fashioned rolled oats, a cup of water, a dash of salt and you have a wonderful, wholesome meal. Bonus Points If You: Add cinnamon, bananas, and honey for a bit of flavor. For the Rushed: A Variety of Toasts From peanut butter...
Editorial: Support free student journalism
May 17, 2018
The National Scholastic Press Association implores high school journalists to follow a seven-principle Code of Ethics: be responsible, be fair, be honest, be accurate, be independent, be accountable, and minimize harm. For many high school journalists, these principles are not just suggestions, but mandates which they dedicate their journalism careers to upholding. Yet, despite the best efforts...
May 17, 2018
We can all agree that education is a basic human right, so why are so many youth in America being deprived of it? Many adolescents do not have access to sexual health education with fewer than half of high schools and only a fifth of middle schools teaching the topics recommended by the Centers for Disease Control and Prevention (CDC). Making the issue worse, the government's proposed...
It's a matter of entertainment
May 17, 2018
Where are we dropping, boys?" This is the question that millions of gamers all around the world have been asking each other the past six months. Even if you've been living in a cave for the last year, you've still probably heard of Fortnite. Fortnite has exploded all over the world, with European Futbol players celebrating with Fortnite-themed dances after scoring goals, UMBC basketball players...
Editorial: We must join the conversation
April 10, 2018
Most people remember the three words they learned as children when taught how to react to a fire: stop, drop roll. Nearly as many know where to go when a tornado siren blares in their city: a hallway, bathroom or stairwell. When an earthquake alarm goes off, millions of students dive under desks and cover their necks. Although all of these disasters are unpreventable, can the same be said for other...