Evan's guide to all things NFL: Week 12 NFL power rankings
Analyzing week 12 of the NFL season as the playoff picture continues to take shape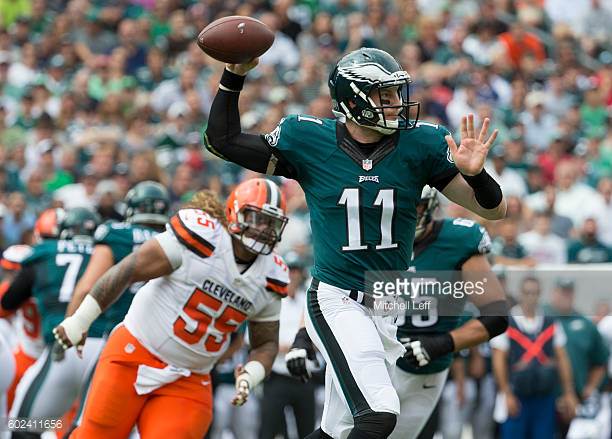 Preface: I took last week off from publishing power rankings. It was a busy week because of Thanksgiving and time off that ended up being spent doing other things, and Week 11 didn't exactly lend itself to giving adequate time for writing power rankings very expertly. So I'll be cutting out the "down X spots from last week" because it's been two weeks, and that wouldn't necessarily tell the story of any given team's performance in Week 12. Furthermore, these blurbs will be a little shorter than you're used to because I squeezed this week's column out in a rather tight window. Especially with the triple-header on Thanksgiving Day, it made sense to take a break for a week, and I spent my football-brainstorming-time working on a two-round 2018 mock draft I hope to bring to my readers soon. Thanks for always reading!
1. Eagles (10-1)
I've been saying this for weeks – you can't knock the Eagles out of first place until they give you a reason to do so. This team controls its own destiny, and I have every reason to believe they'll be the team representing the NFC in the Super Bowl. Carson Wentz has shown no signs of slowing down, and superb play by essentially every other starter on the team is keeping the Eagles squarely in control of the NFL.
2. Vikings (9-2)
The Vikings are streaking (seven consecutive wins), and they have all the momentum they could ask for going into the final weeks of the season. They have a couple of challenges ahead of them as they face two of the NFC South's three powerhouses (Atlanta in Week 13 and Carolina in Week 14). Those will be the test of the team's ability to succeed, and they will likely determine Case Keenum's future, short term and long term, with the team.
3. Patriots (9-2)
The Patriots are looking like the Patriots. In other words, there's no reason to believe they won't find themselves in a very winnable matchup in the AFC Championship with the team that follows them, the Steelers. This team just doesn't have the competition, especially in their division, to put them in any danger of being considered anything but elite.
4. Steelers (9-2)
As I said, the Steelers are the favorite to challenge the Patriots for the AFC crown. Personally, I think the Super Bowl would be more interesting without the Patriots, for the simple reason that they're the favorites to represent the AFC in that game essentially every single year. This Steelers team not only has what it takes to beat the Patriots, but they have what it takes to beat anyone. All will be put to the test in Week 15 when the Steelers host the Patriots at Heinz Field, where it's very difficult to win as the visiting team.
5. Rams (8-3)
If I had written power rankings last week, the Rams would have suffered a little bit for finally losing again, but it was to the Vikings, so that's not exactly a bad loss. And after beating the streaking Saints this past weekend, the Rams have reminded us that they are among the NFL's elite and are in a prime position to contend for the NFC Championship. Another of this season's marquee matchups will come in Week 14, when the battle-proven Eagles travel to Los Angeles.
6. Saints (8-3)
The Saints' recent loss to the Rams shouldn't be seen as much of a demerit because they simply lost to a better team. The Rams are more well-rounded and have a better defense. But the Saints should be wary of what's to come. Losing in Week 12 made them lose the momentum they picked up over the course of their eight-game winning streak, and now they have to face the playoff-hopeful Panthers in Week 13. If they drop that game, it would mean the temporary end of their reign over the NFC South.
7. Panthers (8-3)
The Saints' next challengers find themselves sitting just one spot below them, so not only will this week's NFC South showdown between Carolina and New Orleans have divisional standing and playoff implications, but it will determine who moves in the rankings. A quality win for the Saints would likely jump them up a spot or two, and a revenge win for the Panthers would be huge for them. This Panthers team is capable of great things, and they'll need to prove that against the Saints.
8. Falcons (7-4)
The Falcons' recent successes before Week 12 had been mostly serendipitous, and other teams' failures were part of the reason they rebounded so well in these power rankings. But with a huge performance in Week 12 by unquestionable superstar Julio Jones, the Falcons have proven their worth and reminded us that they're not an offense you want to face.
9. Jaguars (7-4)
The Jaguars should have easily beaten the Cardinals, although they fought until the end and Blake Bortles had an uncharacteristic great game. He showed skill running the ball and protecting it, only throwing one interception against a stingy Cardinals pass defense. The Jaguars benefit from the reality that there is a clear power hierarchy at this point in the season, and they clearly still belong in the top tier of teams even after a loss.
10. Titans (7-4)
The Titans grab a top-10 spot simply because they've won a head-to-head matchup with the team right below them, the Seahawks. The Titans show plenty of promise, especially in the department of young talent, but they haven't been dominant enough to be considered an elite NFL team. They're still squarely in the playoff hunt, whether they win the AFC South or not, but any kind of deep playoff run shouldn't be expected.
11. Seahawks (7-4)
The Seahawks had a pretty normal win over the 49ers in Week 12, and the point differential would have looked a lot better if Jimmy Garoppolo hadn't stepped in to toss a touchdown pass as time expired. Nonetheless, the Seahawks have proven to be somewhat unstable thus far this season, and taking a look at their remaining schedule, I don't envy the challenges they face. Their easiest matchups come against the Cardinals and Cowboys – bear in mind that when they travel to Dallas in Week 16, they'll be facing Ezekiel Elliott in his return from suspension.
12. Chargers (5-6)
The Chargers' losing record doesn't stand out as overwhelmingly good, but considering they've won five out of their last seven after losing each of their first four games, their chances at making a playoff push are trending upward. Keenan Allen's recent explosion into an elite receiving option for the Philip Rivers-led offense makes them an appealing choice to win the surprisingly uncompetitive AFC West.
13. Lions (6-5)
The Lions haven't shown much in terms of raw talent this season, save for the consistency of Matthew Stafford and a semi-breakout season for Marvin Jones Jr. Their winning record keeps them in the top half of this week's rankings, but the Vikings' excellent play as of late has distanced the Lions more and more from the top of the NFC North.
14. Chiefs (6-5)
The Chiefs had their sights set on winning the AFC West, but their division rivals, the Chargers, as you read, have been making a playoff push in recent weeks. The Chiefs have been doing the opposite – after winning each of their first five games, they've dropped five out of their last six to opponents they seemed capable of defeating at the beginning of the season. It'll be a tough road to the playoffs from here.
15. Ravens (6-5)
The Ravens got as much national recognition as any other mediocre team would on Monday Night Football in Week 12, with the notorious compliment machine Jon Gruden dolling out comments about the Ravens' playoff hopes all night. Sure, this team has what it takes to make a playoff appearance in the mostly-weak AFC, but realistically, they're not going anywhere past the wild card round.
16. Packers (5-6)
The return of Aaron Rodgers is near, and the Packers have reason to be hopeful. The NFC North is close to being out of reach, but not entirely, and the wild card window seems to be closing. But if Brett Hundley can continue to perform like he did against the Steelers on Sunday night, the Packers just might be able to pull off a miracle and sneak into the playoffs if (when) Rodgers carries the team after returning in Week 15.
17. Cardinals (5-6)
The Cardinals have found themselves sitting at the bottom of these power rankings more often than not, but their win over a good Jaguars team sets them apart for the time being. The Cards have a couple more games that pits them against weak opponents, but this team's focus should be to determine their QB of the future – do they expect Carson Palmer to ever wear a Cardinals uniform again, is Blaine Gabbert going to take the lead or will they look to the solid QB prospects in the 2018 draft?
18. Raiders (5-6)
And thus the disappointment of a season continues for the Raiders. They had a dream matchup against the hapless Broncos in Week 12, and Denver's unwillingness to let Paxton Lynch be aggressive allowed the horrible Raiders defense to play respectably. Obviously, the Raiders will have plenty of work to do in the offseason, and drafting the running back of the future will be one of them, along with upgrading the defense wherever possible.
19. Bengals (5-6)
As is to be expected, I'm running out of things to say about several teams after 12 weeks of the season. The Bengals might be the most difficult to describe at this point. There's just nothing new about which to remark. Andy Dalton doesn't look like anything special; he's just a guy who stands in the Cincinnati backfield. John Ross has been a massive bust so far, so the Bengals will need to handle the upcoming offseason perfectly if they want to contend before starting a rebuild.
20. Redskins (5-6)
The Redskins are all but eliminated from playoff contention, and you'd probably assume that by looking at the way they've played this season. They've had their moments, but they just don't have the assets to be an every-year playoff team. Kirk Cousins' possible departure has been heavily discussed, and I wouldn't blame him for wanting out at this point.
21. Bills (6-5)
This is a team that should not have a winning record. Tyrod Taylor was apparently at one point the reason the Bills were facing difficulty, but if you evaluate this team as a whole, you have to believe he might be one of their few good players. LeSean McCoy is of course in that group as well, along with a few defensive players, but the Bills are reminding us that it's difficult to succeed without good players.
22. Cowboys (5-6)
The Cowboys haven't topped ten points in any of their three most recent games, and look absolutely dreadful without Ezekiel Elliott. Some are calling Dak Prescott a bust (that's ludicrous, he proved in his 15 starts last season that that will never be applicable to him), and some are holding out hope that he'll rebound. I agree that he'll rebound, but I also think it's clear he's much better with Zeke on the field with him.
23. Buccaneers (4-7)
The Bucs have saved themselves from falling to the absolutely pits of these power rankings with a couple of recent wins, but this season shouldn't be called anything but a lost cause, especially in the most competitive division in the NFL. Jameis Winston's remaining starts this season could give us an idea of how well he'll play next year after having plenty of time to heal up.
24. Texans (4-7)
You may have noticed that at this point in the season, many of the teams have essentially flatlined as several teams are losing control of their seasons, including the Texans. But in the midst of so many teams (15) having between four and six wins through 11 games, it's easy to lose track of certain teams' accomplishments. Just remember that the Texans have so much talent, but injuries have taken it away from them. Expect them to be a highly competitive team next season.
25. Jets (4-7)
The Jets have had an up-and-down season, looking worse than usual in the past few weeks. But the fact that they've come away with four wins in eleven games is quite impressive, considering the expectations set for them going into Week 1. They obviously will have a high draft pick, which will put them in a position to select their franchise QB. Can anyone say Baker Mayfield?
26. Colts (3-8)
The Colts are out of the bottom three this week, simply because the other teams in their realm of badness have been especially bad in recent weeks. Furthermore, the Colts have reason to be optimistic about the future – whoever is their starting QB next year (Brissett or Luck) will have a great opportunity to lead the Colts back to relevance, and the upcoming offseason presents a great opportunity for the front office to lure free agents to a historically good franchise.
27. Dolphins (4-7)
The Dolphins' 4-7 record doesn't tell the story of how bad their season has been. They should never have won four games in the first place, and only one of those wins came by more than 3 points, all of which were come-from-behind wins for Miami. The win over the Titans looks good considering the Titans' 7-4 record, but as I hinted at in the blurb about the Titans, Tennessee isn't a quality win in the grand scheme of things.
28. Bears (3-8)
The Bears blew a chance to have a solid season. First, they should have drafted Deshaun Watson over Mitch Trubisky, but that's another rant for another time (Watson is happy in Houston, so I'm okay with it). Jordan Howard has had an okay. season, but it's been a little more of a roller coaster than he'd probably like. The defense has emerged as one that is not terrible and is in fact visibly improving. I'll leave it to you to determine how they've only won three games.
29. Giants (2-9)
It may seem wrong to rank the Giants anywhere outside the bottom three after their inexplicable benching of franchise QB Eli Manning, but the reason I let them jump the Broncos is the QB situation. The Broncos have no foreseeable future at QB (sorry, hometown hero Paxton Lynch), and while the Giants are about to endure an awful game by Geno Smith on Sunday, the horror show will be past as soon as coach Ben McAdoo is fired after the season.
30. 49ers (1-10)
Much like the Giants, the 49ers are able to jump the Broncos because of their QB situation. Jimmy Garoppolo got all of 67 seconds of game action in his first appearance as the future of the franchise, but he looked good, extending plays and even putting points on the board, something of which the Niners were almost entirely incapable before Garoppolo entered the game.
31. Broncos (3-8)
There's little love lost between myself and the Broncos (as a Panthers fan, I've never really forgiven them for Super Bowl 50), but it hurts to see Paxton Lynch, perhaps the greatest Memphis QB of all time, struggling in Denver. He finally had his shot, but left with an injury. The poor play before he exited was blamed on him, when instead it was the horrible offensive line, bad play by the receivers and coaching errors that held him back. I don't expect him to have a future in Denver, but he's not done with his NFL career yet.
32. Browns (0-11)
As I said, some of these blurbs were a little shorter than usual, so I'm going to take full advantage of giving myself a pass to write less about the Browns. There's just nothing left to say about this team. The Cleveland Browns are perhaps the worst NFL franchise to have ever existed. Case closed.