Evan's guide to all things NFL: Week 8 NFL power rankings
Breaking down NFL teams' strengths and weaknesses through the first half of the season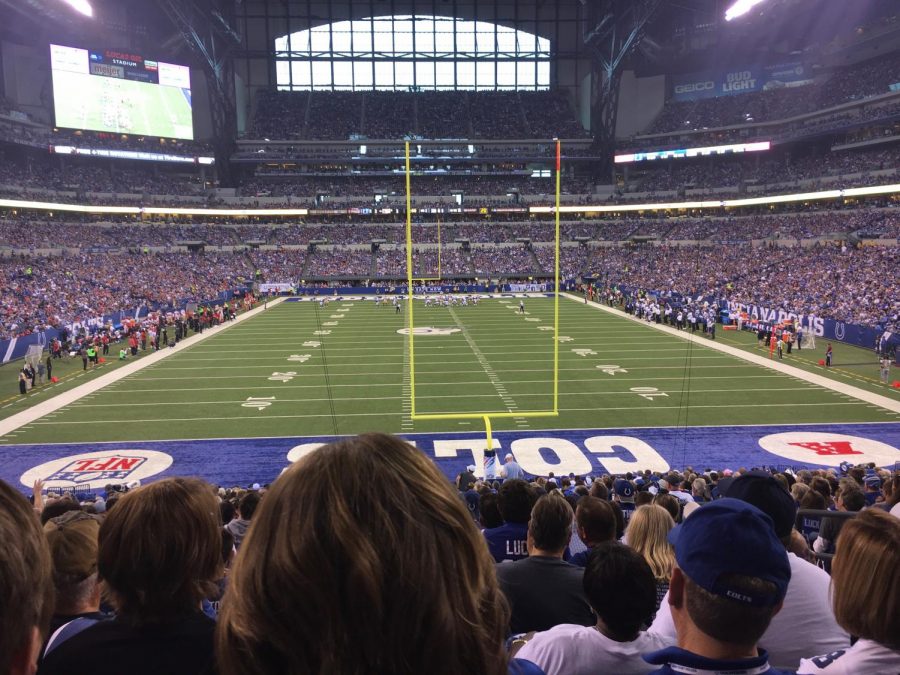 Biggest Jump: Ravens, 15 spots
Biggest Fall: Dolphins, 13 spots
1. Eagles (7-1, no change from last week)
No surprise here. As long as the top team keeps on winning, it will stay right here. That's exactly what the Eagles are doing – they cruised to a victory over the weak 49ers in Week 8, and they have a great chance to eat the Broncos alive this Sunday. Oh, and let's not forget – the Eagles acquired Pro-Bowl running back Jay Ajayi before the trade deadline. Ajayi has had a rough 2017 campaign, but he could easily rebound immediately in an offense that has been firing on all cylinders so far. This takes pressure off LeGarrette Blount and also means that less-experienced runners like Wendell Smallwood and Corey Clement won't be forced into big roles.
2. Steelers (6-2, up 2 spots)
The Steelers slip past the Patriots in this week's rankings for a couple of reasons. First, the Patriots deserve to be knocked a little bit for their rather boneheaded move in trading Jimmy Garoppolo away. Sure, he's good enough to start for the 49ers, but why let go of him if the only payout is a second-round pick? Another reason for the Steelers' rise to second place is their solid performance on Sunday night. At the risk of sounding too excited about a rookie WR, I'll assert that JuJu Smith-Schuster looks like the second coming of Odell Beckham Jr. Both had that *one* breakout game that, if this analogy is accurate, would later become the turning point of their young careers before becoming true superstars.
3. Patriots (6-2, down 1 spot)
My thoughts about the Pats' trade of Jimmy Garoppolo have already been expressed, so I'll move on to game analysis. The Patriots should have performed better against the Chargers, but their defense gets a pat on the back from me for holding them to 13 points, with the only touchdown coming on a big run from Melvin Gordon thanks to a lapse in run coverage ability by the Pats' secondary. The Pats get a bye before heading to Denver to take on a flailing Broncos team that will likely have just been dismantled by the Eagles. The season looks promising for the Pats in every department, even though the defense hasn't played particularly well.
4. Seahawks (5-2, up 1 spot)
The Seahawks look to have fallen back into their rhythm after faltering early. They came out with a win in what has to be considered the best game of the season so far. The defense didn't particularly step up, allowing 38 points, but you can credit that to Deshaun Watson's genius as a playmaker. Russell Wilson's excellent performance in the win was outshined by Watson's, but Wilson still deserves lots of credit. The work he's been able to do behind a putrid offensive line so far is impressive, and he should be better protected after the Seahawks acquired Duane Brown from the Texans.
5. Rams (5-2, down 2 spots)
I'm getting closer to being accustomed to these new-look, sharpshooting Rams. They have one of the most high-powered offenses in the league, and the defense has been playing well enough to keep them in a position to win every week. Their five wins through seven games has already eclipsed last year's win total, which should be immensely encouraging. Their QB/RB combo is looking much better than they did last year, with Jared Goff filling his role as likely franchise QB and Todd Gurley being absolutely explosive. That's what happens when you rack up young players and let them develop.
6. Chiefs (6-2, up 1 spot)
I didn't think to include this stat in last week's rankings, simply because I didn't know about it: the Chiefs have three turnovers this season. This stat has been easy to miss because their first and only turnover until Monday night's win over the Broncos came on their first offensive play of the season, when presumptive Rookie of the Year Kareem Hunt fumbled on his first NFL carry. That in itself has proved to be a rare occurrence, as Hunt hasn't fumbled since then, and the other two turnovers happened when receiver Tyreek Hill threw an interception on a WR pass play, and when Alex Smith lost a fumble. All of this to say that the Chiefs are still very good, and their two losses probably won't rattle them all that much.
7. Saints (5-2, up 1 spot)
The Saints are finding it hard to lose, which, as you may have observed, is a good thing. They are winners of five games in a row, which is the second best streak in the league behind the top-ranked Eagles. I should probably bump them up a little higher, but there's so much talent to be excited about in the six teams above them, so I'm comfortable keeping them seventh for now. They have a (possibly) very easy matchup with the Buccaneers in Week 9, so it's likely they'll keep their hot streak alive. With none of their divisional rivals living up to their seasons' expectations, the Saints are in a good position to win the NFC South if they continue to play this well.
8. Vikings (6-2, down 2 spots)
This is a big week for the Vikings. Most of the players get to relax over the bye week, but all three of this team's QBs are on the edges of their seats to see who will be starting in Week 10. At long last, Teddy Bridgewater is finally healthy and ready to play, so the Vikings could easily turn to him to lead the offense in their Week 10 matchup with the Redskins. Case Keenum has been a fine fill-in at QB, but a healthy Teddy Bridgewater is too good not to use (oh, and you should add him to your fantasy team as soon as possible). The QB situation seems stable with Keenum backing up Teddy Bridgewater, so Minnesota may want to consider trading Sam Bradford to a team that needs a veteran QB with a few years left in him (see the Cleveland Browns, Miami Dolphins, and New York Jets).
9. Bills (5-2, up 2 spots)
I can't keep the Bills out of the top ten. Yes, that may sound like ESPN saying the same about the Grizzlies in its NBA Power Rankings when the Grizzlies are clearly a top-ten team, but something still seems off about the Bills. That being said, the receiving corps just landed a major boost in Kelvin Benjamin, and the return of Charles Clay presumably in Week 10 should get the Buffalo offense back on track. Currently, the Bills look poised to vie for a wild card berth and end their 17-year playoff drought. Tyrod Taylor has looked stable and almost truly good after skeptics (myself included) thought he might be in for a rough year.
10. Jaguars (4-3, no change)
The Jaguars are coming off their Week 8 bye with a healthy Leonard Fournette, so we have every reason to believe they'll be ready to compete when they face the Bengals on Sunday. Of course, their pattern thus far has been to lose a game immediately after winning one, but the hope for Jags fans is that the bye week will remedy that. If the defense continues playing at the level at which it has competed to this point, everything could fall into place this weekend. The return of rookie WR Dede Westbrook from an injury could provide a boost as well.
11. Ravens (4-4, up 15 spots)
I may be overcompensating for the Ravens' huge win over the Dolphins last Thursday by jumping them up this high, but the defense proved that together, they're an absolute menace. That, and the run game looks to be improving with Alex Collins fitting in better and better with each passing week, and Javorius Allen settling back into his third-down-back role. I'm still not sold on the possibility of a Baltimore playoff appearance, but these power rankings are of course situational, so the Ravens find themselves particularly high coming off Week 8.
12. Cowboys (4-3, up 1 spot)
And so the Ezekiel Elliott saga continues. Personally, I'm tired of the suspension being interpreted as a legal matter, and I wish some kind of decision would be made and not change within 24 hours. But aside from the more political side of things, the Cowboys are an incredible team when Zeke Elliott takes the field, so they might just have an edge this weekend against the Chiefs. The offense is built to operate on the elite QB/RB combo of Zeke and Dak Prescott, so they'll continue to be a force to be reckoned with as long as Elliott is out there on Sundays.
13. Panthers (5-3, up 1 spot)
The Panthers' situation is pretty straightforward at this point. Cam Newton needs to be better. Now that Kelvin Benjamin is gone, the Panthers are indicating the the run game may be elevated in some way. But that's a little difficult to imagine – with Christian McCaffrey most effective as a receiver and being used nearly exclusively in that role, Jonathan Stewart is not going to single-handedly take over the offense. And the solution is not to give Cameron Artis-Payne more touches – he's a fine backup, but a timeshare between Artis-Payne, Stewart and McCaffrey is not the right move. The Panthers need to either use McCaffrey more as a runner until he improves, or move on from Jonathan Stewart and draft an every-down back to take pressure off both McCaffrey and Newton.
14. Falcons (4-3, up 7 spots)
I can't say I actually meant to move the Falcons up seven spots. Their win over the Jets was thoroughly unimpressive, although the weather in New York probably had something to do with that. As if it needs to be said, the Falcons haven't lived up to any expectations this year. Beating the Jets was a must, and that win came at a great time, snapping a three-game losing streak. A win over the Panthers this weekend would mean a lot, as the Falcons try to make the most of their divisional schedule.
15. Titans (4-3, up 4 spots)
This Titans team is difficult to read after a bye week. There are still questions surrounding the status of the backfield, and of course Marcus Mariota has not looked like the most successful version of himself this season. The Jaguars are definitely the better bet to come out of the AFC South, but Titans fans should feel relatively comfortable with their prospects for this season and beyond. Here's what I'll say about the future of the Titans: while this season isn't one for the history books, a young team with a bright future is on its way to figuring itself out.
16. Packers (4-3, no change)
The most recent news about Aaron Rodgers' situation is just about what we've expected since his injury. If his team can stay in contention, which seems possible in a rather unpredictable division, Rodgers will do his best to be ready to return for a game or two (or three) at the end of the regular season and play in the playoffs, if the Packers get that far. So the situation is about as encouraging as it could be. In the meantime, the Packers would do well to sell out on the run and learn more about its rookie talent in Aaron Jones, who could be a franchise running back if he continues to develop.
17. Texans (3-4, down 5 spots)
Well, this is worst case scenario for the Texans. No one in the sports world hasn't heard that Deshaun Watson tore his ACL in practice. It's an absolutely heartbreaking injury and all but guarantees that the Texans' season is over. There's just no way Tom Savage, Matt McGloin or potentially even Colin Kaepernick could save this season – Watson's work was the driving force behind all of the team's success. Especially with JJ Watt and Whitney Mercilus done for the year, this season looks like a lost cause for the Texans. I'll give them one chance to prove me wrong, which is why I'm keeping them at 17.
18. Redskins (3-4, down 1 spot)
The Redskins have lost two in a row, but they've been to the best team in football and a Cowboys team that, as you know, is still powered by Zeke Elliott. Those shouldn't be considered bad losses, but the Skins need to find ways to win games regardless of the toughness of their schedule. Their performance this season will likely have a lot of say in what Kirk Cousins does in the offseason. For a QB who seemingly is already leaning towards leaving, this team can't afford to lose games it shouldn't, or Cousins will likely be on his way out of Washington.
19. Bengals (3-4, up 6 spots)
The Bengals' 3-4 schedule doesn't exactly tell the whole story of their season. They narrowly escaped a bad loss against the Colts in Week 8, so the standings don't show how difficult it's been for them to manage just three wins. The Bengals looked a lot worse than a future 3-4 team would after their first three losses, so this is obviously an improvement, but this team is not yet in a position to have considerable success. Andy Dalton has served the Bengals well at times, but it may be time to move on in the next offseason.
20. Chargers (3-5, down 5 spots)
Except for one long run by Melvin Gordon to make a game out of the Bolts' battle with the Patriots last Sunday, there wasn't much to be said about the Charger offense. Philip Rivers had one of his worst games of the year, truly seeming to struggle. He showed his age on the hail mary at the end of last week's game – his 35-year-old shoulder couldn't get the ball all the way to the end zone when he had a good shot to complete a pass, if he'd had the ball strength. The Chargers had a chance to actually make something of this season as they rode their hot streak into New England, but their loss that drops them to 3-5 probably means they won't make an effective push into the playoff race.
21. Lions (3-4, down 1 spot)
The Lions reminded us that it's very difficult to win games by only kicking field goals. Matthew Stafford somehow managed 423 passing yards while failing to get his team into the end zone. The Lions clearly have the potential to win games consistently, but they just aren't performing well enough. They play down to their opponents in some cases, and get outgunned by their more difficult opponents such as the Steelers, who handled them last Sunday night. As I've said, the NFC North is winnable without Aaron Rodgers leading the Packers, but the Lions won't be able to dethrone the Vikings by playing at this level.
22. Dolphins (4-3, down 13 spots)
Well, things have just about totally fallen apart for the Dolphins. For a team that was disheartened from the beginning by the loss of Ryan Tannehill, the QB experiment with Jay Cutler was a failure, and his minor injury that forced the team to turn to Matt Moore only made matters worse. And of course, the Dolphins have communicated under no uncertain terms that they are ready to tank and rebuild – why else would they trade away Jay Ajayi? Until this point, the Dolphins had the potential to look like a playoff team on one drive and proceed to look like they'd lose to a mid-major college team on the next drive. Imagine how poorly they'll play without Ajayi.
23. Raiders (3-5, down 5 spots)
This is truly unexpected. The fall of the Raiders has confused fans across the NFL. Derek Carr was expected to bounce back in a big way after breaking his leg late in the 2016 season, and adding Marshawn Lynch was supposed to be a huge boost for the offense. Neither of those things happened – Carr has had the inevitable "off-year" that every QB has, but it came at a bad time. And goodness, Marshawn Lynch has been a disappointment. He's showing his age in every game and doesn't seem as committed to winning as he was as a Seahawk.
24. Bears (3-5, down 2 spots)
The Bears had plenty of chances to defeat the Saints, but the scoreboard didn't show it. You may have heard about the big injury story that came out of this game – TE Zach Miller dislocated his knee and ruptured an artery in the process on a would-be touchdown pass that was inexplicably overturned by the officials. That's right, somehow, on a play in which a player sacrificed his leg (literally sacrificed, it almost had to be amputated), the officials couldn't get the call right. There's no way to know what a catch is in the NFL anymore; it's a totally arbitrary call every time. But back to the Bears: it's pretty simple. Mitch Trubisky was a bad pick, and they'd be winning more without him.
25. Jets (3-5, down 2 spots)
The Jets have looked very Jets-esque in the past three games, losing three in a row after starting surprisingly well. Granted, two of those past three losses were to the two teams that competed in the most recent Super Bowl, and the other loss would have been a win if not for the unbelievable fourth quarter thunder the Dolphins managed in their Week 7 matchup. The story of the Jets' season probably won't change regardless of how well they finish, because honestly, they're not a realistic playoff contender. The real thing to focus on is their immediate future following this season. What's the big move they'll make with their likely top-5 pick in the draft?
26. Cardinals (3-4, up 3 spots)
The Cardinals find themselves up a little bit because a couple of teams were so bad last week that I just had to drop them below Arizona. This week's matchup with the 49ers will be very telling in some areas – will they be able to eek out a seemingly easy win despite their struggles? Will backup QB Drew Stanton be able to get anything going for the offense with a missing Carson Palmer? Will Adrian Peterson be able to carry the offense once again after a poor Week 7 performance?
27. Buccaneers (2-5, no change)
The Bucs played an awful game against the Panthers, but there are enough terrible teams below them to keep them from dropping. I'm sure they recognize how badly they've been playing recently. So as long as they're stuck in the bottom six or seven spots in these rankings, I think that illustrates their abilities this season. Jameis Winston has been bugged by a shoulder injury, so his production has been limited. Besides some good play here and there from Winston, the rest of the offense hasn't pulled its weight, which leads to the Bucs losing five out of seven games.
28. Giants (1-6, up 1 spot)
It's pretty clear that this is where the Giants should be slotted. They lost to the Bucs, who sit right above them, and defeated the Broncos, who sit right below them. The G-Men get Sterling Shepard back this week, but the challenge of defeating the Rams looks insurmountable for a team that has struggled as much as the Giants. Tanking is still a great option, because a top-three draft pick likely behind the 49ers and Browns could easily lock up Saquon Barkley to be the future of the Giants.
29. Broncos (3-4, down 5 spots)
This is what I call rock bottom. Trevor Siemian's good performances in the first two weeks are quite obviously flukes, and a team that has to turn to Brock Osweiler is clearly in danger. As a fan of the Memphis Tigers, of course I'd like to see Paxton Lynch play soon, but on a team whose other QBs are Siemian and Osweiler, I don't think I'd sound biased if I said there's no excuse for Lynch not playing. Defense wins championships, but no matter how good the current Broncos' defense is, they cannot win anything with an offense this sluggish.
30. Colts (2-6, no change)
This season looks like a total bust for the Colts. Even with the losses the team has sustained this year, it will be difficult to bench Jacoby Brissett when Andrew Luck returns next season, because the losses are mostly the fault of the entire rest of the team. And speaking of Andrew Luck, what a terrible situation he's brought to the Colts this season. The team held out hope that he'd play this season for far too long and continued lying to the fans about his readiness for weeks and weeks. This team should look to continue the rebuild in the offseason.
31. 49ers (0-8, no change)
The big news this week for the 49ers is the addition of veteran Patriots backup QB Jimmy Garoppolo. He's definitely worth the second round pick the 49ers coughed up to get him, as he's proven himself as a starter, while the 49ers could easily botch their chance at drafting a franchise QB. For whatever reason, 49ers coach Kyle Shanahan has declined to guarantee that Garoppolo will play this season, citing his desire to set him up for success. Wouldn't success at this stage of Garoppolo's 49ers career be defined as helping them win a single game before the end of the season?
32. Browns (0-8, no change)
The Browns are no longer funny. I'm almost positive they're going to lose to their bye this weekend. Absolutely everything is wrong. The one good player for Cleveland, Joe Thomas, is out for the year, so what is this team playing for? The Browns have every reason to tank. Unless they expect to acquire a QB who's already proven himself, the main focus of this season should be to secure the #1 overall pick to give the Browns their top choice at the next QB whose career will likely be ruined in Cleveland. It's where rookies go to die, if the shoe fits.