Evan's guide to all things NFL: Week 6 NFL power rankings
Breaking down the bizarre turnouts of this week's games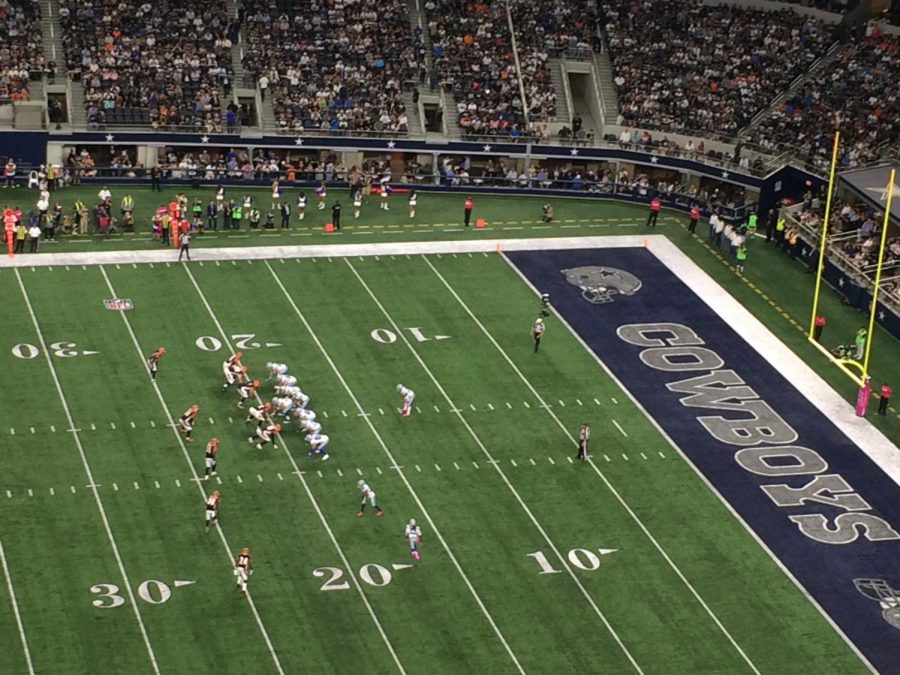 Preface: Thanks to all who read last week's power rankings and plan to tune in for my future sports writing contributions to The Lodge. Last week, I detailed my reasoning for moving every team up or down, and added a blurb about the player from each team that you'd be smart to pick up for your fantasy football team. This week has been a little busier for me, as I travelled to Atlanta to welcome my baby nephew, so I won't be devoting time to writing a bonus blurb about a fantasy player to pick up this week. On another note, this past week was one of the most bizarre weeks I've seen in the NFL in a while, and one of the NFL's best players (Aaron Rodgers) suffered a devastating injury. These rankings will most likely not represent the ultimate hierarchy of the NFL, as I see many teams coming back with better performances next week, but for the time being, here's how I see each team stacking up against all the others.
Biggest jump: Miami Dolphins, 11 spots
Biggest fall: Atlanta Falcons, Denver Broncos and Detroit Lions, 9 spots
1. Eagles (5-1, up 3 spots from last week)
Several things went perfectly for the Eagles this week. To begin, they opened Week 6 with a solid win over the Panthers, who I slotted just above them last week. That counts as a quality win over another contending team. Furthermore, the previously undisputed top dog Kansas City Chiefs fell to the Steelers with a rather sluggish performance defining their Week 6. Finally, the Packers were defeated by the Vikings after losing the heart and soul of their offense in Aaron Rodgers. This unequivocally paved the way for the Eagles to capture the #1 spot in a week that saw several elite teams falter.
2. Chiefs (5-1, down 1 spot)
Normally, on a week that the league's last undefeated team suffered its first loss, that team would fall more than one spot, but as I said earlier, the most recent round of games was detrimental to other top-ranking teams, so none of them except Philadelphia were able to dethrone the Chiefs. Sunday's performance against the Steelers was truly subpar, as Pittsburgh held them to three points through the first three quarters. Rookie Kareem Hunt continued to look like the elite running back he's shown himself to be so far, and Alex Smith didn't make as many mistakes as the stats might suggest. There's no reason to doubt this team's long-term potential because of one questionable loss.
3. Patriots (4-2, up 2 spots)
The Pats narrowly escaped defeat against the Jets, who have defied all odds and become a team capable of challenging a top-tier team like new England. This is concerning for the Patriots, but they're still an elite team who came away with the victory. They need to figure out the status of their backfield: with Gillislee, Lewis and White all seeing an uneven share of work. With Rex Burkhead bound to be healthy soon, Belichick needs to decide if he's changing anything about the game plan or sticking with the same backfield situation that sometimes produces perfectly and sometimes doesn't add anything to the team's offense.
4. Panthers (4-2, down 1 spot)
The pattern of top teams losing benefitted the Panthers this week, as they only dropped one spot. It's also important to consider that their loss doesn't hurt them all that much because the team that beat them has now topped the rankings. Cam Newton's performance on Thursday night is difficult to figure out – the stats, along with several particularly poor moments, point to a terrible game for the quarterback who seemed to have rebounded in recent weeks. However, two of his three interceptions were caused by poor play by Trai Turner and Jonathan Stewart. He hit receivers where they needed to be hit and played exceptionally well as a runner. Look for the Panthers to rebound in a much easier matchup against the Bears in Week 7.
5. Steelers (4-2, up 8 spots)
The Steelers certainly earned their spot in the top ten after defeating a very strong Chiefs team. Pittsburgh is relying more and more on Le'Veon Bell and Antonio Brown to be their principal playmakers with Ben Roethlisberger struggling mightily. Bell played exceptionally well and reinforced to fans that he won't have any trouble finishing the year as a top-three running back. The defense should be recognized for stepping up as well, allowing only one touchdown to a team that has featured one of the most explosive offenses so far this season.
6. Rams (4-2, up 4 spots)
The Rams' win over the Jaguars was a good one to add to their résumé – they've established that they, rather than the Jaguars, are the team that has the best potential to rebound from a dreadful 2016 season and compete with the best this year. In the long run, the Jaguars may do just as well or better than Los Angeles, but this head-to-head victory establishes them as a good team here and now. Jared Goff has had a couple of bad weeks after a hot start, so a big game for him in Week 7 would mean a lot to this team, as would a solid performance from Todd Gurley, who has given their offense a huge spark so far this year.
7. Vikings (4-2, up 7 spots)
The Vikings came back with a strong performance in Week 6 after their Week 5 bout with the Bears nearly doomed them. Defeating the Packers has not been easy this year, but they pulled it off, albeit with the Packers flailing with Aaron Rodgers sidelined. The NFC North is wide open now that Aaron Rodgers is out likely for the year, so this Vikings team has a chance to make its mark on the league if it can find its way to the playoffs. Jerick McKinnon has shown a lot of promise in his first two games after Dalvin Cook's injury, and Case Keenum has handled the reins well as Sam Bradford has played (or not played) through injury.
8. Seahawks (3-2, up 1 spot)
I suppose I shouldn't be as confident in some teams' ability to improve during the bye week after the Falcons utterly blew it against the Dolphins coming off their bye. But since the Seahawks' bye saved them from the ridiculous events of Week 6, I don't see a problem with leaving the Seahawks in the top ten. I'm expecting that they'll perform well against the Giants, which has seemed very easy to do this season, as the Giants have allowed all but one team to dominate them in some form or fashion in each matchup so far.
9. Packers (4-2, down 7 spots)
I'm sure you know this already, but Aaron Rodgers is everything to this team. It's not a matter of how they'll perform in his absence, but how they'll perform next season when he's healthy. Brett Hundley would be a fine backup QB, but throwing him into a starting role in which he has a less-than-ideal RB situation is difficult, even with the excellent receiving corps Green Bay has. Indeed, it will be important for Ty Montgomery and Aaron Jones to show who's the better bet for taking pressure off Hundley in the coming weeks. It's a rough way for this season to turn out for the Pack.
10. Saints (3-2, up 6 spots)
The Saints are now on a hot streak with three straight wins, and they're looking like the offensive contender they have the potential to be. The 52 points they posted against Detroit's decent defense isn't abnormal at all for New Orleans, as the they rank in the top ten in total points scored on the season despite having only played five games through six weeks. The elite combo of Drew Brees and Michael Thomas, along with a dual-threat backfield that consists of Mark Ingram and Alvin Kamara, has propelled the Saints to their recent success. It's worth noting that they posted two strong defensive performances in their first two wins of the current streak – holding the strong Carolina offense to 13 points and shutting out the admittedly mediocre Dolphins.
11. Redskins (3-2, up 1 spot)
The Redskins may not have passed their test against the 49ers with flying colors, but they've made it through the first six weeks with a winning record, two quality wins and two losses to the two best teams in the league. It's not a bad start for a team that was crazily unpredictable going into the season. Kirk Cousins has continued playing like the franchise QB the Redskins needed and signing him to an extension as soon as possible will be an important hurdle for this team to clear. With the NFC East shaping up almost polar opposite of what many people expected, the Redskins can have legitimate playoff hopes going forward.
12. Texans (3-3, up 3 spots)
The Texans' 16-point margin of victory doesn't tell the whole story of their ultimate dominance over the Browns. You could make the argument that a win over the clear worst team in the league isn't anything to be overly excited about, but this team looks well on its way to settling in as the top dog in the AFC South. Although the Titans and Jaguars also occupy that division, neither of them has all the pieces in place to contend every year. The Texans have filled almost every position that needed help, and with Whitney Mercilus and JJ Watt healthy next season, they'll be in a position to win the division easily.
13. Dolphins (3-2, up 11 spots)
There's no way to keep the Dolphins out of the top half of the rankings this week after an unexpected comeback against a team that appeared to be a superpower coming into the season (the notorious lead-blowing Atlanta Falcons). The win over Tennessee in Week 5 may not have been an impressive one with the Titans missing Marcus Mariota, but the consecutive wins require the attention of NFL fans looking for a team with a chance to continue to rebound after a poor start. Realistically, the Dolphins won't amount to much this season, but for fans waiting for the young players to lead the team in years to come, the last two games have been encouraging.
14. Jaguars (3-3, down 3 spots)
And so the story continues – the Jaguars continue their pattern of win, loss, win, loss, win, loss. The Rams are not a bad team to lose to, as they've looked strong so far this season, but this matchup proved that everything isn't perfect for the Jaguars, despite their drastic improvement from last season. The game plan should continue to be to feed the ball to Leonard Fournette, who should be ready to roll against the Colts in Week 7 despite tweaking his ankle. Looking ahead, the division is definitely still winnable, but the Texans look like the team to beat out of the AFC South.
15. Falcons (3-2, down 9 spots)
I'll remind you that the Falcons should be 1-4. Close wins in two of their first three games secured a respectable schedule for the Falcons, but that schedule has started looking worse and worse after Atlanta dropped games to the Bills and Dolphins with a bye week between those losses. This is not the kind of season the Falcons wanted and they have absolutely no momentum going into a crucial Super Bowl 51 rematch with the Patriots. I don't expect great things from this team, and the NFC South seems more likely to fall to the Panthers or Saints at this point.
16. Broncos (3-2, down 9 spots)
Losing to the previously winless New York Giants is bound to drop a team nine spots or so. The offense could get absolutely nothing going, and the defense gave up 23 points to a team that was averaging less than 17 points per game going into their Sunday night matchup. The Broncos posted a mere ten points for the game, with their only touchdown coming too little too late in the fourth quarter. This team badly needs CJ Anderson to carry the offense, with Trevor Siemian still not in a position to be the unquestioned leader of the team. The defense is still one of the toughest for opposing teams to face, but the Broncos haven't played well enough in the past few weeks to look like a contender for the AFC West.
17. Lions (3-3, down 9 spots)
The extreme drop in position for the Lions since last week is a reflection of their failure to win either of their last two games – the Panthers are a tough team to beat, so a win in that matchup would have been huge for Detroit. Furthermore, the Lions let the Saints absolutely rail them in Week 6, giving up 52 points to a team that is easy to contain under the right circumstances. The Lions need to play better, and if they do, they'll have a real shot at winning the NFC North, a division that is theirs for the taking now that the Packers are without Aaron Rodgers.
18. Titans (3-3, up 7 spots)
The Titans' win over the Colts on Monday night was an important one – Marcus Mariota proved that he's back and ready to compete. Tennessee had some issues with play-calling to start the game, but fixed the game plan in time to salvage the game. Derrick Henry's efficiency on his late game work, specifically his 72-yard touchdown to seal the game, may have secured an even timeshare in the backfield going forward. Things look good for the Titans, but their defense will need to step up in coming weeks if they hope to compete in a crowded division that features the rising star Texans.
19. Bills (3-2, up 1 spot)
The Bills will return from a Week 6 bye to face the flailing Buccaneers. Let's take stock of what's happening with this team: LeSean McCoy has yet to score a touchdown this season, Tyrod Taylor is continuing to prove that he isn't the QB of the future for Buffalo and the team's best receiving threat Charles Clay isn't healthy. In a division that's been ruled by the Patriots for all of recent memory, this season will likely be another unremarkable one for the Bills and they should consider their options in the draft. Is it time to trade McCoy away and build up assets? Should backup QB Nathan Peterman start at all this season? How can they solve their problems in the next draft?
20. Cowboys (2-3, down 3 spots)
On their bye week, the Cowboys weren't able to prove that they were better or worse than 17th, where I ranked them last week. It was absolutely a good thing, though, that they had the week off, as star RB Ezekiel Elliott was caught up in the legal battle regarding his six-game suspension over domestic violence. Elliott will be eligible to play against the 49ers this week, but the Cowboys' season hasn't amounted to much so far – Zeke hasn't played at the superstar level he did last year and he may end up missing nearly half the season if the NFL finds a way to enforce his suspension.
21. Cardinals (3-3, up 5 spots)
The Cardinals almost blew a huge lead against the Buccaneers in what initially looked like a blowout win, but their dominance with the new-look backfield that features Adrian Peterson warrants a jump in the rankings. Carson Palmer put up a solid stat line against the Bucs, passing for 283 yards and three touchdowns with just one interception. That kind of offense is what can resurrect a team that looked dead in the water early on. It's worth speculating about how the team will approach David Johnson's return – if Adrian Peterson continues to play at the level he did in Week 6, would it be worth keeping Johnson on injured reserve until he can make a full year's recovery? And furthermore, what is the long term plan for Adrian Peterson's tenure in Arizona – will he stay and play as a pass-catching back even with David Johnson back in the lineup?
22. Jets (3-3, down 1 spot)
If not for the referees' atrocious missed call on Austin Seferian-Jenkins' touchdown that was deemed a fumble out of the end zone, the Jets would have stood a fighting chance of taking down the mighty Patriots. That would have been their fourth win in a row, and it would have come against the defending champions. Don't count this team out. Will they make the playoffs? Unlikely. But they've already proven wrong everyone who warned of an 0-16 season for Gang Green, and they might just push for an 8-8 record on the year.
23. Chargers (2-4, up 4 spots)
After a somewhat surprising 0-4 start, the Bolts have rebounded to win two games in a row. Philip Rivers is close to hitting his groove, Melvin Gordon has been phenomenal in the last two weeks and rookie Mike Williams will be looking for a breakout performance in Week 7 after disappointing in his debut. The Chargers have a great chance to grab an important divisional win this weekend against the Broncos, who flopped against the Giants last week. The Chargers should ride the hot streak, but if another losing streak befalls them, tanking wouldn't be the worst idea.
24. Bengals (2-3, down 5 spots)
The Bengals have won two games in a row, but good performances by other bottom-half teams caused Cincy to fall five spots during its bye week. With a good performance against the Steelers in Week 7, Andy Dalton can remind the football world of how well he can play when he's at his best, and he may have the perfect opportunity to do so, since the Steelers haven't been a particularly good defensive team this season. Joe Mixon needs to be as involved as he possibly can in the run game so he can be the centerpiece of the offense next season.
25. Ravens (3-3, down 7 spots)
The Ravens lost a close one against the Bears on Sunday and no matter how you spin it, it was not a good day. The special teams unit was just about perfect, returning two kicks for touchdowns, but you can't win games with return men. Joe Flacco can't expect to keep his job if he keeps playing at the level to which he's sunk. I've said this before, but nothing is good about the Ravens' situation with skill positions. They would benefit immediately from drafting a QB, RB or WR with any of its high draft picks.
26. Buccaneers (2-3, down 3 spots)
Yuck. This team has not lived up to any expectations set for them by the football world. The impression was that the NFC South would be wide open for any of its four members to take, but the Bucs haven't had all the pieces come together. Doug Martin's suspension set the run game back, Jameis Winston hasn't consistently looked like himself so far and the defense isn't playing up to its potential. And it may not seem like a huge deal, but having a reliable kicker is an important part of every NFL team. And Tampa does not have a reliable kicker.
27. Bears (2-4, up 2 spots)
Stat of the week: the Chicago Bears have the only two players in the NFL with a perfect passer rating, and neither of them are quarterbacks. That's right. Punter Pat O'Donnell and pass-catching back Tarik Cohen have each thrown a touchdown on trick plays. But the man who's supposed to be carrying the team by throwing touchdowns on a regular basis isn't doing quite as well. Mitch Trubisky wasn't drafted second overall to wait four weeks to debut, but his poor play so far not only reinforces the reality that he's extremely overrated, but also makes you wonder if the switch to Trubisky was the right decision.
28. Raiders (2-4, down 6 spots)
I'm close to saying this is rock bottom for the once-mighty Raiders, but they face the Kansas City Chiefs on Thursday night, which could be a total disaster that propels Oakland to a fifth straight loss. Of course, that will have already happened by the time you read this, so feel free to critique my predictive abilities. Whatever happens, this season has been a real missed opportunity for a team that will be leaving its fans in Oakland behind in short order. The Raiders have a relatively difficult schedule to finish the season, so this year may very well be one they'd like to forget.
29. Giants (1-5, up 2 spots)
Sure, the Giants *needed* a win on Sunday night, but how many wins will satisfy them this year? Clearly, they're going nowhere, and they can't even think about contesting for any huge number of wins until they add a superstar, so tanking is the way to go. Sure, a team that decides to tank can have a win here and there because it's good for the franchise, but the coaching staff has to keep in mind that too many wins will knock the Giants' chances of a high enough draft pick to select Saquon Barkley, who has to be the solution to their woes.
30. Colts (2-4, down 2 spots)
The Colts are shaping up just about how they should have based on their situation going into the season. Without Andrew Luck, their offense is horribly stagnant. The run game is worthless, and this team just lost a member of the backfield in Robert Turbin. The question is: is Jacoby Brissett going to "Bledsoe" Andrew Luck? To enlighten you, Bledsoe-ing refers to a young, up-and-coming QB dethroning the veteran because of good play while the veteran is recovering from an injury (also known as how Tom Brady got his job). Brissett may not be a top-tier QB in his first year as a true NFL starter, but he could turn out as good as any current QB not named Brady, Rodgers or Prescott. Moving on from Andrew Luck wouldn't be a totally bizarre idea.
31. 49ers (0-6, down 1 spot)
In case you hadn't heard, all but one (five in a row) of the 49ers' losses this year have come by three points or less. So even though the win column is empty, this team has played its opponents close. The change at QB from Brian Hoyer to CJ Beathard is no surprise, as Hoyer was often the factor of the 49ers' offense that kept them from winning those close games. This gives Beathard a chance to shine and he'll be playing with TE George Kittle, who was one of Beathard's receiving options at the University of Iowa when they were teammates. This could be the turning point of the season for San Francisco, but you have to wonder if they'll consider tanking as well.
32. Browns (0-6, no change)
Any team that uses its rookie QB through five weeks, benches him and then goes back to him for Week 7 and demotes his backup to the third string deserves to be ranked last. There's no reason to believe the Browns won't repeat their performance last year and win only one game. Unless DeShone Kizer improves drastically, it would be worth the Cleveland's time to consider drafting yet another QB with its inevitable #1 overall pick. Saquon Barkley would be a tempting selection, but the foundation of every elite NFL team is an elite QB, so the Browns have to think about which QB from this draft class can bring that kind of talent to the team.