Swift's Midnight Masterpiece
A review of Taylor Swift's 10th studio album, "Midnights"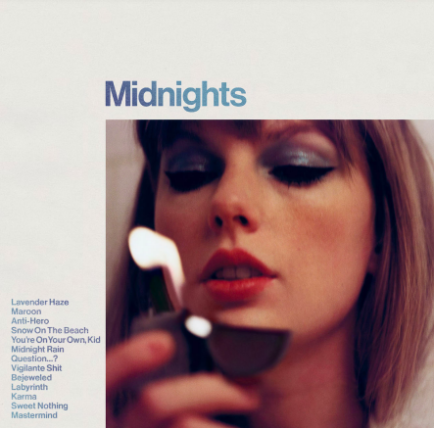 On Friday, October 21st, Taylor Swift released her long-anticipated tenth studio album, "Midnights." With this record, she shifted away from the indie-folk sound of her past two releases and embraced the style that made her a global superstar: pop.
While all 13 tracks are phenomenal in their own right, it's difficult not to choose favorites. I've decided to rank my top three songs from "Midnights."
But first, an honorable mention goes to track 12, "Sweet Nothing." Swift and her frequent collaborator, William Bowery (an alias for her long-time boyfriend, Joe Alwyn) penned the romantic ballad together, and it's everything you would expect from the two collaborating. The piano is soft while evoking a sense of fondness, and the lyrics match perfectly.
When Swift confesses to her lover that "[she's] just too soft for all of it," her message is perfectly communicated. The song is a gentle one, about a lover who doesn't want anything from you except your love. It would fit in better on her seventh album, "Lover," which is why I cannot put it in my top three. Midnights is, on the whole, a much more melancholy album that "Sweet Nothing" simply seems out of place on.
Now, onto my three favorites. This is an incredibly difficult album for me to rank, which means that I've painstakingly selected the three songs that best represent "Midnights" while also being my personal favorites.
Number three is track five, "You're On Your Own, Kid." Swift is known for her devastatingly emotional track fives, marked by songs like "All Too Well" and "Dear John," to name a few. "You're On Your Own, Kid" seems out of place among those ranks at first listen, but digging into the lyrics reveals a story that's as heartbreaking as it is inspirational.
Swift sings about her childhood before fame, explaining how her ambition often left her isolated among her peers. Things didn't just become perfect once she reached fame, though. The lyrics "I hosted parties and starved my body, like I'd be saved by some perfect kiss" reveal that she's been struggling in silence for years. Her masterful songwriting is the highlight of this track, and it's no surprise that I ranked it third.
Second place goes to "Maroon," a moody ballad that tells the story of two lovers from start to finish. The production strays away from what is typical of Swift, leaning into a darker sound that leaves listeners wondering why she hasn't been doing this all along. Her vocal range is beautifully showcased as well, emphasizing gravelly lows that perfectly match the tone of the song.
The song almost sounds like a more mature version of "Red," the titular track of her 2012 album. Lyric after lyric describes the different shades of red that remind her of this past love, whether they be scarlet, rust, or just plain maroon. Swift's voice perfectly compliments the intricate lyricism of "Maroon," making it a fitting choice for my second favorite off of the album.
Picking my favorite song was no easy task. It took hours and hours of listening to this album on repeat, and even then I wasn't completely sure if I could definitively say which song was the best. Instead, my choice reflects what I feel is the most representative of the album as a whole while still standing out by its own merit.
"Midnight Rain" opens with a distorted version of Swift's voice singing the song's chorus, shocking listeners who haven't yet heard the song. The lyrics "he wanted it comfortable, I wanted that pain" immediately set the tone for the rest of the song. Although it appears to be about a past love at a surface level, a deeper analysis of the track reveals that "Midnight Rain" is about ambition more than anything else.
Swift, a girl from rural Pennsylvania, knows ambition well. It's why she has become the global superstar she is today. Still, "Midnight Rain" feels like a glimpse into a part of Swift that listeners have rarely heard before. She's had chances to settle down and be someone's bride, but she was "making her own name" instead.
And make her own name, she certainly has.
Leave a Comment