The Cap-tivating Dynamic of a St. George's Senior
The Many Hats of Jamez Jordan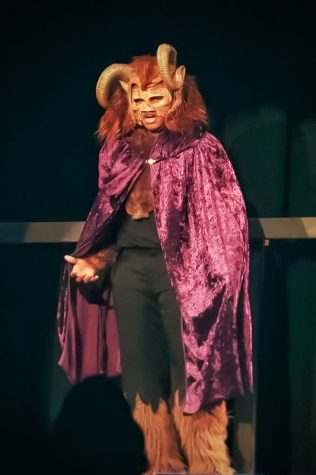 When walking the halls of St. George's, no matter how big the sea of people may be, it's always easy to spot a certain senior thanks to his booming voice and contagiously bright personality.
Some know him as the class president while others recognize him as an actor in the lead roles of Frozen Jr. and Beauty and the Beast, both highly praised St. George's theater productions from earlier this year.
If you haven't guessed already, our star senior is Jamez Jordan, and he's way more than meets the eye.
Merriam Webster defines a "wearer of many hats" as an idiom that describes one that has many jobs or roles." A more common expression would include "jack of all trades" although its continuation, "master of none", makes this phrase only half applicable when describing Jordan. This professional is a master of steadfastness- a quality that shouldn't be overlooked.
Since middle school, Jordan has been an active member of the St. George's football, track and field and wrestling teams. As of right now, football is his main focus.
"I been playing football since I was a little boy. I think the first time I played for a team was when I was five, so I've been playing ever since. It's just that it's a sport you can't replicate anywhere else."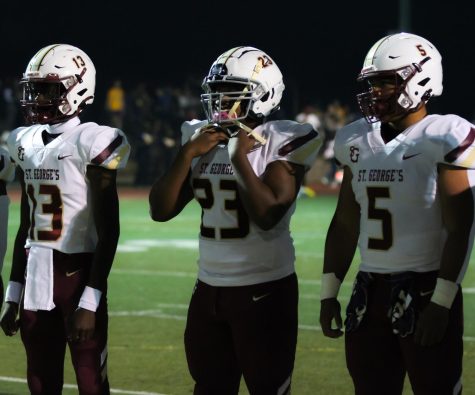 Jordan placed first in the region as a defensive lineman his junior year, and this year he was named First Team All Region and First Team All Metro.
Sports aren't the only thing Jordan tackles in life. In his spare time, he's busy balancing the All Southwest and All State Honor Choir.
The All Southwest Honor Choir is a compilation of the best singers in the southwest regions of Tennessee.
"You have to go audition and listen to four pieces of music and they take specific parts of the music and you have to learn it. After that, you wait for them to get back to you usually a month after. And that lets you know if you made it or not."
Top scoring members within All Southwest are afterwards selected to be a part of All State.
"It's a collection of the best singers around Tennessee. I made All Southwest four times and I made All State once."
Jordan recalls his recent experience in All State.
"We preformed at Opry Mills Orpheum. We stayed there for four days and we practiced for eight hours a day."
Although it sounds like hard work, Jordan takes this challenge head on.
"Hard work pays off. The better the pool of singers are, the better the potential is to make better music. If you can make music better, you can be more inspirational to the audience. Just by being in the spirit of it and being in the midst of all those singers and you're singing your part, but you essentially become one voice overall."
As far as the future goes, Jordan is confident in his path.
"I'm going to major in business management," said Jordan.
He's begun his process. For his Senior Independent Study, a passion project that also doubles as a graduation requirement for all St. George's seniors, Jordan started his very own company.
"I own a moving business called Accountable Movers of Memphis. I started roughly right before Christmas my junior year."
The entrepreneur credits his dad with inspiring his start to begin his research.
"I looked it up and I was like, alright this is something that I could do. It was also something that I could afford."
Jordan admits things weren't easy at first.
"I didn't get my first job until March 2022. So, for months I was working on paperwork and just getting my name out there to the big moving companies like U-Haul, Movers Elite, etc. The customer calls them and I'm a third party vendor. So after the customer calls them, company calls me."
His hard work pulled through and as of now, his company is extremely successful.
"I got to the point where I don't really do normal jobs anymore. Most of my jobs now are like VIP relocating somewhere. That's when a company has sent down someone they want to move into Memphis, or out of Memphis. And they're paying for the whole trip and I'm just helping them to load or unload to wherever they're going."
As most would say, confidence and proper planning is definitely key to making goals a reality. Leveraging his time meaningfully has led this senior far. To keep track of all these activities this senior has a method.
"Every Sunday night, I go through my schedule for everything and map out what times I'm going to do everything."
This guide has served him well throughout middle and high school. Even so, this lifestyle doesn't come without difficulties.
"Making sure I'm putting as much time into my extracurriculars as I do in school is the most pressure I face doing all this."
His steadfast optimism makes these struggles worthwhile.
"You only live once. This is probably the only chance I have to do everything that I want to do, so I'm just going to do it now," said Jordan.
The concept of time is also a major playmaker in this busy teen's life.
"I don't want to miss any opportunities now and regret it later," said Jordan.
If you feel yourself drained from constant 'what if 's' and 'I wish-es', try and take a page from this senior's book: focus on what you believe you can achieve and seize the day.
Leave a Comment