Small fish, big pond
The Gryphons say they are ready to take on anything and anyone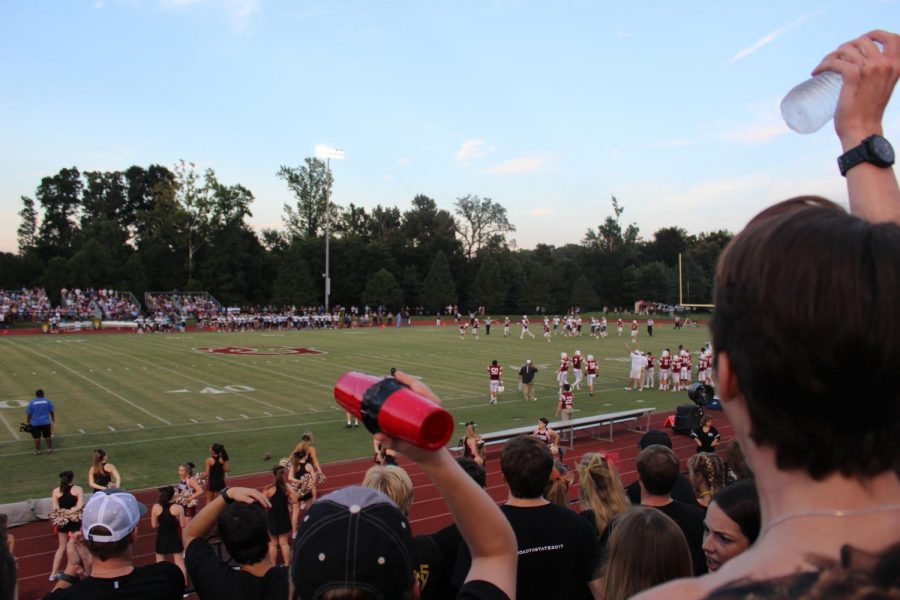 "Numbers don't really tell a whole story," Athletic Director Tom Densford said.
Mr. Densford is referring to the St. George's football team scheduling to play against four huge public schools this season: Center Hill High School, Arlington High School, Collierville High School and Houston High School.
Currently, the Gryphon football team is classified as Division 2AA for the Tennessee Secondary School Athletic Association, which is one of the smallest divisions in the state.
Due to our high school enrollment of 389 students, St. George's typically plays against similarly-sized schools, rather than Center Hill, Arlington, Collierville and Houston, which have over 1,000 students each.
Senior captain Met Proctor understandably had mixed feelings when he first saw this season's schedule.
"I was surprised when I first saw it," Proctor said, "But then I was excited to go against them."
St. George's used to play schools with a similar number of students, like Rossville Christian Academy and Tipton-Rosemark Academy, but this season, they declined to schedule games against the Gryphons.
Head Football Coach and Assistant Athletic Director David Carter notes that St. George's size can sometimes make it difficult to find competition in their division that challenges the football team.
"It's a matter of the ability to find competition," Coach Carter said.
Other players on the team, including senior Colin Truitt, sophomore Wesley Goodwin and freshmen Jake Brantley agreed with Proctor's opinion when asked if the schedule is discouraging, but freshmen Sam Stamps had a more positive view on the tougher schedule.
"It gives you a challenge and something to look forward to," Stamps said.
The Gryphons invite the challenge, and it will intensify the game for coaches, players and fans.
"It's a great atmosphere to play football in," Mr. Densford said.
Both Coach Carter and Mr. Densford agreed that playing public schools bring in bigger crowds, making the risk and hype of the game more intense. Mr. Densford, the coaches and the players are excited when looking at the team's past accomplishments and upcoming challenges.
"We feel like we have a team that can go against these schools," Mr. Densford said.
Senior Colin Truitt agrees with Mr. Densford and is confident in his team's ability
"I believe we can compete with them," Truitt said.
Will the Gryphons exceed expectations and defeat these monster schools, or will they succumb to the pressure? Only time will tell.