Painting the Picture
An Introduction to our Visual Artists-in-Residence
Our artists-in-residence here at St. George's consistently learn with their students, creating new ways to make learning fun and interactive daily, but what does "artist-in-residence" even mean? The term "artist-in-residence" allows art teachers to promote their artwork and produce art outside of what they primarily teach, while also educating kids with different lesson plans. Fine Arts Department Chair Mrs. Allison Webb described St. George's uses this title as interesting.
"It gives credence to the fact that we are working artists, so we are not only teaching but also working on and honing our skills outside of the classroom," she said. According to Mrs. Webb, the ability to create with her students instead of just teaching "enhances the experience of everyone in the classroom."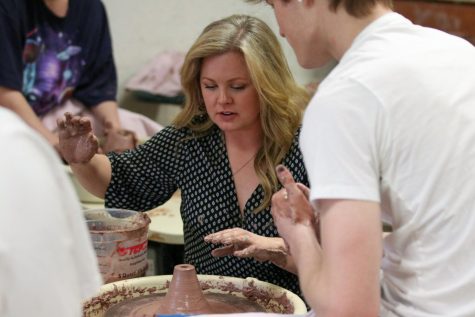 While the term sounds prestigious, St. George's has deemed it appropriate for our school's art teachers. Mrs. Webb and Mr. Danny Broadway, another one of our upper school art teachers, have made quite the mark at our school. While she is mainly a painter, Mrs. Webb dabbles in many art forms but has always had a passion for fashion.
"I paint and I sell my artwork and all that kind of stuff. And then I also really like to sew. So my original passion, before I became a teacher, was put in that direction or that trajectory."
Before teaching at St. George's, Mrs. Webb studied in Florence, Italy, at the Florence Academy of Art, and later became a middle school art teacher. Yet she expressed how the transition to teaching high school emphasized the varied needs of different age groups.
"Oftentimes, middle schoolers tend to be more creative because they don't care. Upper schoolers tend to be more self-guided in their art," she said.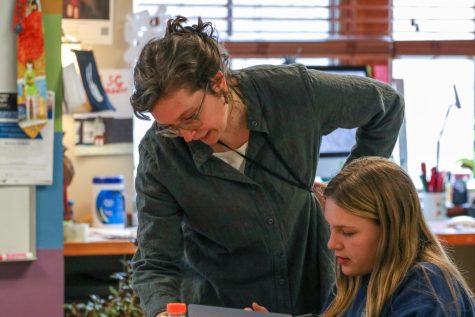 Mrs. Katy Simmons-Carroll, the middle school art teacher, has had numerous experiences with both age groups. She agrees with Mrs. Webb.
"Middle school is a little wilder, but I find them to be a little more willing to try something new. I sometimes think that high schoolers, they're calmer. But they already know what they're good at, so they're not as willing to jump into something new and not be so good at it," she said.
Mrs. Simmons-Carroll had many teaching opportunities at schools such as Dexter Middle School and a high school in New Orleans, Louisiana. She names both experiences as exciting and a privilege to do.
She said, "It's both a reward and a challenge."
As great of a teacher as Mrs. Simmons-Carroll is, she is also an active artist learning every day and challenging herself in and out of the classroom. "I've done shows in New Orleans when I was there. Most recently, I've made jewelry, and I've done a couple of Memphis Modern Markets and things like that. I'm still trying to balance. I'm committing more of my planning time during the school day."
Many students find the art-ists-in-residence to be understanding while also persistent. Senior Juliana Carpenter is a student in Mrs. Webb's Pottery A class, a beginner-friendly class, and Pottery B, a more experienced class. Carpenter describes her experience in Mrs. Webb's class as a positive one. "She's super hardworking, kind and encouraging" she said.
The Memphis Botanic Gardens, Memphis Brooks Art Museum and Playhouse on the Square are just some of the many places Mrs. Webb's creative work has been showcased. As a mom of two, she has doubled back on creating as much as she likes to concentrate on her family.
"To focus on my family, I've had to take a couple steps back. I dabble here and there but mostly watch after my littles. It's important for my daughters to see me. I like pursuing my passions, because I want them to grow up and be women who are confident enough to pursue their own passions."
However, she mentioned how much she looks forward to returning her art to total capacity when her children grow a little older.
"I'm going to be excited for the time when I get back to that. But right now it's just sort of something that I've had to set to the side for a little while because my littles are important."
She isn't the only art teacher with big things on the way. Many people don't know about the work Mr. Broadway does and what he is involved in outside of his title at St. George's. As a Memphis artist, Mr. Broadway has been commissioned to create an original work of art that will become the official poster for this year's 2023 Beale Street Music Festival, as announced by Memphis in May.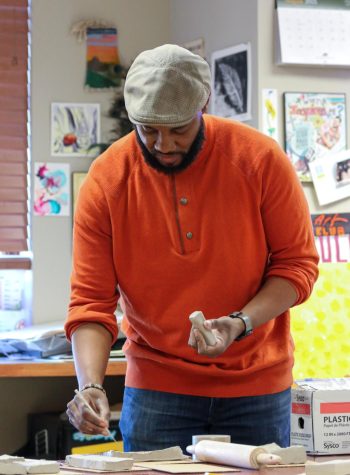 Mr. Broadway identifies George Hunt as one of his main inspirations. Mr. Hunt, who died in December of 2020, created the poster art for Beale Street Music Festival for 28 years before his passing. While Mr. Broadway has his work cut out for him, he is honored to be selected this year and looks forward to creating more never-before-seen artwork for the show.
"I am honored to be selected to create the art this year. George Hunt was one of my mentors, and his shoes are difficult to fill. I hope to honor his legacy but with my own stylistic twist," he said.
While even the most famous artists endured trials and tribulations throughout their careers, sometimes artists and their work go overlooked. Mrs. Webb emphasized the impact of the work-life balance is one of the obstacles for working artists.
"There is sometimes a culture around schooling where students forget that teachers have a life outside the classroom," she said.
Mrs. Simmons-Carroll agrees, going deeper into the teaching culture and how her peers can sometimes unintentionally ignore the arts or use it for their lesson plans.
"Sometimes, being an art teacher, there's a sense that your job exists so that other teachers can have a planning period."
At times, she has felt unwelcome by teachers in all subjects, even in the arts, but St. George's has progressively made efforts to increase the seriousness of the artist-in-residence title. "In my experience as an art teacher, oftentimes artists haven't taken me seriously. And sometimes, neither have teachers. It was an uncomfortable liminal space to occupy."
Mr. Broadway, while experiencing the same feelings, believes St. George's fully supports him and his art. "[St. George's] takes me and my art equally serious." He continued, "it allows room for me to grow."
Mrs. Webb spoke more about how her title has allowed her to create what she wants when she truly wants: "The artist-in-residence title allows instructors to use their skills as artists to better their teaching performance."
Mr. Broadway and Mrs. Webb agreed when asked how well our school balances its creative freedom and teaching styles. "The school tends to be respectful of our growing artists and the constant changing and growing they dabble with throughout their career," Mr. Broadway said.
The title has also had an impact on Mrs. Simmons-Carroll. St. George's has allowed her to own her art and increase the importance of the art program. "The title of artist-in-residence has given me permission to take my own work more seriously, while also acknowledging the value of my contributions to the St. George's community as a member of the faculty. Although I am still working to find balance, this experience has been revolutionary for me as a person."
Creativity comes fluently to our artists-in-residence, and the ability to be in such a field has been a blessing, according to Mrs. Webb. "I think we're all grateful for this title. There's really nothing else like it."
Leave a Comment