Making Dreams Come True
Angelina David starts her own business, using her talents to make the Memphis community a better place
Princess, singer and actor? Senior Angelina David can truly do anything.
Ever since David was a kid, she has been singing and acting. She is a member of the American Music Ensemble, leader of the Gryphon Players and the winner of the Miss Milan Crown and Scepter's "Outstanding Teen" award in June of 2022.
Part of the Miss America Organization, Miss Milan Crown and Scepter awarded David "Outstanding Teen" during her junior year when she sang and performed at the Cannon Center and won the pageant.
"It was a cool experience. I also got to meet a lot of cool people," she remarked. David has used her talents to found her own business: Dreams Come True Princess Parties.
Dreams Come True Princess Parties has David and other staff members dress as a wide array of characters, go to children's birthday parties and help them create truly magical memories. David founded the business her junior year, and it continues to expand.
"I started it when I was 16 which is pretty crazy, and I had no idea how big it would get," said David. "I put 110 percent into everything I do."
Putting her full effort into everything, David tries to run her business as close to perfection as possible.
"I say, 'this has to be [top] quality costumes, training and everything else.' It's done so well that we're booked out like every month, we are working with the Grizzlies even," she said.
David was inspired to start her business because of her love for theater, but could not find a job in the field, so she started a business herself.
Being a part of the AME and theater throughout her high school years also gave David the confidence to start her business and be comfortable with singing and acting in front of an unfamiliar audience.
"The only place that existed [for acting as a princess] was about to close, and you had to be 18," said David. "I did a ton of research and still had no idea what I was getting into… I really loved the idea of doing this business, and I wanted to find a way to do it… I was like 'I'll just do it myself.'"
David hires actors through auditions, and they play available characters. She has much acting experience herself, using
her voice and acting skills to participate in both outside-of school and school plays.
She recently finished acting in "The Sound of Music" for the Desoto Family Theatre, and it was her favorite play she's ever performed in.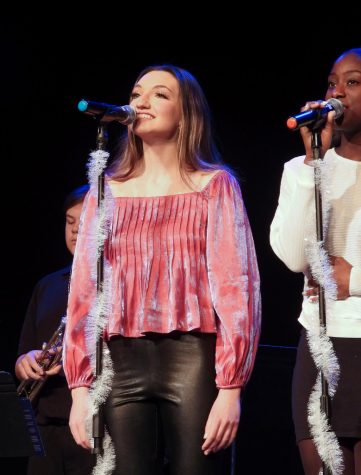 "'The Sound of Music'… was so much fun, it was my favorite [play] ever. I got to meet awesome people and got to work with a great production team," explained David.
David acted as Liesl Von Trapp, the eldest of the Von Trapp siblings in "The Sound of Music." David is also acting in the St. George's school play, "Beauty and the Beast," and has been cast as Belle.
She also performs in her business as well, playing many different princesses.
"My main [princess] is Rapunzel, which is a lot of fun, but I'm also [a lookalike of] Elsa,… Mal from Descendants, Anna, Cinderella, Belle, like pretty much any princess," said David.
Of course, starting a business has its challenges. David is the CEO of the business and has no co-partners.
David explained how running a business is a lot of time management and stress.
"I'm the only person, so I get all the complaints… it's usually like oh, someone is running late, and I have to deal with that, or
I have to tell the parents," she said.
Also, due to tight Disney copyright restrictions, impersonating newer Disney characters is against their use laws, so with more recent characters like Elsa, for instance, David has to use the name "Ice Princess."
Even though there are a lot of challenges, David likes to focus on the positives.
"I try to focus on the good we've done, and that's why I love working with nonprofits, and we've gotten to do a lot of that and community events… so I try to focus on that for sure."
In all that she does, there are many ways David has impacted the Memphis community. She is involved in the Miss Miracle organization, a charity pageant to help raise funds for Children's Miracle Network, and is also working with Le Bonheur and St. Jude.
David's most memorable experience from St. Jude was when one of her past clients was diagnosed with bone-marrow cancer.
"One of our past clients, she ended up having this bonemarrow cancer, and so she's at St. Jude right now… but we made her this little video because she had her whole room decorated as Arendelle. So I made her an [Ice Queen] video, and she just loved it," she said.
David explained why running this business is so important and memorable for her, and the children that get to experience the magic.
"It makes a big impact on their lives because we try to make their dreams come true," said David. "It's really cool [because] it's their heroes, and it's a cool way to bring their heroes to life; it would inspire them to… be brave."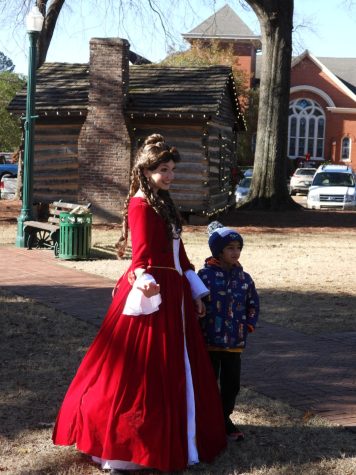 The near future provides the business a significant challenge, though: who is going to run the business when David goes to college?
"I really do not know what I want to do during college because I want to go to California," said David. "I have a few people who I might see if they want to take it over because I can't close it, it's too big now, but I will have to see about that."
After graduating from St. George's, David hopes to continue her talents when she goes to college.
"My dream school is Chapman University in California," said David. "[It] is ten minutes away from Disneyland, so I'm hoping to work as a character there … because I have so much experience."
David also hopes to study theater and acting in college as well.
"I want to pursue a BFA in Camera Acting; they have a camera acting specific major there which is pretty cool, but that would be a really cool activity to make a lot of films there and a lot of acting stuff."
Even though the thought of college is running in the back of David's mind, she is still working hard at running her business. She believes that the true magic of her business is becoming the character, but still letting her and her actor's talents live through the character.
"We actually sing at the parties too. You have to look like the character, but your talent is the most important thing for sure," she said.
In Dreams Come True Princesses, David likes to implement the fact that the children should always show their pure talent too—so much so that, at every party, they say, "What does being a princess mean? It's not wearing a pretty dress…it's being brave, being fun and being true to yourself."
Leave a Comment