A New Medium
New art show highlights student artists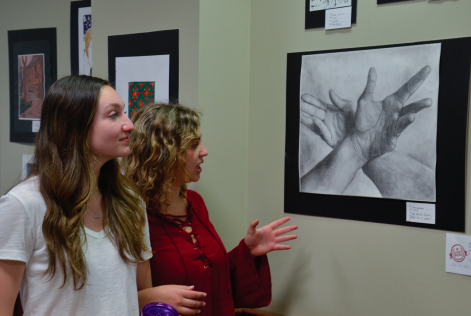 Students are used to seeing their peers' artwork in the halls, but the week of April 15-23 was something special. For the first time at St.George's, an art show solely featuring students was held. Mrs. Allison Webb, fine arts department chair and artist-in-residence, was really pleased with the results.
"It was a fantastic week," she said. "It was really awesome."
According to Mrs. Webb close to 400 pieces of artwork were displayed in total.
This was the first separate student art show that the school has hosted. Usually students will have some art displayed alongside that of professionals during the SGIS Annual Art Show that takes place in the fall, but Mrs. Webb wanted to spotlight students separately.
Having an entire event dedicated to showcasing student artwork from various classes and clubs allowed students to stand out on their own.
"We have been thinking about and trying to incorporate a way to show student art and highlight our artists," Mrs. Webb said, "because they're amazing."
The student art show allowed her to do just that.
Junior Kate Winstead, who had multiple pieces displayed during the show, said she "like[d] how you could just wander through the halls and see all of the work."
Faculty seemed to share the same sentiments. While the art show was being set up throughout the school, they frequently commented on work that they appreciated or admired, which gave Mrs. Webb and, fellow artist in residence, Ms. Katy Simmons-Carroll an idea.
"We thought to ourselves," Mrs. Webb said, "all these people have commented about how much they love the work, let's give them a platform to say it."
Faculty had the opportunity to recognize art that they found particularly interesting by placing a sticker and leaving a note near some of their favorite art pieces explaining what they liked about them. When the art was taken down from the hallways at the conclusion of the art show, students were able to keep any notes given to them by faculty. Mrs. Webb called this a "way to build community and connectedness through art."
Winstead, who had multiple pieces commented on by St.George's faculty, was a fan of the system.
"It's nice to see that people like my work," she said. Winstead even had an opportunity to sell her work but declined to do so, instead gifting it to others.
According to Mrs. Webb, receiving feedback is essential to learning and growing as an artist so students welcomed the opportunity to see what teachers thought of their work. "I think [students] were really excited to have that feedback," she said.
Winstead agreed.
"It's nice to have your work appreciated," she said.
Leave a Comment