Standing Room Only
Athletic department releases plans for student attendance
The last game the volleyball team played was in a packed Murphy Center on the campus of Middle Tennessee State, full of St. George's students who had made the trip up to Murfreesboro to watch the NetGryphs take home a state championship.
The next game they play will feel quite different. 
The Bleacher Creatures sent an email to students over the weekend that students would be allowed to come to outdoor home athletic events in limited numbers with no seating offered. The announcement comes just in advance of the first girls' soccer game, and the first volleyball game, both on Tuesday. 
For the soccer team's first game against Briarcrest Christian School, seniors were given first priority for a spot to stand if they registered through a SignUpGenius form.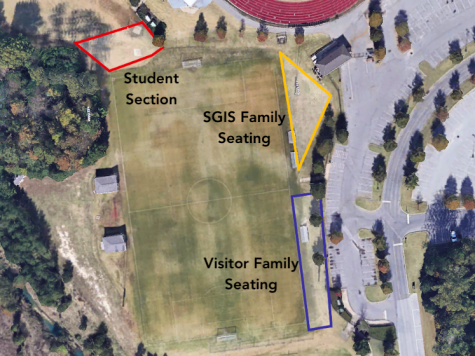 Athletic Director Mr. Tom Densford clarified last week that there was no current plan to have students in attendance for volleyball. The games will only be open to families of visiting and St. George's players. JV players can also stay for varsity matches, and varsity players can come to JV matches. 
"We don't see any space once we do volleyball to get anyone else in there, any students, any other people in there at all," Mr. Densford said. "With soccer and football, we're trying to figure out how to get students there and where we put them." 
Senior volleyball center right-side hitter Kym Young said that while it's disappointing to not have students in attendance, the team is, at its core, self-driven. 
"It kind of affects everyone–everyone wants to see their best friends in the stands or their boyfriends or their parents or their brothers and sisters and now we can only each bring two people to the game and that's kind of tough," Young said. "But at the same time, I think we all play for ourselves. We have a drive inside of ourselves to make sure that we are doing our best." 
The current plan for the student section at soccer will be near the lacrosse wall behind the endline, and football's student section will be at the far end of the track, pending approval from the TSSAA.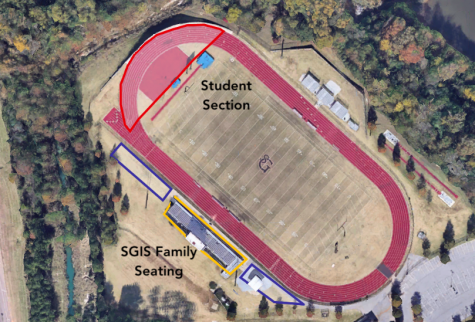 "We've got to get some clearance from the TSSAA and officials to see if we can put students inside the fences and things like that." Mr. Densford said. "And then students have to do the right thing when they're in there."
Senior soccer striker Maddie Bishop said that she's excited to have students there to support the team.
"Coming as a forward, when we're attacking the goal, the fans, they are right there with you and it's really encouraging. So I am extremely excited that we're able to have some fans," Bishop said. "From what I've heard, [students] are eager to sign up, and I think everyone just is going to be excited for some normalcy." 
Currently, the St. George's football team is scheduled to play five regional games, while the soccer team is scheduled for nine and the volleyball team is scheduled for 11. Whether or not the teams will play their full schedules is yet to be seen, but Mr. Densford says the athletic department's priority is safety. 
"We're just trying to do everything we can to keep everyone safe. Our goal is to finish the season. That's our goal," Mr. Densford said. "It doesn't do us a lot if we don't finish and so we're doing everything we can to try to finish."
Leave a Comment