Float Like a Butterfly, Sing Like a Bee
St. George's Upper School Choir sing at Thistle and Bee fundraiser at Temple Israel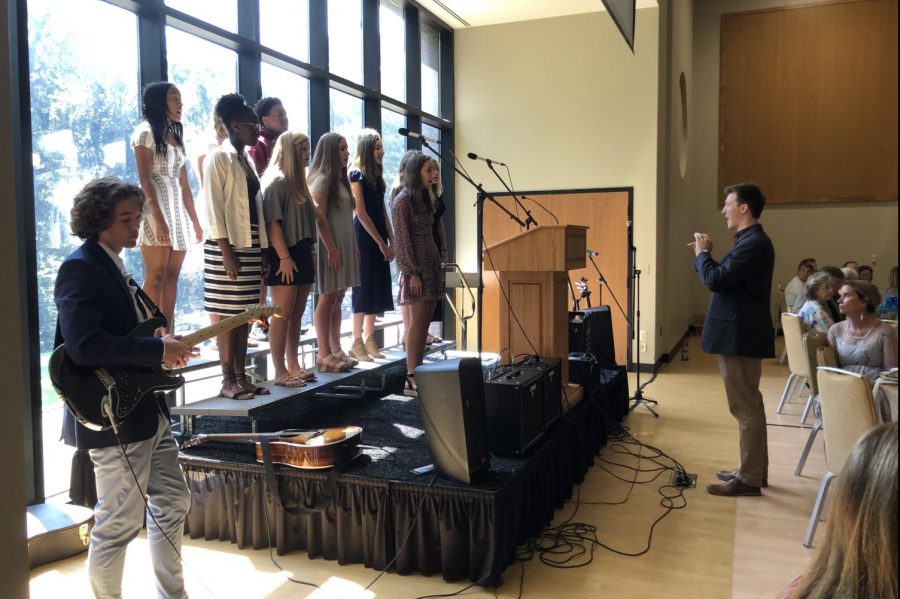 On Sept 6, the Upper School choir, who call themselves the St. George's Singers, along with some members of the American Music Ensemble performed at the Sweeter than Honey Luncheon sponsored by Thistle and Bee held at Temple Israel. 
Thistle and Bee is an organization that employs women survivors of trafficking as part of a two-year program to create a variety of natural products for your bath, body and home. They rented space at Temple Israel for a conference and fundraiser and invited the St. George's singers to perform. 
Their set list included a four-part harmony of "Imagine" by John Lennon and "All You Need Is Love" by the Beatles.
Abbie Strauss, the Cantor at Temple Israel, was moved by their positive performance. 
"I'm a big Beatles fan, which I know is a different thing, but just their voices together and their positive message, were incredible." Cantor Strauss said. "You can tell that they not only practiced a lot, but they actually believed what they were saying. So it was just really, really amazing thing to see young voices not only singing the correct notes, but singing something that meant a lot to them, and a message that is true to their heart."
The St. George's Singers' authenticity not only affected the audience, but the performers as well.
"When the choir sang the song "Imagine" acapella, it was like the whole room stood still," Freshman Mary Alice Murphy said. "The music was very powerful, moving, and beautiful. I was grateful to be a part of such an experience."
The St. George's choir is rapidly growing, and Murphy is a St. George's choir veteran. 
"I joined the St. George's choir in 7th grade and I have been a part of it ever since," Murphy said. "The choir is like one big family, and I have loved being a part of it!"
Throughout her years, the St. George's choral department has undergone a myriad of changes, including the addition of a new Director of Choirs, Mr. Nathan Dumser, last year.
This has drawn new members, such as sophomore Darby Beal, who was a part of the Modern Music Ensemble last year.
"The choir hasn't really gotten to do a lot of things in the past. We're doing a New York trip this year, hopefully, if we get enough people," Beal said. "I loved the bonding that we had on that trip, and if we have more, I think it would make us even better, so I'm excited."
Beal reflected on her favorite part of the day.
"Honestly standing onstage for the first time with the choir," Beal said. "This is my first year taking choir in high school, so we kind of just had fun. Also after the luncheon, we went into this little room together and jammed out and sang a bunch of songs."
This was also a highlight of Mr. Dumser's day. 
"We learned a little quick three-part arrangement to "Night Changes" by One Direction. Then that turned into "Let It Be" jam session, and that turned into "Hey Jude" which turned into "Wagon Wheel," Mr. Dumser said. "We were singing and laughing and smiling. It was the most joyful experience I've had since I got to St. George's."
While the choir was rehearsing and having a pizza party, Becca Stevens, the founder of Thistle Farms gave a speech. 
"We were eating our pizza back in the conference room," Mr. Dumser said. "Becca Stevens was talking about how she tied in the text meaning behind our song, "Imagine" and the big meaning in culture surrounding "All You Need is Love" from the big hippie, flower child movement and connected that to the desperate need for unity and love." 
Their setlist reflected the Thistle and Bee mission, and Cantor Strauss was moved by Stevens' speech and the purpose of Thistle Farms, the organization and program for survivors that inspired Thistle and Bee. 
"I was bawling at the speaker [Becca Stevens] because [it's] something that sounds so simple like making honey or making tea or making granola, but they do it in a way that is changing the world and changing people's lives," Cantor Strauss said. "[Becca Stevens] says one life at a time, but you can see the picture of dozens and dozens and hundreds of people that are affected by just one small company. It was very inspirational. I was very impressed. I ended up buying a lot of honey."
The St. George's choir's exposure to this organization made an impact on Murphy.
"I kind of knew of the Thistle Farms connection," Murphy said. "But I really enjoyed getting to know a little bit about it and having a better understanding of what it was."
Not only did this give them a chance to perform but to perform for a good cause.
"Having these young, young voices and how they were spreading that message of love, and you could tell that they were singing from their heart was really inspirational," Cantor Strauss said. "On top of their talent!"