It's a New Chapter for Softball
It's the opening game of the season, and it's a beautiful day for softball. Dr. Kyle Capstick stands on the same field she played on during her time at St. George's, but instead of a teammate, she is now the head coach. St. George's is facing off against St. Agnes and hoping to begin their season with a win.
St. George's is up to bat, and the bases are loaded. Sophomore Kayla Hayes steps up to the plate, settles into her batting stance, waits patiently for the pitch, then swings. Players and fans alike watch as the ball sails over the fence, disappearing into the woods behind the field.
Hayes' grand-slam was the first in school history to go over the fence (others have occurred inside the park) and heralded a new chapter of St. George's softball.
Dr. Capstick has been crucial in the revival of the St. George's softball program, and her passion for the sport stems from her connection to the school.
"We were very successful when I was here. I had a strong team, strong coaching, and it was a joy to do," Dr. Capstick said. "When I came back for this role specifically, I was asked if I wanted to take that on, and I said absolutely."
In addition to being a graduate of St. George's, Dr. Capstick was an ideal hire because of her accomplishments. Athletic Director Mr. Tom Densford was involved in her hiring as the varsity head coach of softball. She was additionally hired as the middle school director of learning services. Mr. Densford thought she'd be a good fit since she is both an alumna of the school and of the softball program.
"She was a college athlete, and one that had gone back and gotten her doctorate, which I find amazing, to put a great female person in front of females," Mr. Densford said.
Ms. Leanne Ricketson, sophomore English teacher and assistant varsity softball coach, has been impressed with the changes Dr. Capstick has already implemented in the program.
"She's brought a tremendous amount of energy and commitment to the program. She's advocated for the girls and gotten them everything we need, from new helmets to practice kits and field time," Ms. Ricketson said. "Her commitment to making the softball program the best it can be is really impressive."
Senior Danielle Chandler has been playing softball since seventh grade and, like Ms. Ricketson, has also noticed the changes made during Dr. Capstick's first season with the team.
"She wants us to be good, and she's pushing for it. She's gone and talked to leaders," Chandler said. "She's actually gotten us new equipment, new uniforms and girls' helmets [and] made sure everyone has supplies that they need."
Like Chandler, senior Lindsey Pepper has played softball at St. George's since middle school and has sometimes felt that softball hasn't received the support it deserves. For the past few years, softball has finished the season with a losing record. Even though Pepper has been the starting pitcher for the team since middle school, she has not always felt comfortable talking about her sport.
"I've received, not hate, but just not as much respect for this sport, that it just blows over my head now," Pepper said. "I'm so used to it, and I don't really talk about softball with other people because, not that I'm embarrassed, but it's not something to be completely proud about at all times."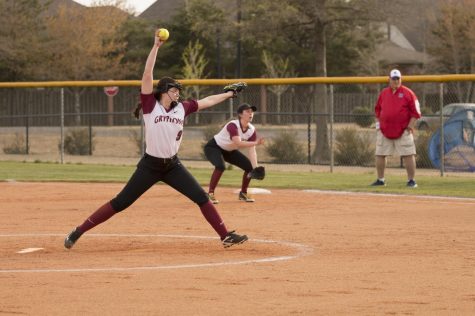 Pepper is not the only player that has noticed a disrespect for the sport in the past. Fellow softball player and junior Malaisyah Vann has felt similarly.
"When we're walking down the hallways and people are laughing about how bad you did in a game, you get to the point when you actually don't want to invite your friends to a game, and it needs to not be like that," Vann said. "I think if everyone – and this goes for all sports – if everyone just encouraged each other and came out and supported, I feel like every sport could do better."
In addition to sometimes feeling unsupported by their peers, softball players have also struggled with facilities and equipment issues over the years. Chandler remembers the issues the team had with their previous dugouts.
"Until, I think it was two years ago, our dugouts were just chicken wire fences, with no roof, nowhere to put our bags or any of that," Chandler said, "We do have a fairly nice field, so it definitely didn't match with what we did have. Finally [we] got some money raised, I believe, by our own parents. The parents I know really had to advocate for that money to go where they wanted it to go, and that finally ended up being put into our dugout."
Chandler's mother, Mrs. Robbye Chandler, serves as softball team mom and is in charge of running the gate and concessions. While Mrs. Chandler notes there were definitely issues when her daughter first started playing softball, parents on the team have contributed to make sure the program was improved.
"It was not a good situation. There was no tarp for the field to be covered, like there was for the baseball field. There was only one bleacher, at all, for the whole thing," Mrs. Chandler said. "There's been support, people want to support it. Honestly, going to other fields to play softball, we have the nicest softball field of any of the schools we play against now. It's very nice, so that's been a good thing."
Even though the team has faced problems in the past, the players have noted that there is definitely more support for the program this year. Ms. Ricketson attributes the lack of updated equipment in the past to previous coaches who did not advocate as strongly for new equipment as Dr. Capstick has.
"I don't think there's ever been an intentional oversight, or an intentional injustice, or an intentional 'no,'" Ms. Ricketson said. "I think there were years where the program was headed by someone who was less passionate than Coach Capstick, who was doing a less able job for advocating for the kids, and we've seen the difference. [This year] the second it was asked for it, it was granted."
Dr. Capstick has also felt the support from the school, and just as Ms. Ricketson pointed out, anything she's asked for this year, the team has received.
"Right now, I feel as a coach I am very well supported across the board, and think that's what needs to be known," Dr. Capstick said. "I can't speak to the history, but I can tell you right now, they're all in, which has been really cool to see. And I am also a person that's going to fight for what we need and what we want, and I've been supported with that."
According to Vann, Dr. Capstick addressed the team's struggles at the beginning of the season and was determined to create change.
"Basically, she came in, and from what I understand, she said what needed to be done, what we needed to move on to progress as a program," Vann said. "She just came in, and she handled her business, and she said, 'Look, we're not going to be a joke anymore. We're going to pick this up.' And she got her crew together. She said, 'Let's go. Softball is not a joke. We have to do it. Prove everybody wrong.'"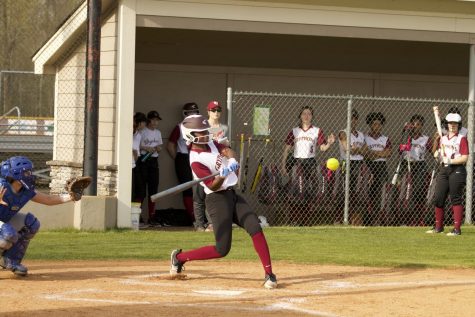 At the top of her agenda is getting the middle school team up and running. For the past two years, the middle school team has been a few players too short to compete.
"She was so close [this year]," Mr. Densford said. "I think she was two girls away from making the middle school softball team."
Dr. Capstick felt the pressure of not having a middle school team, as it adds uncertainty as to what the program will look like in the future.
"That's hard to come back from and to be able to get the players there and especially to move the program forward," Dr. Capstick said. "That has definitely been a challenge, not having a middle school program, to know what next year holds."
Even though the future of the middle school program is uncertain, Dr. Capstick is making sure to keep middle school players involved this season by having them come to practices and games.
"[Those girls] still being out there in practice, still being at all the games, reaching out to the elementary kids, I think that will eventually help get that program back up and running," Mr. Densford said.
On top of having middle schoolers participating in varsity activities, Dr. Capstick is raising support for softball through sponsored events such as Elementary Night. Spanning from first to fourth grade, 16 girls from the elementary school had the chance to play softball on the Collierville campus field.
"They got to run the bases," Dr. Capstick said. "They got their names announced on the loudspeaker by Mr. Ferguson. They got a hotdog after they were on the field. Things like that were really cool to see, just making a connection to the younger campuses, seeing the varsity girls cheer them on, be excited. That was a really beautiful image of both our school community but also just our program as a whole."
It's ideas like these that give players and coaches hope for the program to continue.
"I'm just excited," Mr. Densford said. "It's exciting to see the girls excited, and they seem to be having a lot of fun."
And while Dr. Capstick says winning state is every coach's dream, her ultimate dream is making sure her players enjoy the game.
"I want the girls to have a fun experience, and I've told them that since day one," Dr. Capstick said. "This is such a fun sport, so that's my biggest goal for them. Have fun while you're doing this and enjoy it. I hope that they can walk away and say that they loved their softball experience."
Leave a Comment