Cheering Up Paige Robbins
St. George's students perform as a cabaret group at Paige Robbins Adult Day Care Center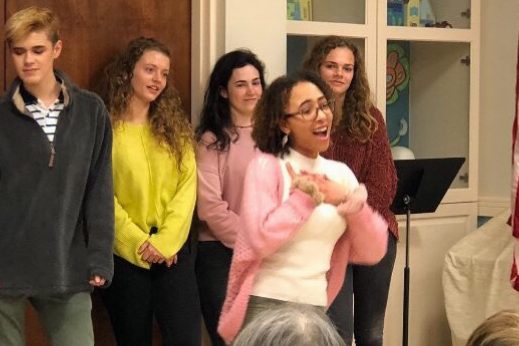 When junior Maggie Emmendorfer lost her grandfather a few years ago from Alzheimer's Disease, she wanted help those who suffered from it. After hearing her friend's grandfather complain about the lack of younger performers at Paige Robbins Adult Day Care Center, which takes care of people with Alzheimer's during the day, she decided to form a cabaret group at St. George's to perform for the people there.
Emmendorfer is active in the theatre community at St. George's and Memphis, and she had been looking for a way for people who are interested in theatre to participate in a casual way.
"I've been doing cabarets generally for a long time," said Emmendorfer. "I was in a younger kids cabaret in fifth and sixth grade, but right now I'm in a student cabaret at the Orpheum, which is a bunch of fun and inspired me to make a cabaret group here."
After announcing this in chapel, Emmendorfer communicated with people who she knew would be interested in, including those she knew from theatre.
"Maggie is leading it, and she asked me if I wanted to do it," said freshman Angelina David who participated in middle school theatre at St. George's. "We actually did a cabaret at New Day theater where we do a lot of theater, and she had the idea to do it."
Other students who had previously been in choir decided to join cabaret group.
"Well, first of all, I love to sing," said senior Ann Ragan Grisham, who was in choir from seventh to tenth grade. "Two of my really good friends, Boo McWaters and Ella Sykes, said they were singing together, and I was like 'Can I join, and that sounds really fun.'"
The cabaret group performed at Paige Robbins on Thursday, Feb. 15, and they practiced for their performance on Tuesday, Feb. 13.
"During X-Block, we went through our song," said Grisham. "We're doing "She Will Be Loved" by Maroon Five."
Many people were excited to perform at Paige Robbins and thought that it would be a great way to volunteer during the school year.
"I've never performed at Paige Robbins before, so that'll be fun and a new experience," said David. "It's just so much fun to perform with all these people."