Ain't No Mountain High Enough
New mountain bike team looks for success in inaugural year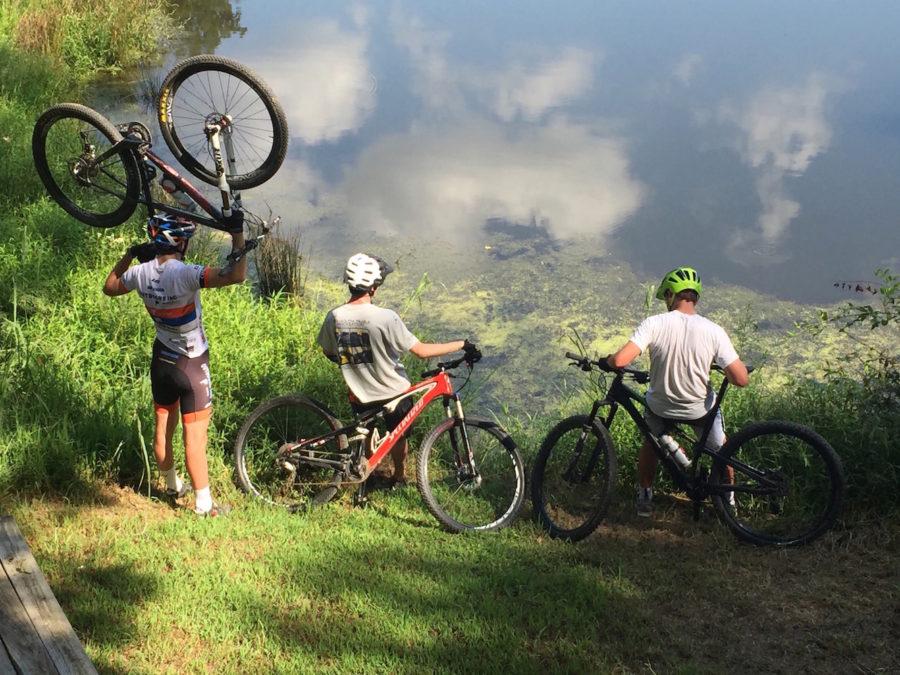 It's a hot Wednesday afternoon. Speeding through the St. George's trails are three adept mountain bikers, and then me, sprinting far behind. Although I am not on a bike, I can still feel the adrenaline and excitement in the air.
Whether you are an experienced mountain biker, have never ridden a bike before in your life or don't have a bike, like me, the new St. George's  Mountain Bike Team is welcoming new members.
The Mountain Bike Team is a new student-led organization envisioned by seniors J.D. Hibner and Kneeland Gammill for their Senior Independent Study. According to team sponsor Mr. Roszel, the team's main goal for this year is to get regular rides going at the school, although they have greater plans for the future.
"I'd love to do a trip," Mr. Roszel said. "We can go to Arkansas, we can go to Chattanooga, we can go to Western North Carolina, and really try out some good trails."
For these outings, the team welcomes first-time riders.
"This club is designed to be for people of all skill levels," co-founder Gammill said in a plea to the student body, "We envisioned it with everyone in mind, so even if you don't have very much experience, you're going to get better."
Team member and junior Soren Jensen is a firm believer that beginners have a spot on the team.
"I started a year ago, and I still feel like if you start today, you can learn a lot," Jensen said.
Nevertheless, making this venture a success won't be easy for its founders.
"I think our main problem will be finding people to come out and do it," Hibner said.
However, the team is not significantly worried about hindrances and is just excited to get out there and get biking on a regular basis. At the end of the day, the true purpose of the team is to have fun.
"We're just out here having a good time, enjoying the great outdoors, and that's what we're all about out here at St. George's," Gammill said.