School's in for summer camps
St. George's plans for a more inclusive summer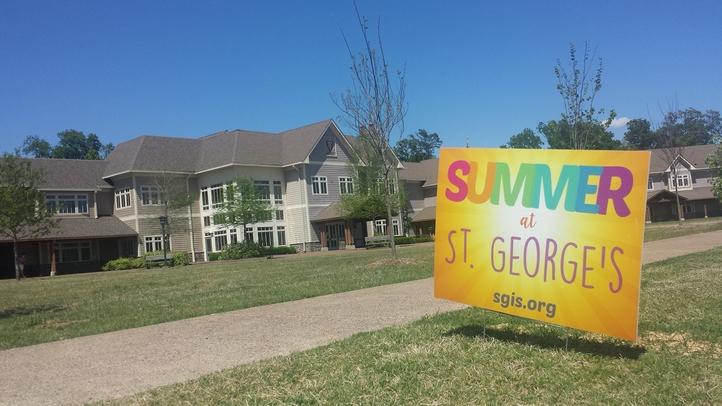 While the end of school is in sight, there are a multitude of opportunities to involve yourself with St. George's during the summer. Director of Summer Programs Mr. Austin Henderson and Associate Head of School Mr. Will Bladt have been working to create a new lineup of summer activities for students. This is Mr. Henderson's first year as the Director of Summer Programs, and he hopes to create a more wholesome summer experience for students.
The programs included in Summer at St. George's cover a variety of topics, which allows students of all interests to engage with their hobbies after the school year ends. Because of the number of programs offered, the camps available to students vary weekly, and some camps can be mixed together during the same week, depending on the times of the sessions.
After participating in a summer program, Mr. Bladt hopes students will be able to answer the question, "What does a non-structured school day offer?"
One new program available through Summer at St. George's is Amplify Memphis in which students will take an active role in improving the quality of life of individuals in the Memphis area. During the three-week program, students will travel around the city of Memphis, learn about its problems and attempt to create solutions that will better the lives of Memphians. This program is open to rising high school students and will give students a semester-course credit on their transcript.
Rising senior Marshall Shanks is currently considering this program for the upcoming summer.
"I'm trying to see [who] the different leaders of the community are and how their groups are trying to change Memphis," Shanks said. "I hope to get out a better understanding of the communities, whether it is a business area or the suburbs."
Extra course credits are not the only way to help students with their college applications this summer, as the new ACT test prep program offers students advice on how to score well on the ACT. A partner from The Princeton Review will be coming to campus during these courses to help teach students test-taking strategies.
"It's incredibly critical for kids to have the opportunity to positively influence their scores," Mr. Bladt said. He hopes the program will give students their best chance at scoring well on this college admissions test.
Director of College Guidance Mr. Timothy Gibson feels similarly to Mr. Bladt in that he urges students to prepare for the ACT as much as possible.
"The ACT is a critical part of the college application process," Mr. Gibson said. "The higher your ACT score, the more opportunities there are for admission and for scholarship, so people should take it very, very seriously."
This summer, the St. George's Great Outdoors (SGGO) club is partnering with Summer at St. George's for the first time to organize three new camping trips.
"We haven't done summer trips [with Summer at St. George's] before," senior SGGO leader Richard Kuehn said. "I expect these trips to be more fun than last year's trips."
The first trip will take high school students to western North Carolina where they will be mountain biking and whitewater rafting, among other activities, but students who attend this trip do not need to have camping experience. The other two trips will take students to Colorado, with one trip for middle school students and the other trip for high school students. During this trip, campers will whitewater raft, rock climb, backpack and enjoy natural hot springs.
Summer at St. George's includes many other summer opportunities as well, including the Gryphon Art Camp and a multitude of sports camps. A complete list of all programs, including additional information such as dates and times, can be found on www.sgis.org under the "Campus Life" tab.