Beyond belief
Religion students visit local centers of worship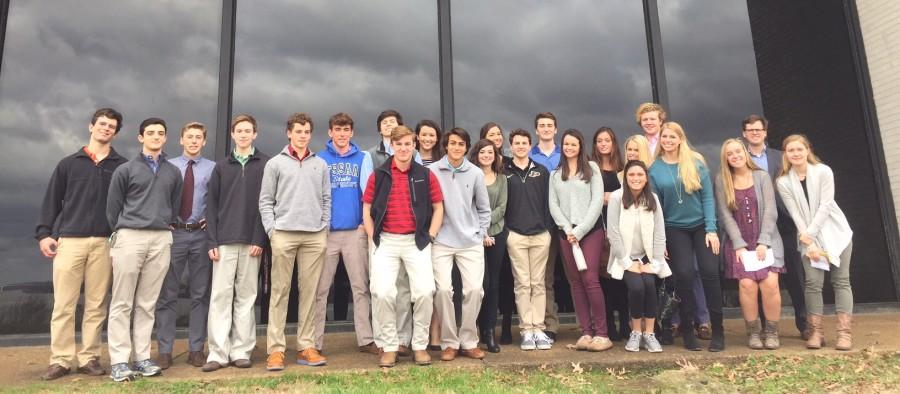 Many St. George's students didn't expect to be meditating at a Tibetan Buddhist temple or wearing a hijab at a local mosque when they signed up for Mr. Kyle Slatery and Mr. Nick Whicker's religious studies classes. However, due to a new participation requirement that has been added to these religion classes, St. George's students are being opened up to new experiences like these.
Sophomore, junior and senior students taking religion are required to take three trips to religious centers, one per trimester, though some elect to go on more because of the wide variety of options offered. The upper school religion course studied a wide variety of world religions, from Zen Buddhism and Taoism to Islam and Judaism, and most of the visits are of the religions they are studying in class in order to emerge them in these class topics.
Sophomore Shynia Smith has been on two different visits so far, one to a Muslim mosque and the other to a Quaker meeting. At the mosque, Smith had a hands-on experience since she was required to wear a hijab and take her shoes off for the ceremony, which was very different from what she was used to.
"We saw a group of boys having day school, and you could tell that they weren't used to seeing girls in there," Smith said. "I think that these experiences are great for the [St. George's] community because it produces more informed students. By going and experiencing them, we can reduce the ignorance in the world."
Meanwhile, senior Hadley Allison has visited a Tibetan Buddhist center and a Greek Orthodox church. At the Greek Orthodox visit especially, Allison had a great experience interacting with the people there and attending the service.
"[They were] very receiving of new people," Allison said. "They want other people to be part of it, and that's really cool."
There are six to eight weekends where students have the opportunity to fulfill this participation credit and visit a church. Typically, the visits are to churches of the five most popular worldwide religions, being Hinduism, Buddhism, Christianity, Judaism and Islam. Mr. Slatery and Mr. Whicker hope to continue the trips in future years and grow connections with newer and more diverse religious institutions.
"It's a great learning experience when you are having a direct experience with somebody that believes something different than you, looks different than you or worships different than you," Mr. Whicker said.
http://www.memphisfriendsmeeting.org/