Democrats battle it out in first debate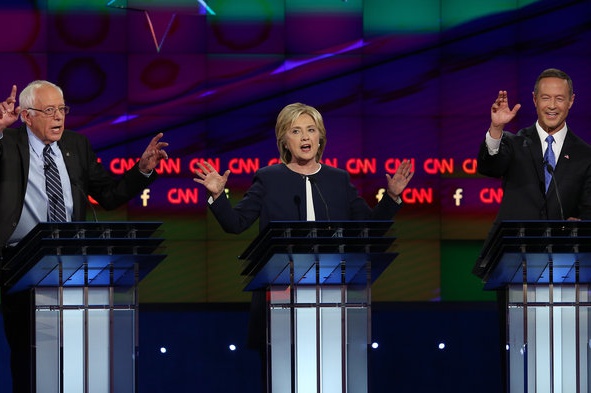 Although the democratic debate was not nearly as entertaining as its republican counterpart, both shared a similar trait of hailing a woman as the winner. On Tuesday, Oct. 13, 2015, Hillary Clinton, Bernie Sanders, Martin O'Malley, Jim Webb and Lincoln Chafee all gathered together at the Wynn Resort in Las Vegas to show the United States who they were and what they stood for.
Prior to the debate, Clinton stood at the top of the polls with 43.3 percent support, Sanders was in second place with 25.1 percent support, Webb trailed behind with 0.9 percent support, O'Malley held 0.4 percent support and Chafee had 0.3 percent support. Surprisingly, Vice President Joe Biden, who has officially stated that he is not running for president, still had 17.4 percent of the support on the night of the debate. Without even being on the debate stage, he was more popular than Webb, O'Malley and Chafee.
Sanders and Clinton conquered the debate stage. Between the two of them, they had 17 more minutes of speaking time than their fellow candidates did combined. In the days before the debate, the focus of the media was on Clinton's falling support and Sanders' rising popularity. The main question for the debate was whether or not Sanders could gain enough support to overtake Clinton as the democratic frontrunner.
In the second republican debate on Sept. 16, Carly Fiorina dominated the stage with her quick responses and hard hits at Donald Trump, Clinton and the Democratic party as a whole. At the first democratic debate, Clinton appeared as if she had taken notes from Fiorina. Her performance included quick responses, noticeable confidence and an ability to twist the questions presented to her into an attack against the Republican party, and she appeared knowledgeable in foreign and domestic policies as well.
Although Clinton remains at the top of the polls, her support has been lacking in light of her email scandal. However, this was surprisingly not her biggest problem. Instead, her wavering stance on issues like gay marriage, the Trans Pacific Partnership, immigration policies and her support of the invasion of Iraq were bigger issues that night. Other democratic candidates questioned her authenticity, wondering if she changed her stances depending on the political beliefs of the crowd. Debate moderator Anderson Cooper brought up that Clinton had admitted she was a "moderate democrat" just two weeks before the debate, only to claim that she was a "progressive democrat" during the debate. Cooper questioned her, asking, "Will you say anything to get elected? Do you change your political identity based on who you're talking to?" In response, Clinton stated that she has changed her stances multiple times in order to "absorb new information."
Although their political views may be vastly different, many labeled Sanders, a self-proclaimed socialist, as the "Trump" of the Democratic party due to his "I am going to say what I think and not apologize for it" attitude, as well as his extreme beliefs. At 72 years old, he has a reputation of fighting for civil rights movements and going against the popular opinion of both the Democratic and Republican parties. While many republicans saw Clinton as a "villain" prior to the debate, they now fear Sanders. His rise to success has been swift and powerful since a large amount of young people identify with his policies.
Sanders' campaign is notable because it aggressively fights against the "billionaire class," which he believes is the cause of income inequality. Sanders' campaign also focuses on climate change, racial injustice and campaign corruption. Throughout the debate, Sanders discussed his plans for making health care free and affordable to all citizens, creating paid leaves for mothers and providing public colleges free to all. When asked about how he would find the funds to support these plans, he claimed that increased taxes on the billionaire class would create enough funds. Although many respected Sanders' authenticity, many are still unsure on whether or not Sanders will be able to gain enough support to overtake Clinton at the primaries.
The other three democratic candidates, O'Malley, Webb and Chafee, were more of a "side-show." They were given significantly less time to speak as the debate, which was centered around Clinton and Sanders. O'Malley emphasized his reputation as the former governor of Maryland, speaking about his ability to pass stricter gun laws in his state as well as the need for 10 percent clean electricity by 2050, the Black Lives Matter movement and a more lenient immigration policy and paid leave from work.
Webb spent a large majority of his time speaking about how he was not being given time to speak. Webb's focus was on the need for stricter, but reasonable, gun laws, more pro-coal and nuclear power laws and his history in the United States army. Webb was criticised for his comment about how Affirmative Action was racist towards white people as well as his 'A' rating from the National Rifle Association.
Chafee, the former governor of Rhode Island and the candidate that spoke the least, spawned many internet jokes about how he just appeared happy to be there. He focused on income inequality, climate change and the corruption of campaign finances. He was criticised for his wavering political affiliation, as he has identified as a republican, independent and now democrat throughout his political career. Although others disagree, Chafee claims that he is a "block of granite" when it comes to his beliefs.
Trump still managed to make his way into the democratic debate without even being on the stage. He live-tweeted the night and gave his feedback on what the candidates said, just as Sanders did for the republican debate. After tweeting that he was going to be live-tweeting the event, Clinton responded, "Glad you'll be watching. It's going to be 'huge.'"