Even O negative is positive!
St. George's saves lives with fall blood drive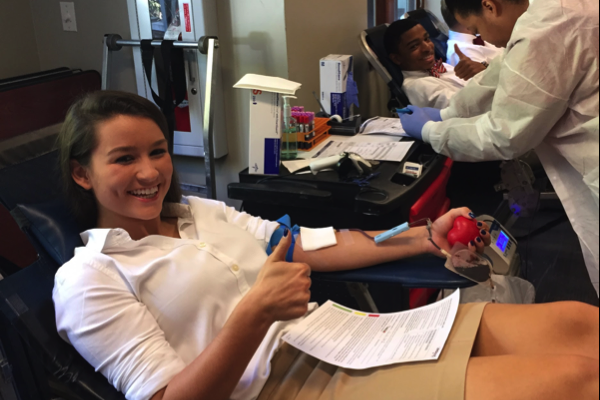 The first blood drive of the year took place on Friday, Oct. 16. This year, 38 units of blood were collected, 42 donors registered and four were deferred.
In order to donate through Lifeblood blood drives, students must be 16 years of age and weigh at least 115 pounds. Students who are donating blood are advised to drink water all week, as hydration is key to not feeling faint during or after donating.
"I donated blood so I can say I saved a life," junior and first-time donor Megan Lenoir said. Along with Lenoir, we had 14 other first-time donors also registered this year.
Senior Teddrick Boyd is one of the leaders of LifeBlood at St. George's. Boyd has been actively involved with LifeBlood for years.
"[Donating blood] has become a big part of my life," Boyd said. "If I can give more minutes or years to someone, why not?"
There are no specific goals set for donating blood this year, but Boyd would like to see an increase in the number of people who donate.
Parents and teachers are welcome to donate along with students so long as they meet the requirements. During the winter and spring blood drives, Boyd said there may be a competition between grades.
"I mean, why not donate blood? You get to miss class and get free food," junior Channell Cole said.