New faculty brings St. George's to new heights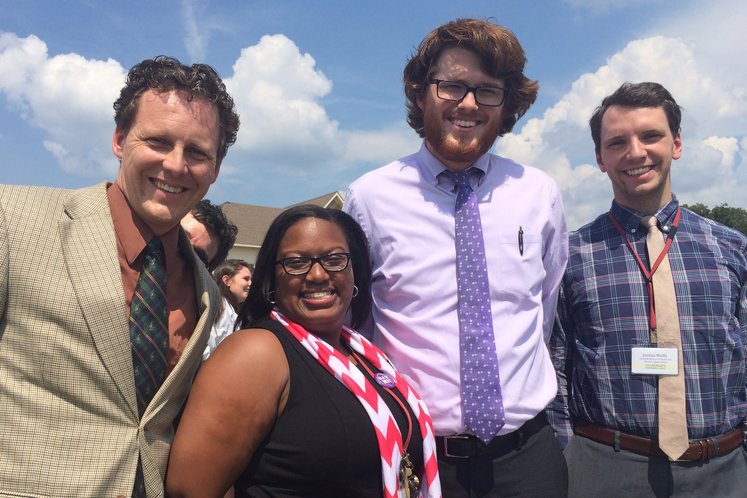 More than 18 new faculty members joined the St. George's staff this fall, many of whom are new faces representing entire departments. Because of this, many branches of St. George's, including college guidance, theater, citizenship and science, now appear brand-new to returning students.
After the departure of theater director Mr. Marques Brown and the decision of choir director Mr. Dennis Darling to go part-time, the theater and choir department shifted greatly, welcoming three new faculty members. Mr. Jordan Wells teaches middle school choir and high school theater classes, Ms. Lorraine Cotten teaches creative storytelling in the middle school and is the director of the spring play, and Mr. Brandon Lawrence is directing the fall musical, "Bye Bye Birdie."
"There's a lot of excitement, great energy [and] great enthusiasm to be apart of what's going on. That's what I love about [St. George's]," Mr. Wells said. "Students should know that I'm here to support them, educate them, but I'm also here to bring out the best in people."
This past school year was also the last for Ms. Beverly Brooks, who was the associate director of college guidance. In her place, St. George's hired Ms. Jessica Hardy, who has never worked in a high-school setting directly, but was previously on the college admissions board at Rice University in Houston, Texas.
"I'm fresh, I'm new [and] I don't know the backstory, so I can provide a different perspective and can engage with students as a newcomer and not have preconceived notions about who they are or what they've done or who their siblings are," Ms. Hardy said. "It's just genuine conversations."
When asked what she wanted students to know, Ms. Hardy advised students to "just relax and enjoy this time."
"It's not the end of the world," she said. "It's the beginning of your life."
With the departure of the Taylor family came the addition of Mr. J. Ross Peters, replacing Mr. William Taylor as the head of school, and Ms. Olivia Buffington, replacing Mrs. Taylor as the director of admissions.
Ms. Buffington previously worked at Christian Brothers High School as the director of admissions there. Prior to that, she worked in college admissions at Mississippi State University for six years.
"My first interaction with St. George's was when I was working for Mississippi State as an admission counselor and I visited here," Ms. Buffington said. "That's how my relationship with St. George's first began."
Ms. Buffington is intrigued by St. George's unique three-campus model and approach to learning and is especially interested in meeting and talking with all students.
"I'm excited to get to know all the St. George's students and really getting to see who fills our halls what makes y'all so special," she said. "You're the ones who bring the school to life."
The new school year also brought many new changes to the science department, with the departure of chemistry teacher Ms. Kristi Schulz and the move of biology and anatomy teacher Mrs. Kalyn Underwood to the role of the upper school Dean of Students.
Mr. Sam Abrams is teaching the sections of biology and anatomy that Mrs. Underwood previously taught. He comes from a small private school in South Carolina, which he said was very similar to St. George's.
"[St. George's] has the same tight-knit family feeling to it without sacrificing academics or what we're here to do," Mr. Abrams said. "You can develop relationships with students beyond the classroom instead of them being a name and a number in a spreadsheet."
After coaching basketball for four years in South Carolina, Mr. Abrams will serve as the eighth grade boys' head coach and the varsity boys' basketball assistant.
Mrs. Kristi Schulz was replaced by Mr. Ethan Sullivan, who previously taught at Granda Hills Charter High School in Los Angeles, Calif.
"I feel very supported here by everybody … just everyone makes you feel very welcome," Mr. Sullivan said. "It's a really positive environment."
The science department at his previous school was large and consisted of at least 30 teachers, so he likes the small science department at St. George's and the ease of collaborating with his colleagues.
"I'm just really happy to be here," Mr. Sullivan said. "I love coming to work everyday, and what more can you ask for?"