Collaboration Creates Success
The success of AME develops from various student talents
St. George's music arts program is truly different from other schools. This is largely because of the American Music Ensemble here at St. George's.
American Music Ensemble, or AME, is a class taught by the band teacher, Mr. Tom Link, teaching the instrument players, and Mr. Nathan Dumser, the choir teacher, teaching the vocalists. AME differs from traditional choir and band classes in a few ways.
AME focuses on a different type of music, away from the classic choral, gospel music like choir and more towards what is already around us as Memphians, but students might not notice in the bubble of their own music taste.
"It's tied into the fact that this is Memphis, and we're in the middle of the Mississippi Delta and all of the roots of all of the American popular music anyways," stated Mr. Link.
This aspect of the class makes AME different from the traditional band many people might think of. Its music leans more towards jazz, blues and pop, as well as soloist style songs accompanied by a band. This is
possible because of AME being a smaller group, so fewer people have to be singing in a song for everyone to be included in the concerts.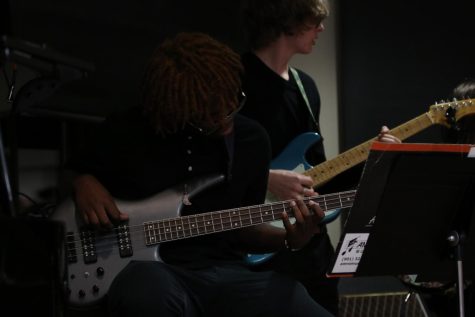 Another attribute of AME that makes it unique to other music programs is that the students are treated as dedicated musicians. Instead of being taught the basics and simpler things, they get to take a deeper dive into making themselves better as serious musicians.
Sophomore Lorelai Michael, a new singer in AME, is dedicated to improving her singing and understanding music.
"You know how to do this. You're decently good at it, and we can help you build more. And that you're less of a student and more of a musician and taken in that seriousness," she said.
Sophomore Alex Smith, a musician for most of his life, also chose to be a part of AME by playing the guitar.
"We're pushed farther. We play harder songs," said Smith about his experience in AME.
Being pushed to improve makes AME stand out as a way to build skills in creating music from finding it in classes before. It allows students to truly learn more from the classes and see what path they want to take in music.
Another distinction AME embraces is the closeness that band has.
As such a small group of musicians that work together to create their music, singing and playing instruments becomes a vulnerable thing. A student can easily make a mistake, but AME does well to create a sense of comfort and no judgment that's necessary for students being able to push themselves and come up with great ideas.
Senior DeJa Harris, a choir and AME singer, works hard to find her own voice. She appreciates the sense of community and closeness it holds as they cheer her on for every song she sings.
"You get really close really fast because you have to know these people," she said. This community is shown easily in day to day AME.
"[The vocalists] can all do each harmony, so if anyone's ever sick then I can take your part because I know it because we've gone through and practiced it," Harris added.
Michael also noted the group aspect of AME, and how powerful coming together with different talents is.
"I like all the different instruments and people can come together to make something so beautiful even if they have their own abilities and quirks. Together, combining us as a group creates something so awesome," Michael said.
Because of this sense of community and comfort, students feel free to be themselves and make AME their own in a way, working together fluently.
"A lot of our song choices come from the players who are guitarists who are like, 'Oh, I think I can do this song, and it'd be really cool if you had a solo in that,'" said Harris.
This aspect of bouncing ideas off one another creates a personalized aspect to AME.
Combining soloist style and different genres to the more common choir and band contributes a whole new and exciting layer to the music arts program. Each collaborate with one another to make our music program even
more diverse and interesting. This collaboration the choir, band and AME have with one another makes St. George's music arts and concerts special.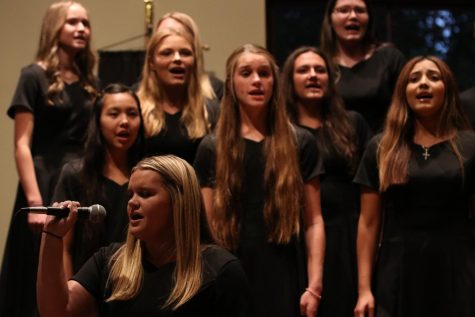 "It was serendipitous that the two of us work here together because we're both open minded and strong enough musicians that we appreciate collaboration and enjoy the challenge of putting both of our seemingly separate divisions together," said Mr. Dumser of his collaboration with Mr. Link.
These collaborations make more than one group or voice to listen to and makes the possibilities endless for what kind of music they want to put in a concert. Through these things, Mr. Dumser, Mr. Link and our musicians create a bigger audience for the concerts at St. George's.
"Because we have [choir, band and AME] separate we can do both of those things at the same time, and then we put them together, and then you have this huge concert with all of these different pieces of music that people can come and see and enjoy," Harris added.
This cohesiveness between the programs makes it important to a lot of the musicians but also creates a bigger audience. AME's most recent concert on September 27, 2022, showed this, as a large number of people came to support the concert.
"We were really happy to be able to welcome people onto this campus to see the students perform. People's appearance really developed this place, this campus gives it a sense of community and lets people come on to it and see performances here and it obviously went well, it was packed," said Mr. Link.
Not only was it packed, but people were turned away from the chapel because they couldn't fit anyone else.
This success is great for the music arts programs, but they are always aiming high and working to improve each year. With this, AME will get better and better not only with more and more people becoming a part of the band in the next years, but also being awarded with the amount of attention it deserves.
Leave a Comment