Making It Up As We Go
A look at new traditions new and old
After years of the "new normal," a somewhat theoretical version of life after the coronavirus pandemic, students and faculty alike are taking back the St. George's they knew. Pickup games of all kinds have sprung up across the front lawn, including soccer, ultimate frisbee and so much more.
The largest and most impressive of these is the lunchtime kickball game.
"That's a recent thing that I think will continue," said Mr. Smith Ferguson, Director of Student Connections.
The importance of traditions in the school's community is difficult to overstate, especially one as visible and physical as this.
The game fosters a relationship between grades that is not regularly seen; on the daily, the
junior-sophomore rivalry is demonstrated through aggressive throws and swinging kicks that only sometimes connect with their targets.
Students make teams, jostling for a spot in the kicking order to inevitably knock the ball into one of the trees in the front of the campus. Score doesn't matter, and there's no real idea of what counts as a ball or a strike until the bickering begins. It's just 30 people standing in the hot sun sliding full-speed into second base.
Sophomore Ari Taub is frequently involved in the games.
"It's been going on for a few weeks now," he estimated, referring to the rivalry. "I'm friends with them, so I can make fun of them [during arguments]."
Behind him, people shout at each other over a missed kick, and one calls for Taub to come over. He waves them off for the moment and adds, "I think traditions are a big part of the school community because you keep doing them over and over again."
Mr. Taylor Cao, Director of Student Life, emphasized on the importance of community and culture.
"Traditions are what make a school unique and exciting and fun, and it doesn't have to be school all day long," he explained.
While he is the head of many school-sponsored events, he recognizes the importance of what students create themselves.
Mr. Ferguson agreed, saying, "It's super important for the overall culture of a school. Traditions as a whole, I think, are important for having some community feel."
To the students, it's not about making a lasting impact.
"We just wanted to do something to pass the time with lunch," Taub admitted. "When you come outside, there's nothing to do."
Nothing to do, but a wide open field lends itself to action. And, with equipment short in supply, people eventually come together.
Almost every school has homecoming, prom and spirit weeks — but those aren't what define them. The small traditions they carry embody a school beyond the pictures and pamphlets they send out and offer a greater sense of connection.
Student-led activities require a deeper commitment to the community because there's no official framework for them to turn to; there has to be a drive to start something, and an even greater force within others to accept and build upon it.
Mr. Cao explained, "I think students are more invested in them because they came up with the idea."
Unlike other activities created by students, such as the House System, however, this beginning is almost completely outside of what the administration can control—ironically, had it not been student-organized, it
probably would have long since fizzled out.
"I think student-led traditions thrive longer at the school and actually become a tradition," said Mr. Cao.
Fall Fridays are the holy grail of high school sports. Students crowd into the stands to watch the Gryphons face their weekly opponent—often with speakers, bullhorns, and flags. While this year the team has a disappointing lack of home games, the display of community shows up in various ways such as the rollercoaster, the pushup board and "Wagon Wheel."
"Wagon Wheel" is the ultimate reward for winning a home game.
In the last 20 seconds when a win is guaranteed, the student section empties entirely, draining onto the path below. For a first-timer, it looks as though everyone is leaving just before victory is achieved. The crowd presses against the gate until the clock hits zero before flooding the field, climbing the fence and
rushing out to greet the football team — it is always a charged moment.
Everyone congregates until the opening notes strain and the huge circle forms, the entire student population swaying back and forth as one. Parents and opposing team members look on with mild confusion as people run into the middle and do backflips while the football players play air fiddle solos.
Although it came to be less than two decades ago, the tradition seems to be shrouded in mystery. There is a different origin story for almost every person.
Hunter Cowan, class of '08, knows how it truly began. He was on the varsity football team in one of its first years, taking St. George's to their first state championship.
"Our players called a practice outside of our normal practice to come together as a team and…we stumbled
across ["Wagon Wheel"] while playing… a CD from our vehicle over the practice field," he explained.
Soon, "Wagon Wheel" was not just confined to the practice field.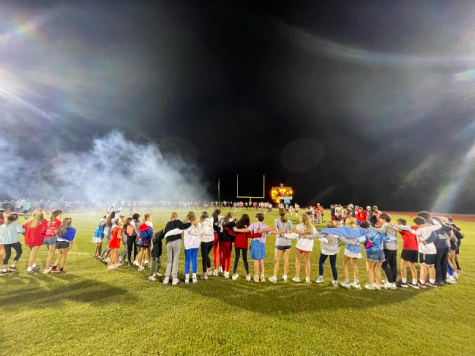 Mr. William Taylor, the former Head of School, explained, "That became the thing that after every victory, that song would get played. You know, I didn't… instruct anybody to play it. It just played."
"To this day, I get goosebumps every time I see that wagon wheel formed after a victory on the field or when the student body comes together as one off the field," said Cowan.
Somehow, whether by the invitation of the team or the willpower of students, it morphed. Fans are not invited down to the field to listen to after-game lectures or hear the conversations players have on the field, but somehow this tradition grew beyond what they originally intended it to.
Being on the team was no longer required to run on the field.
"After maybe a couple of games, the football players would start putting their arms around each other and, and then it was the whole student body [that] would go in there," clarified Mr. Taylor.
Today, the circle is huge. Middle schoolers come from the soccer field to join hands with students who are sometimes six or seven years older than them, people whom they've never met. Not everyone knows the lyrics
by heart, but nonetheless. they scream "Johnson City, Tennessee!" together in the third stanza. It is one of the only times that one student will wrap an arm around another — perhaps a total stranger — and bask in
their victory. The fiddle plays, the crowd sings and the seniors dance.
A perfect moment, carried over 20 years from the building of the Collierville campus until now.
"Wagon Wheel" has carried the student body through seasons good and bad. It is a calling card, a hallmark, a home. Graduates decades apart can return home together, wrap their arms around each other, and
sing the refrain:

"
Rock me mama like a wagon wheel
Rock me mama any way you feel
Hey, mama rock me.
Rock me mama like the wind and the rain
Rock me mama like a south-bound train
Hey, mama rock me."
Leave a Comment