Two Places at Once
By teaching both online and in-person students, teachers are being pulled two different ways
"It's a huge struggle when you're teaching somebody how to throw on the wheel for the first time, but you are also teaching someone else that's sitting at a desk the elements of hand building. [And] then you are teaching somebody on a computer, too," Mrs. Allison Webb, middle and high school visual arts and pottery teacher, said. "It's almost like you are trying to teach three classes at once… [and] each place needs you differently."
As a result of the COVID-19 pandemic, teachers have to constantly adjust their lesson plan in order to accommodate both virtual and in-person students. Hands-on classes like pottery and robotics are having a difficult time developing coursework to accommodate both in-person and online students.
"As far as pottery goes, it's sort of its own animal," Mrs. Webb said. "We attempted to do an in-person and virtual situation."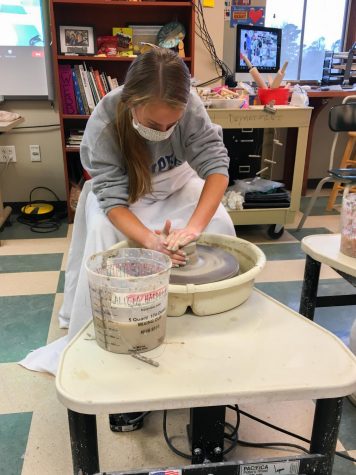 But as the second semester approached, Mrs. Webb, along with administrators, made the difficult decision to make pottery exclusive to in-person students.
"It ended up being really tough on the instructor and tough on the students in regards to just not having the supplies they needed," Mrs. Webb said. "Not being able to pick up things, and not being able to get what they were wanting out of the class."
Teachers have had to make on-the-fly adaptations to their typical class structures. Some have succeeded, but some have had to change their whole curriculum.
"Some classes are going to be inevitably changed because of the pandemic," senior Luis Lopez said. "Science classes are different because you can't do hands-on science."
Mrs. Christa Smothers, middle and high school science teacher, has had to adjust her robotics lesson plan to include both online and in-person students.
"[The pandemic] has pushed me to think about different ways to engage students," Mrs. Smothers said. "There have been some things that I had to give up."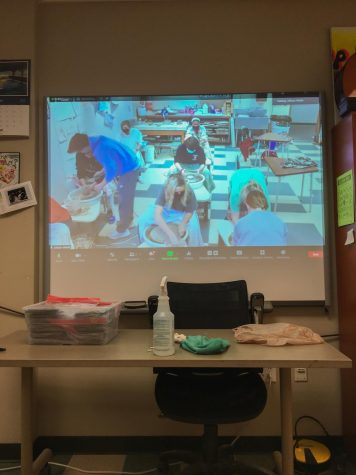 Typically Mrs. Smothers teaches a hands-on robotics building course. In previous years, students from that class have competed in worldwide competitions with robots they've built with their team. This year, she found ways to incorporate both online and in-person students into the rigorous and involved process of building a robot.
"I [created] an individual robotics box for every single student," Mrs. Smothers said. "The students who were long-term remote were able to come and pick up a box, so they had a robot kit at home."
Eighth grader Carys Sears has noticed Mrs. Smothers' work to make robotics happen this year.
"One of my group members [is] online. So we have to [plan for] that when building our robot and programming it," Sears said."[They] would be in the Zoom room with us while [we're] looking at the field. [My group member] had her own robot that she could test things out on and report to us what worked or what didn't work."
By creating this kit, Mrs. Smothers stretched to lengths she would not have imagined necessary if not for the pandemic. Amidst the calamity, she was able to find a one-of-a-kind at-home learning experience for her students.
Mrs. Elizabeth Bran, Director of Counseling and Guidance, faces a similar struggle with the difficulty of connecting with both in-person students and virtual students.
"Ever since the pandemic it's hard, in my opinion, for me to do my job," Mrs. Bran said. "It's hard for me to check on students and make sure everyone is okay."
As the upper school guidance counselor, a major part of Mrs. Bran's job includes having one-on-one meetings with students to talk about grades or personal issues.
"People aren't wandering around during lunch or during their independent studies," Mrs. Bran said. "That would be when people would sort of just slide in and say 'Hey, can I talk to you about this?'"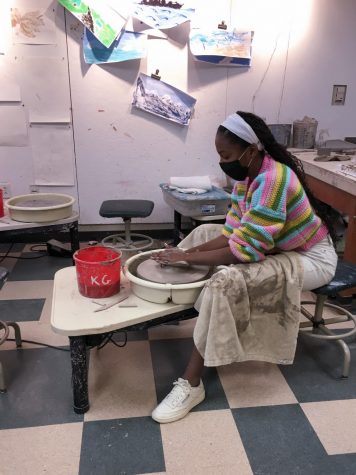 The pandemic has taken away the ability for students to casually walk around and talk to teachers; instead, they now have to schedule appointments. Through this, Mrs. Bran has experienced the limitations that come with online counseling. It's hard to connect with students.
"Teaching students from the classroom at home is totally different," Dr. Marianne Leung, Head of the Social Studies department said. She has had to teach from home over the past month.
"I'm basically talking to the back of their heads," Dr. Leung said of what it is like to teach a class full of students from home.
"However, on the good side, the students who are remote, I have connected with them in a new way," Dr. Leung said."The remote students are not getting the same thing as the students in the classroom."
Leave a Comment