Saying "Sayonara" to Spring Sports
See what junior and senior athletes have to say about their missing season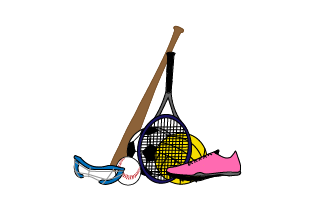 The 2020 high school spring sports regular season has already been canceled for all sports, and as of April 15, the Spring Fling state championships have also been cancelled.
"TSSAA knows that its athletes want nothing more than to play and I believe they will do everything in their power to make it work whenever that may be," junior soccer player Carsten Haddad said. "I have no problem at all playing in the middle of June in 95-degree weather if that's what it takes to play."
Athletic Director Mr. Tom Densford said that the athletics coaches were also looking out for opportunities to salvage the season. "We prepare each week for what it would look like if we were to return, with many different scenarios. We want to be prepared and want our coaches and athletes to be prepared." 
Mr. Densford participates in weekly meetings with other athletic directors in our division as well as throughout the entire state. 
This is definitely a difficult time for all athletes. How do they stay in shape? How do they stay motivated? How do they put up new content to send to college coaches? How do they…? It is an endless list of questions that no one truly knows the answers too.  
This is a scary time for junior athletes who are looking to play at the next level in college. A huge part of the recruiting process is being able to go visit schools and being able to meet the teams and coaches. With the stay-in-place orders all throughout the country, colleges and universities have shut down and made it impossible for high school athletes to take official and unofficial tours. 
"I can still connect with them through email, call and Zoom, but it is not the same thing." junior volleyball and track athlete Kym Young said. 
A lot of prospect camps and summer development camps have been canceled as well, leaving almost nothing except emails and phone calls to coaches in order to get noticed. 
"College coaches are doing nothing right now. This is the perfect time to send emails to coaches and I have sent countless emails out already. I encourage everyone wanting to play a sport at the collegiate level to do the same." Haddad said. 
Senior athletes have been hugely affected by missing almost all of their final season at St. George's.
"I hate not being able to play. I'll look back on this moment when I'm 30-40 and still be devastated," senior soccer player Caden Wells said. 
"Since this is my last year, it's really upsetting to miss my last possible sports season in high school," senior tennis player Adi Thrasher said.
The experience of leading a team and playing among friends and coaches for the last time in a school is something that senior athletes cherish and look forward to. Unfortunately, this spring sports season is being cut short, leaving senior athletes much less time to make their final memories with the teams they love. 
Staying motivated is key during a time like this. It is hard when you can't go out every day to play with your teammates, and you don't have any games or tournaments to look forward to. 
"Not being able to play has affected me more mentally rather than physically. I miss my teammates and I'm sad that I may have played my last year with these great seniors," says junior baseball player Josh Taube. 
Many coaches have started doing weekly Zoom meetings with the athletes so they can check up on them and continue that face-to-face interaction through a computer screen. Trying to find the positives and giving yourself something to look forward to, even if it is the weekly Zoom meetings, can make all the difference in the world. Think about how the work you are putting in now (that maybe your competitors are not) will give you an advantage for next season. 
Mr. Densford puts it almost perfectly, "We learn in athletics that you can't control everything, so control what you can control. Win today and we will win tomorrow."
Leave a Comment