One Curl at a Time
Keiara's journey to her natural hair
When I was eight years old, my mother relaxed my hair, and I jumped at the chance to make the change. I knew nothing of what a relaxer meant, other than that it would make my hair straight. A relaxer for black women is a way out, a way to make our hair not only manageable but acceptable to society.
While my parents relaxed their hair to be more accepted in society, I relaxed my hair to get rid of my naps without having to go through the pain of combing my hair. For me, relaxed hair was a weight lifted off my shoulders. It meant that I got to show off my length.
When I got older, I realized the consequences that came with relaxing my hair, like the damage it caused and a loss of confidence. Because I hadn't loved my natural hair, I had a hard time discovering my complete self. My hair has a huge impact on the way I carry myself. It impacts how I walk out of the house, how I act in school, how I interact with my friends and in dozens of other ways.
In middle school, my mother said I could begin managing my hair on my own. I struggled with taking care of it. I was searching for the perfect look. Being unstable in my identity, I didn't know what to do. In 2016, the release of Solange's "Don't touch my hair" had a huge affect on my decision. Watching her and other celebrities walk the red carpet wearing their natural hair showed that I could be just as beautiful wearing my natural hair. I finally decided to go natural.
Many of my family members were in denial of my decision because when they were born, everyone relaxed their hair for acceptance. But I wanted to change. I wanted to nurture the hair that I was born with. I wanted to feel authentic.
As soon as I made the choice, went through a period of transitioning my hair. During this time, I really relied on protective styles in order to cover up the imperfections of my hair and let it grow. When I wasn't wearing protective styles, it was hard to showoff the growth because the ends of my hair were so damaged by the heat from years of processing my hair. This left me with one choice: to complete the big chop.
The management of natural hair includes finding your hair type and hair porosity. I found that I have low porosity hair. My hair pattern is a mix of both 4A-4B. When trying to find hair products and tools, I soon realized that it can be really pricey. I struggled a lot with being not only patient but confident in the process. The hardest thing that I had to learn in my process is that everyone has a different journey. All hair responds to products and processes in completely different ways.
If you are struggling with the decision to do a certain thing to your hair, don't be discouraged. It is a journey. Do what you want, and be who you want to be. All people have different textures to their hair, so I sat down and asked people about their journey. Now that you know my story, we can hear theirs.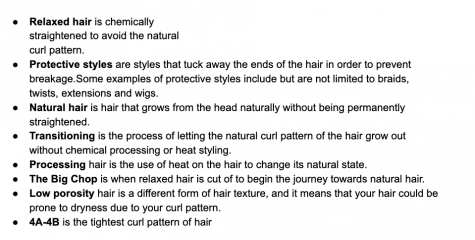 Leave a Comment