The Peaceful Gathering of the Bands
The American Music Ensembles join up to jam out at Briarcrest
On November 9th, bands from private schools across the Memphis area, including Memphis University School's band, Briarcrest's SoundScape and St. George's two American Music Ensembles, gathered at Briarcrest Christian School, not for a showdown, but for a showcase. 
The first American Music Ensemble to perform was the fifth period class, opening with Dolly Parton's "Jolene" led by senior Hanna Gilmore and freshman Anna Schmiedicke. As the girls played the first verse, the rest of the band entered the stage and joined in. 
"The type of music that myself and the rest of the American Music Ensemble period five played on Saturday was a healthy mix of some Memphis blues classics, along with a song gracefully sung and played on guitar by our very own Hanna Gilmore, "Jolene," which is like more of a folk country song. Other than that, it was more like Memphis blues and jazz," fellow senior and band member Sam Tremaine said. "Soul music, that's a good description."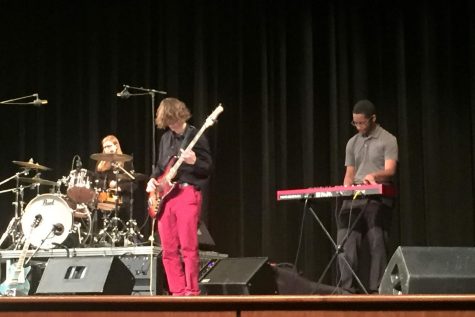 As the period five band jammed through their set list, they played songs tailored to their strengths. The core of the band consisted of seniors Avery East, David Ogle and Sam Tremaine, who handled drums, lead guitar, and bass guitar, respectively. The band also incorporated keys from sophomore DeAndre Deener and freshman Edsel Burks, clarinet played by sophomore Mehul Gupta and saxophone from sophomore Michael Guden.
Half an hour after the soulful performance of period five, the sixth period American Music Ensemble took the stage. Their sound was noticeably different from the start, kicking off with a rap written and performed by junior Velton Baggett as the rest of the band played "Givin' up Food for Funk." While the previous band played mostly local Memphis and Nashville classics, period six reached across American R&B from Detroit to Atlanta and through the years from the 60's to the 2000's.
"We played "Givin' up Food for Funk" – it's like a funk rock type song – and played "Superstition" by Stevie Wonder, "Rather Go Blind" by Etta James, "Put Your Records On,"  a 2006 pop, sort of song, and we played "Crazy" by Gnarls Barkley," said Baggett.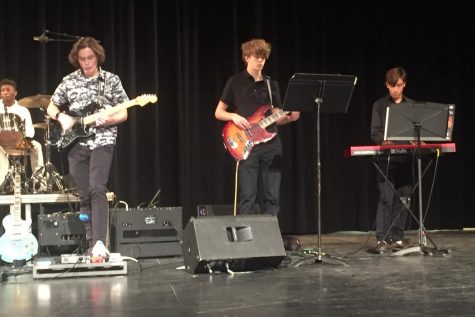 After Baggett's opener, he exchanged vocals for drums as sophomore Darby Beal and junior Eva Claire Pounders shared the microphone for the rest of the set. Junior Christian Hayden played lead guitar while sophomore John Miraglia held the rhythm on bass, and junior Michael Mari added the keys. Period six also boasted a brass section, including seniors Alan Henderson on saxophone and Malaisyah Vann on trumpet as well as sophomores Joshua Panetta on saxophone and Tyler Rideout on trombone.
The American Music Ensemble has been a class for many to develop their skills in both writing and performing music. 
"I just started like getting involved with my music and putting it into this class this year because we came up with me rapping on 'Givin' up Food for Funk' and yeah, that was pretty cool. [In the] future we're going to do some more collaborations and live performances," said Baggett, whose original music can be found on iTunes, Spotify and SoundCloud. 
Although you missed out on a treat for the ears if you didn't show up for the Briarcrest concert, you can still catch the American Music Ensembles performing and showing off their talents throughout the next semester.