Gryphons' Volleyball Claims State Title
It's nine in the morning. The Murphy Center, Middle Tennessee State's venue for basketball and volleyball would likely be pretty dormant at this time on a normal day.
Today is not a normal day.
Instead, just shy of one hundred St. George's students fill the arena's seating, around twenty feet from the court, where their beloved Gryphons are set to take on Concord Christian Academy to see who's the best Division-II Class A volleyball team in the state of Tennessee. 
Students who wanted to go to Murfreesboro to support the NetGryphs boarded busses at 4:15 am, to arrive at the stadium at game time.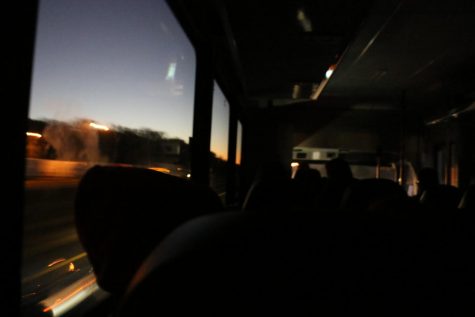 Despite the early start time, students signed up in droves, resulting in the need for an overflow bus. 
"I think it was a great opportunity given by the school," junior Jack Fogleman said. "It's just awesome that they give us opportunities like this, and I love my NetGryphs."
Only running on four hours of sleep, Fogleman wasn't going to pass up this opportunity.
"Any [chance] I get, I'm going to go out and support my friends," Fogleman said. 
He was not alone. St. George's showed up and showed out. The student section was loud and proud
However, while the student section got off to a hot start, the girls on the court lagged behind slightly. They dropped the first set, 27-25. 
"[I was] nervous. It was good that we came back, and we went 27-25, so it was good to come back up there. I was nervous for my kids, [that they] would keep their head in the game," Ms. Sami Gruse, head volleyball coach said (albeit, in a very raspy voice). "But these kids, they just want to win. They're smart, they just want to win."
Win they did. The Gryphons picked up the next three sets, 29-27, 25-20 and 25-20, earning them the title of state champions. 
In the pivotal third set of the match, there was a time-out called after the scoreline had moved to 23-18, with the Gryphons having a chance to close out the set and go up two sets to one. 
Coach Sami Gruse said that she saw that her team was ready to play the rest of the game on their own terms. 
"In their eyes…, anything I said they were like 'Yes. We believe in you. We're with you,'" Coach Gruse said. "That's when I asked them, I said "Do you believe we can do it?' And they all said yes, we went out, we did it." 
 Senior Annika Thompson said that the huddle during that timeout was high energy.
"[It was] just excitement mostly, knowing that we could keep bouncing back if we lost just one point," Thompson said. "Just coming out stronger and finishing the game."
Thompson was crowned most valuable player after the game. She ended the game with nine kills, twelve digs, and a staggering thirty-one assists.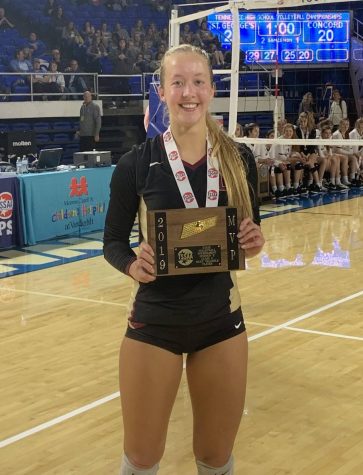 "[Thompson] gives one hundred percent in everything she does, and I think it's rightfully deserved," Coach Gruse said.  "I'm so proud of that girl. She is amazing."
Thompson said that being crowned MVP felt incredible. 
"Amazing, amazing," Thompson said. "Unreal. [I'm] so happy for this team."
Leave a Comment