A Saucy Review
Pizza expert Spencer Cotham reviews local pizza places
If you know me, you know that I know a lot about pizza. I've been around pizza for quite a long time, and it's been with me through thick and thin (sorry, I had to). If you don't know already, my dad is one of the two founders of Pyros, so I know a lot about running a pizza restaurant, and what it takes to make a good pizza. Because of my special insight into the pizza business altogether, people ask me about what makes a good pizza restaurant. Well, look no further. I reviewed some of Collierville and Germantown's most popular pizza places, and shed some of my special pizza knowledge on the subject.
Memphis Pizza Café – 4/5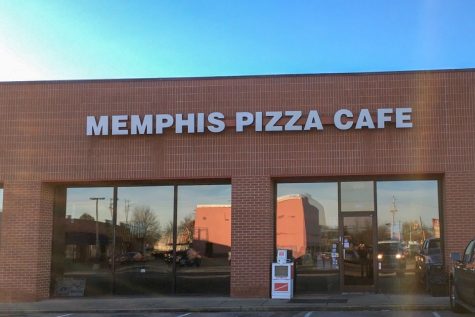 The Memphis Pizza Café pizza surprised me. The ambiance of the restaurant was a bit strange when I first walked in, but when I got a closer look, I saw paintings of many Memphis cultural figures hanging on the walls. The service was a bit slow, but only because they were understaffed that day. The pizza itself was amazing. The toppings were spread evenly, and the sauce was exactly how I liked it. I had hoped the crust would be a little bit more crispy, but that is just a personal preference. All in all, Memphis Pizza Café is a great restaurant that I will definitely visit again.
Ciao Baby – 3/5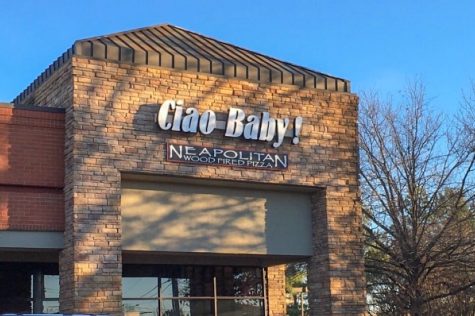 Ciao Baby, while not too far from Memphis Pizza Café, shares some distinctive differences. This pizza is cooked Neapolitan style, which means that the type of dough used to make the crust is a lot different than other pizza restaurants. The dough was, for the most part, soft and chewy, which is typical for Neapolitan style pizza restaurants. The service is similar to a Subway, meaning that you watch your pizza be created right in front of you. The workers were very friendly, and the wait for my pizza was not long at all. I enjoyed my experience at this restaurant, but I do not think I will visit there again. Thick and chewy crust is not my favorite, but to each his own. If you enjoy chewy crust, I highly recommend eating here.
Mellow Mushroom- 3.5/5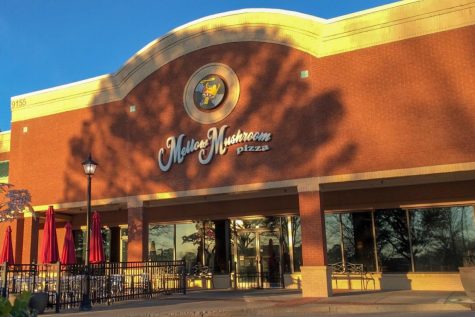 Mellow Mushroom is a typical pizza restaurant. Their goal, in my opinion, is fast pizza that tastes good. This, paired along with the theme of the restaurant, makes Mellow Mushroom a good choice for pizza when you are in a rush, or if you are looking for a place to relax during a lunch break. The pizza was a bit undercooked, but again, my definition of a cooked pizza is burnt, so that is definitely a personal preference. The service was spotty; sometimes I would have to look for our waiter, and other times they would be right where I needed them. Mellow Mushroom is not the best pizza restaurant in the world, but delivered an enjoyable experience nonetheless.
Russo's New York Pizzeria- 4/5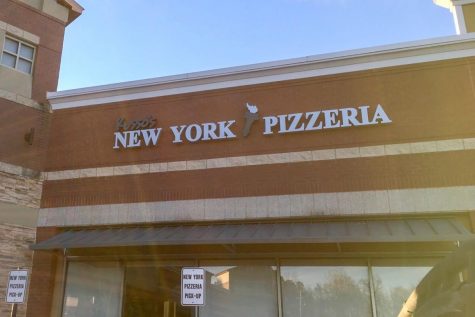 Russo's definitely hit the mark for me. Their pizza is crispy and thin, and their sauce and toppings were evenly spread on the crust. The only downside was the way the restaurant was spread out, meaning that the tables did feel a bit crowded. The store wasn't packed, but I still felt as if I was bumping up against other customers and chairs when I was sitting down and eating. The service was great, and the waiter was very friendly. Russo's was able to cook my crust just how I wanted it, and provided an amazing experience altogether. Their menu had a wide range of options, ranging from pizza to other dishes like pasta and salad. I will definitely be visiting Russo's again, and I suggest anyone reading this review does the same.
Three Guys Pizza Pies 3/5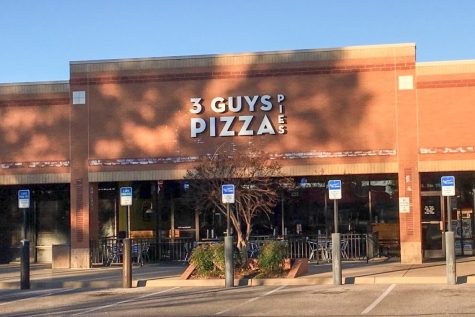 Three Guys Pizza Pies was not what I expected. When you hear of a place that has "pizza" in the name, you would think that the main specialty would be pizza, right? Wrong. This restaurant, similar to Russo's, had a thoroughly expansive menu. Not only do they have salads and subs, they also have a full appetizer menu, with wings, garlic knots, and other comfort foods. This did throw me for a bit of a loop, if I'm being honest. One of the first things that I discovered about businesses, specifically in food service businesses, is that when quantity goes up, quality goes down. This was the problem that I had with Three Guys Pizza Pies: too many options. The pizza itself was not too bad, but it was a bit of a shock to find out that a place that has "pizza" in its name served wings and fried pickles as an appetizer. All in all, if you are looking for a quick bite to eat, and you like a wide range of options, this restaurant is for you.
This concludes my pizza review! If you have any suggestions as to what I should review next, feel free to send in suggestions, or tell me in person.
View Comments (1)