X-Block switch up affects freshman and sophomores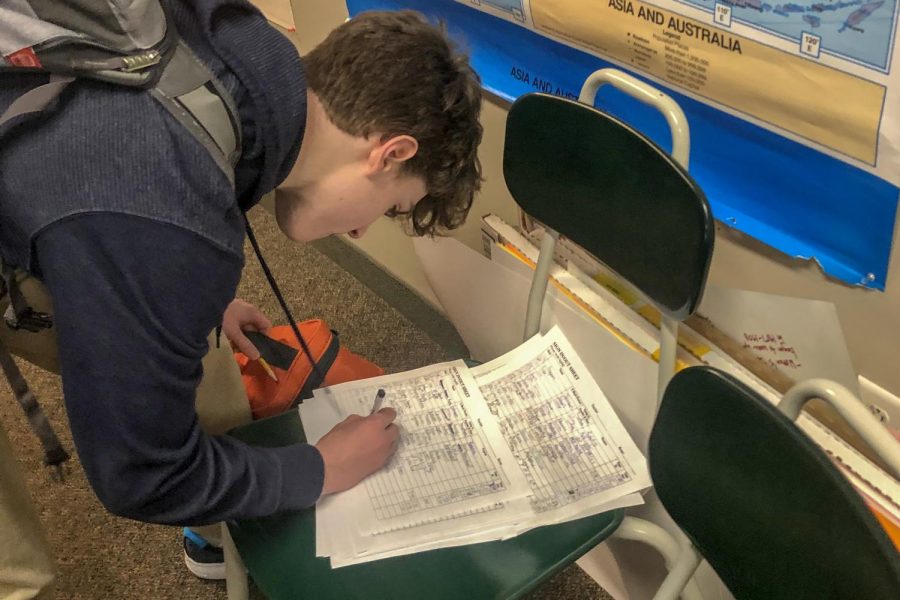 In January, the administration announced to ninth and tenth graders that X-Block was changing. In the meeting, they told students that in order to go to another teacher during X-Block, students need an email confirmation.
Another change was the sign-in and sign-out sheets that are now found in most rooms of the high school. After the meeting, there were many questions as to why exactly it happened.
"[The sign-out sheets are]  just reinforcing the system as it should have been all along," Upper School Director of Counseling and Guidance Mrs. Elizabeth Bran said. "There's a legal liability issue of we've got to know where our students are and how to get in touch with them. But there's also the issue of some students taking advantage of the system, and so we looked at building that structure back in so that students can still get their needs met."
Opinions within the student body were mixed. Sophomore Luis Lopez said he could understand the administration's motives.
"I see why they had to do it and why these new regulations are coming in place. People were definitely taking too long and just hanging out in a room," Lopez said. "Some people had homework to be doing."
That said, Lopez felt that the new regulations were too restrictive for many.
"I still think that it's a one-bad-apple-spoiling-the-bunch situation, because I was always using X-block to get assistance from other teachers. I personally think that piece of the change, not letting students go to any other teachers' rooms is inconvenient, and it's really restrictive. I see why we had to come to this point, but I'm not a fan of the new restrictions."
Sophomore Tayah Jones echoed Lopez's frustrations with the new system.
"It's fine for me, where teachers are trying to help me get my work done. But then I think it's kind of hindering," Jones said. "Sometimes teachers don't check their emails during x-block, and you have other stuff to do, too. It's really inconvenient because people don't really have all the time to do that. It's really making it a lot more of a complicated process than it should have to be."
Sophomore Maddison Bishop thinks that the x-block system can become difficult when teachers do not respond to emails. She also uses this time to now get more homework done.
"It can be inconvenient sometimes with the teachers if they are not responding to the email if you are like quickly stop by a teacher's room," Bishop said. "But at the same time, it's for our benefit and to get as much work done as possible."
Mrs. Bran said she feels like the changes have been worth it.
"I feel like ever since we've made the new structures, kids are being a lot more productive with their time," she said. "They are still getting to go where they need to go: still going to work out, still going to robotics. But there's a lot less chaos with it."
Students are feeling that there should be a compromise with the changes of the x-block. Lopez shares this opinion and would want to compromise with the teachers so they could both be happy.
"I can only see some minor tweaks or minor fixes [to the x-block system], but I don't see anything huge," Lopez said. "I feel like they would be receptive to feedback or receptive to changes definitely. But I feel that those changes would be small. They wouldn't be returning back to [the] semester one x-block."