Swimming Into the Future
A St. George's senior makes the decision to continue her swimming career in college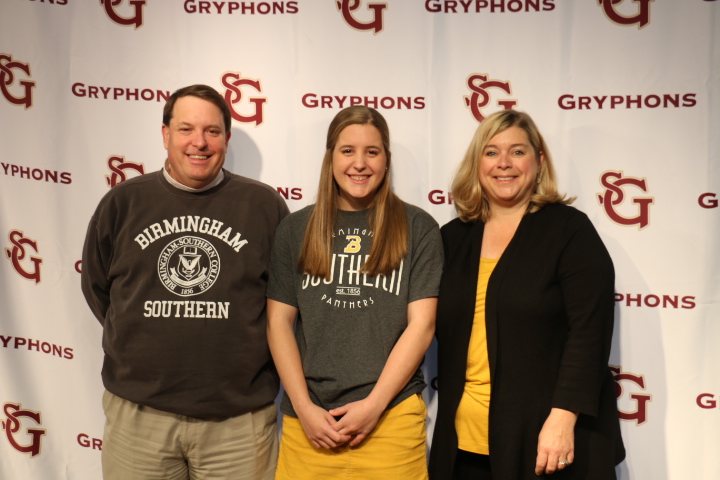 On November 15th, Senior Mary Miller Goldberg took the next step in her athletic career by signing to swim for Birmingham Southern.
"At the beginning of my process, I was only wanting to go division one, but then I realized that going division three, I can be just as fast as division one," said Goldberg. "I'd be able to attend nationals and win conference titles. Birmingham Southern has all that to offer."
Goldberg started swimming for the Memphis Tigers Swimming, a year-round competitive swimming team when she was six. This experience has helped her manage her time better, but it means that she has to miss some social events due to her rigorous swim schedule.
"For years, I've had to say, 'Sorry, I can't come. I got swim practice.'" explained Goldberg. "All my friends have been very supportive of my swimming and know that it's not my fault that I can't go."
Goldberg's friends from school and Memphis Tigers Swimming saw her signing as the result of the strong commitment to the sport.  
"I'm super excited for her because she's worked so hard. She doesn't get enough credit for how hard she works," said Senior Hannah Grace Howell. "Like three days out of the week, she has to wake up at 4:30 a.m. and go to swim practice, which is crazy because I could not function if I did that"
Goldberg's teammates from Memphis Tigers Swimming know that her signing is well deserved.
"I'm so excited for her to sign! She has been working towards this for such a long time, and I'm glad that her hard work paid off," said Junior Claire Epperson who swims with Goldberg for the Memphis Tigers.
Goldberg also swims for the St. George's Varsity swim team during the winter sports season. However, she does not attend the team's practices because of her responsibilities to Memphis Tigers Swimming.
"She and I are together only at meets, which really works out while because she is such an outstanding swimmer," said Coach Rob Snowberger. "She is kind of the professional leagues, and we're kind of the minor leagues compared to her."
Goldberg will continue her competitive swimming career at Birmingham Southern next fall.
"Birmingham Southern is a great fit for her, If she continues to train at the same intensity as she does now, I think she can do great things." said Epperson.