Paint Memphis
Artists come together to create the largest collaborative mural in Tennessee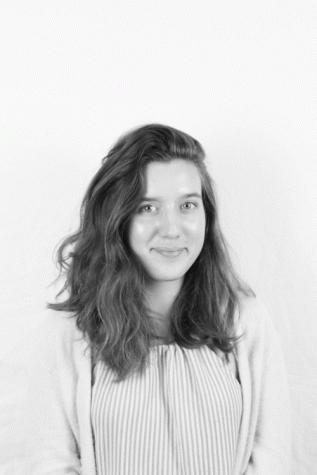 More stories from Laura Beard
Stepping into Altown skatepark, the world descends into beautifully controlled mayhem. To the left, someone outlines what looks like a psychedelic marshmallow onto the cement floor. Across a small slope, a mural of the night sky begins to take shape. In just a few hours, the artists will complete the largest collaborative mural in the state of Tennessee.
The Paint Memphis event at Altown brought 150 artists to paint a city block on Willet St. between Central Ave. and Lamar Ave. St. George's, one of the few schools there, painted a mural with the help of art teachers Ms. Rose Doherty and Mrs. Allison Webb and the Art Club on Sept. 20.
This event marked a historic moment for Paint Memphis, a non-profit organization that sponsors the creation of street art in Memphis. For its director Ms. Karen Golightly, this is one step closer to a long-held dream.
"I started shooting street art about seven years ago, and at the time there was very little in Memphis in terms of street art at all," Ms. Golightly said. "You could go in abandoned buildings and go in ditches, and they were really amazing pieces that people had done, but there was so little in the streets. So I was hoping to change that, and I approached the city, and they said I was just crazy."
Faced with data on how street art helps communities, three years later Memphis would set aside its first legal place for street art. In Paint Memphis' inaugural event, 70 artists came together in 2015 to paint their first wall on Chelsea Ave. and Evergreen Ave.
"It changed the area. It had been like a dump; tires, mattresses. The weeds were taller than me, and then it became more of a green space," Ms. Golightly said."The neighborhood started taking better care of it, and the city started taking better care of it, and now anyone can go out there and paint."
After their success at Chelsea and Evergreen, Paint Memphis moved its focus to other areas. Altown Skatepark was the next big goal.
"A church group had come without permission from the business owner and painted over every single bit of murals and graffiti that was in there, to the chagrin of the skateboard guys because they loved it," Ms. Golightly said. "So they really were happy that we came back and helped clean it up, and it became something they really could be proud of."
Mr. Brock Berriel, who helped found the park and now helps maintain it, shared Ms. Golightly's enthusiasm for the return of murals to Altown.
"The city council has been trying to crack down on the graffiti," Berriel said. "It's very inviting for other garbage to show up, you know. When we do get great pieces of art they leave lasting impressions, and people don't mess with it, and it looks awesome."
Art teacher Ms. Rose Doherty approached the Paint Memphis event with the hope that it would allow St. George's students to appreciate others' art while showcasing their own.
"It's always students for me that get me excited about anything, mainly because it was a new opportunity to do something different," Ms. Rose said. "But I also like the aspect that we are going into a community, we're bringing our love of art to the community and we're sharing our ideas publicly."
Ms. Rose credited the success of St. George's section of the mural to the work ethic shown by the students of the Art Club.
"I'm most impressed with the four student leaders who worked on this project because I always look at myself as a coach," said Ms. Rose. "I really want the students to take ownership to the project and they did."
Senior leaders seniors Alice Crenshaw, Katelyn Grisham, Lexi Oliver and Whitney Ziegenhorn collaborated for weeks, proposing ideas to administrators, creating stencils and helping to supervise the volunteers. Junior Rachel Umansky, who created the St. George's portion of the mural, enjoyed watching the skate park's transition from a dull gray to vivid color.
"Getting to where the art was happening, where they were putting up murals, it was really inspiring to see this new change of scenery," Umansky said.
Ms. Golightly herself had a dream for the skatepark when the event was over.
"These walls can become a destination point as opposed to something people pass on their way to work or school," Ms. Golightly said.
As for Mr. Berriel, he is looking for Altown to get "some soul, color."
"It won't be so stale," Mr. Berriel said. "It'll make it alive. It'll bring the park to life again."