Shooting Their Shot
How is the varsity boys basketball team planning to improve this season?
The Gryphon boys' basketball team remains a strong program that continues to prove themselves to be top competitors each year.
Last school year, they made it to the region final but fell short of the title. They were also able to qualify for the state championship and almost made it to the quarterfinals before losing to Notre Dame High School.
The Gryphons ended the season with an impressive 19-6 record. This year, Head Basketball Coach Anthony Hall wants to accomplish even more.
"We are hoping to get back to state. I am well aware that that is a lofty goal," said Coach Hall. "That is what we are playing for."
The connections the coaches and players make are not like any other, and they require effort on both sides in hopes that the end goal will be reached.
Clearly, Coach Hall has set high expectations and solid goals for this hungry Gryphon team.
Coach Hall said he "really enjoy[s] helping these young men."
Working tirelessly with the boys, he has been able to see each of their stories and help them to create "great memories for them to reflect on later."
According to starting point guard sophomore Silas Jones, others are underestimating the varsity team.
"Some opponents this year are looking at our team as underdogs since we lost a lot of players," he said. Jones believes that is only forcing them to be stronger and "create [their] own story."
Many vital players have graduated or moved to a different school, but Coach Hall believes that "with one full year behind them, our seniors are better able to help us to not have a decline in the season."
Harden Williams and Kyle Houston graduated. Josh Holloway is now attending Oak Hill Academy, one of the top Prep Schools in the country. Kor'mar Stewart is being homeschooled and Tate Wirth decided not to return to the sport.
Now there are five seniors: Fred Deere, Darryl Williams Jr., R.J. Sims, Logan Haddad and Andrew Bell. Deere and Williams both started last year.
"We [need] them to do more on both ends of the floor," Coach Hall said.
Haddad, a new member of the team, made strong progress early in the season along with Sims who was proficient at every position. Together, alongside former Junior Varsity player Andrew Bell, they created a strong set just entering the scene.
"I have a good group of young men that come in and practice hard each and every day," Coach Hall said.
They are all working for their common goal regardless of the adversities they may face.
Not only do the seniors play a significant role in the success of the team, the younger players on the team do as well.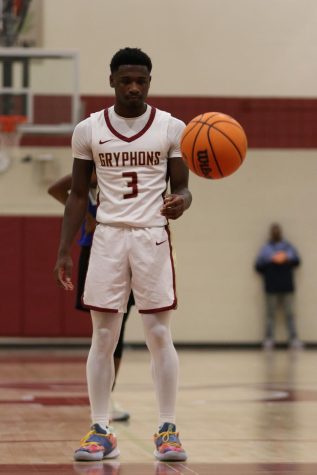 Tristin Fleming is one example. He was the leading scorer on the team last season. Coach Hall "looks forward to his scoring this season" as well.
Jones is also an important player who starts at point guard and is a top performer for Coach Hall.
There are even some sharpshooters, freshman Zeke Cowell and Rollin Crose, who have a great presence on the court.
"[They] should add outside scoring to the varsity team," said Coach Hall.
It is evident that each player, no matter what grade level, is proud to play for their school, especially Jones.
"It means a lot for me to be able to play for my school and represent St. George's on and off the court," he said.
That Gryphon pride is infectious and it starts with the coach.
Everyone sees the hard work Hall puts in for the benefit of his team, including the team's parents.
Sims's mom, Yolanda Tamayo, said, "I definitely like Coach Hall a lot. I think the program has definitely expanded a whole lot with everything they've won and how far they have gone in the region."
Jones elaborated, believing that Coach Hall pushes his players to do their best.
"Coach Hall is encouraging to the players and is always pushing us in the pre season and during practice to go hard and meet our full potential," he said.
Coach Hall wants to motivate and grow each player and create an unforgettable season for the players.
"What they will remember from this team is exciting to me," he said.
To be successful on the court and to be able to put into play all of Coach Hall's teachings, the players must have a strong team culture.
"All of our teammates get along well and it allows for us to have friendships on and off the court," Jones said. "Our team can accomplish great things this year and make a good playoff run if we all execute and play our roles."
Because of Coach Hall's aspirations and the determination of the athletes, an exciting season is on the way for this competitive St. George's Gryphons basketball team.
Leave a Comment