Living the Dream
Lifelong Gryphon plays for local pro team
For most kids, becoming a professional athlete is an accomplishment that is only attainable in their dreams. But after years of hard work and sacrifice, senior Logan Haddad is within arm's reach of that goal.
He has been a starter on the St. George's varsity soccer team since he was in eighth grade, and the 18-year-old goalie has been holding it down for some years now. During his highschool career, Haddad has played a crucial role in the back-to-back regional championships for the Gryphons.
Haddad has been labeled by the St. George's soccer coach, Tony Whicker, as "special" because of his, "IQ, work rate, physical ability, height, range and his fearless approach."
Because of this he has won a generous number of awards in these last four years. These accolades consist of Region MVP, first team all metro and first team all district, just to name a few. With all the recognition Haddad has received, it's only right that he's earned opportunities to play at the next level.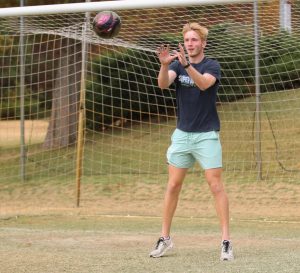 He is currently being recruited by numerous division one powerhouses. Programs such as Wofford College, West Virginia University and University of Alabama at Birmingham all have offered Haddad athletic scholarships. Wherever Haddad decides to take his talents, he will have a major impact.
Obviously, this journey could not have been done alone. Haddad has attributed all the success he has come across in these last few years to many people in his life, whether it be his family, friends or coaches.
Haddad credited his father in the crucial role in instilling his love for soccer.
"It's my dad's favorite sport," he said. "So I wouldn't say he pushed it on to me, but he set me up."
His mother, Cindy Haddad, remarked on how he became a goalie after countless competitions in the backyard with his brother.
"His brother just wanted to score, so Logan just wanted to keep him from scoring," she said. "He wanted to be a goalkeeper since he was four years old."
Haddad also had the wisdom and training from professional coaches and players to give thanks to.
After not making the initial tryout he attended last fall, Haddad stuck with the grind to eventually obtain his goal. According to his mother, Haddad has been a member of 901 FC's Academy Team since February 2022, after the coach contacted Logan directly and asked if he was "available to attend training with the team for two weeks."
Similar to the Minor Leagues in baseball or the Gatorade League in basketball, the purpose of the Academy team, as described by Coach Tony Whicker, is "a professional league" that serves as a "feeder league into Major League Soccer."
According to Haddad, one of the main factors in his selection was his reputation for being known as "one of the better guys in the area." Also, there was another crucial thing that needed to be taken into consideration: there was a shortage at the goalie position. Due to their backup goalie suffering an Achilles tendon injury, the goalie was sidelined indefinitely as the season progressed.
While Haddad has yet to play an official game with the club, he has had the luxury of playing in preseason games and being a part of the club's practice squad. However, with the progress Haddad has made, he's on track to sign an official contract in the near future.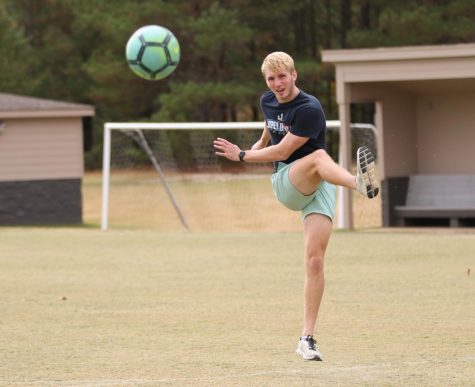 After all that time spent with the club, the question of whether or not Haddad will play for the SG Gryphons soccer team in his final year of high school remains unanswered. Nonetheless his intentions for the upcoming school season are optimistic. "Right now it's the plan. It's always a great time being with the team and the boys," he said.
His mother, on the other hand, acknowledged that if Haddad has the chance to reach his goal, he's going to take advantage of it. "He wants to play soccer in college, and maybe after, so since he was given this opportunity, we really wanted him to accept it."
Whether or not Haddad continues to lend his talents to the St. George's soccer team, the SG community is standing behind him to support him, whatever his future holds.
Leave a Comment