What A Waste
The Collierville campus stopped recycling in September. When will it begin again?
The recycling program on the St. George's Collierville campus is in a state of confusion after the departure of Mr. Bill McClain in September.
Until late August this year, Mr. McClain operated as the director of environmental programs in addition to his role as a biology and environmental science teacher. When he left St. George's to work with the sustainable agriculture business Indigo Ag, which is opening a new commercial operations headquarters in downtown Memphis, St. George's was left to divide up his numerous responsibilities.
In the email announcing Mr. McClain's departure, former Head of School Ross Peters detailed who would fill Mr. McClain's roles. Mr. Smith Ferguson became the leader of the St. George's Great Outdoors program [SGGO]. Dr. Shelby Montague was hired to teach AP Biology, and Ms. Pam McCarthy took over Mr. McClain's advisory. Recycling, however, was not initially addressed.
"I would say that the top priority that we determined was how do we make sure that we have course and class coverage," Associate Head of School Will Bladt said. "The second thing was SGGO, so we engaged Mr. Ferguson in the middle school about having a purview to SGGO across middle school and high school. And then the third priority was living things: bees and chickens, make sure that those were cared for and covered, which they were. And so now it's trails, the gardens in the spring when it's time to start planting again, hoop house, recycling – the things that are not living."
Recycling was placed in the lowest tier of priorities, and visibly so.
Where it all began
The story of recycling on the Collierville campus began in 2008, according to Mr. McClain, who responded to questions via email.
"There was a group of students that wanted to start recycling on campus," he wrote. "[They] spray-painted some cardboard boxes and placed them in classrooms. They would go around once a week and fill a large green army duffle bag with paper and drive it to Shelby Farms to dispose of it. From this effort, the school committed to sustaining the program."
This initiative spread across all three campuses, but the Collierville campus always faced challenges.
"The issue at the Collierville Campus is that we could not find a suitable location for a dumpster," Mr. McClain wrote. "This meant that I had to load the bins up in my truck and drive them to Germantown every week. It was very labor intensive, but I was willing to do it because I recognized the importance of a successful recycling program at a school committed to environmental sustainability."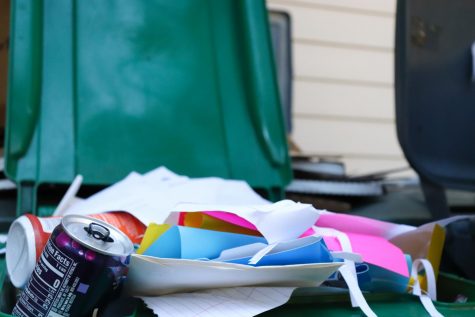 When he left, no one picked up the task of hauling the recycling to the Germantown campus.
"When those bins would fill up, [Mr. McClain] would physically load them into his own truck and drive them to the Germantown campus and dump our recycling into the bin at the Germantown campus," Mr. Ferguson said. "So he would actually have to, through manual labor, take the full bins from here over there. Since he's left, there's not someone doing that."
"
The issue at the Collierville Campus is that we could not find a suitable location for a dumpster. This meant that I had to load the bins up in my truck and drive them to Germantown every week."
— Mr. Bill McClain
With classroom bins spilling over, some teachers, including History Department Chair Dr. Marianne Leung, starting taking recycling into their own hands.
"The cans outside were so over-flowing, and my recycling bin at home was not full," she said. "So I just brought my big IKEA bag up, and I took whatever [recycling waste] I could find."
Even though teachers have stepped up in addressing the avalanche of backed up plastic and paper, the problem with the recycling system remains unsolved.
Sophomores McKinley Farese and Bess White have seen the challenges first hand. They are co-leaders of the recycling club, which has been responsible for collecting the recycling from each room in the building with the aid of a corps of ninth graders.
Once a week, they would collect recycling from each classroom's small bin and place it in the larger rolling container that they would use to transport the recycling to the bins behind the kitchen.
"Those little bins get taken out to those back bins, but it's kinda overflowing" Farese said. "It's just building up, and it's not as efficient as when Mr. McClain was here."
With the Collierville bins full, the recycling club has been unable to operate. As a result, the recyclables that aren't taken home by teachers are thrown out with the trash.
Ms. Ann Garrett, who works in housekeeping and is known affectionately to the community as Ms. Ann, said she has had multiple conversations with students who want to recycle but don't have the ability.
"I know in the middle school they're like 'Ms. Ann, we don't have any recycling?' and I'm like 'We don't have recycling anymore. No one is picking it up,'" she said. "All we can do is throw it in the trash now. We don't have recycling bins."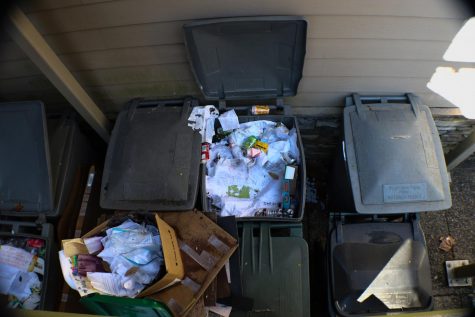 Because there is no working dumpster on the Collierville campus, the recycling club has had to seek alternate options.
"We have a bit of an obstacle because we don't have somebody to drive all the recycling to the Germantown campus anymore," Farese said. "We're trying to get that organized, and we're trying to get some of the cheerleaders to start driving it over because our practice is at the Germantown campus."
But they said the recycling club is not able to solve this problem on their own.
"We're just coming up with temporary solutions right now," White said.
For guidance, they've been looking to English teacher Zack Adcock, who became the new sponsor of the recycling club this year.
"Bess and McKinley and I have talked about things that might be temporarily sustainable like filling empty paper delivery boxes with recycling and delivering full boxes and having people take them to the Germantown campus to put them in the recycling bin there for now as a temporary [solution]."
He made it clear that the Collierville campus needs permanent solutions, though.
"The big push is to try to get a concrete pad poured so that we can either buy or rent a large recycling container that a recycling truck would be able to come through and [pick up]," Mr. Adcock said. "A recycling truck would come by someone's house separately from the trash truck, but they won't just come and pick up loose bins. You have to have a formal container for them to do that."
"
We're just coming up with temporary solutions right now"
— Sophomore Bess White
The Germantown campus has the dumpster necessary for pickup, but Collierville hasn't had one because it lacks a pad that is suitable for a dumpster to rest on.
But creating a pickup pad in the right place has become a challenge. While sources have named a variety of possible locations for the container and pad, Mr. Bladt explained that the material used is also an important factor.
"You can't put it on asphalt or dirt, it's got to be on concrete because of the way that pickup happens with a truck because you put so much pressure in trying to lift the container up to put into the truck," Mr. Bladt said. "If you put it on asphalt, particularly in the summer, it'll dig in holes into the asphalt or sink it down. So by putting it on a concrete pad, which is much harder, you can get that leverage to then pick it up and it won't damage your asphalt."
At the time of his interview on November 25, Mr. Bladt said he expected the pad to be laid "quite soon." But by the time of this printing, it was not yet done.
Even without the pad poured, a recycling dumpster could still be utilized, only less efficiently because it would be further from the main buildings. "The big things are getting the dumpster and then getting the location for the dumpster, hopefully close to the school," Mr. Ferguson said.
What's the hold up?
"We actually had contracted to have the dumpster here by October," Mr. Bladt said, "but the company that we contracted with has not delivered on time and has not been incredibly responsive in terms of when they're delivering."
CFO Mrs. Beth Porter confirms that the plan for permanent recycling is in motion, and the school has placed an order with Republic Services.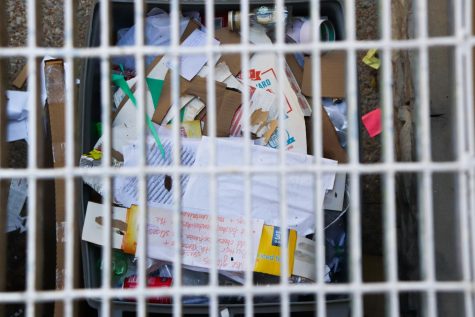 "We are still waiting for delivery of the dumpster," Mrs. Porter said. "I don't know the expected delivery date but do know that it should have been here by now."
Mr. Ferguson said he hasn't been able to get a firm date for the delivery either.
"Right now, we are still waiting for our dumpster to come. I've followed up multiple times to see where we are in that process, but here we are. It's getting ready to be December, and we don't have our dumpster yet," Mr. Ferguson said. "So recycling really has been on hold pretty much since the beginning of the year. Moving forward, I can see the plan being very student driven, and I'm excited about that possibility."
Mr. Bladt feels that this shake-up may be an opportunity to reflect on other recycling shortcomings and how we can improve more than just recycling in the academic building.
"One of the things I feel like we have not made progress on is recycling for football games and fall [sports]," Mr. Bladt said. "I think there's room for creative thinking about how to create dual-stream recycling for athletic events."
"
Recycling really has been on hold pretty much since the beginning of the year. Moving forward, I can see the plan being very student driven, and I'm excited about that possibility"
— Mr. Smith Ferguson
Both Mr. Bladt and the recycling club are enthusiastic about student involvement. Farese had recommendations for what to do in the meantime.
"Be mindful of what you're recycling." Farese said. "[You can] help out by taking home just a little bit of the recycling to your [home] recycling bin."
The future of recycling and sustainability at St. George's is still not clear, but Mr. McClain had some words of advice for St. George's students.
"Find places that are special to you and do whatever you can to protect them," he wrote. "While protecting the planet is a noble goal, we can all start with places we see, feel, touch, and smell every day and we can work to make them better. The 250 acres that make up the Collierville Campus are special to many of us, and for those that explore the trails, swim in the river, work in the gardens, and fish in the ponds, it is particularly special. Global issues can be overwhelming for some, but local issues are manageable. So start with the small things you can control and work to protect the places that are special to you."
Reviving our recycling program may be a good place to start.
Leave a Comment