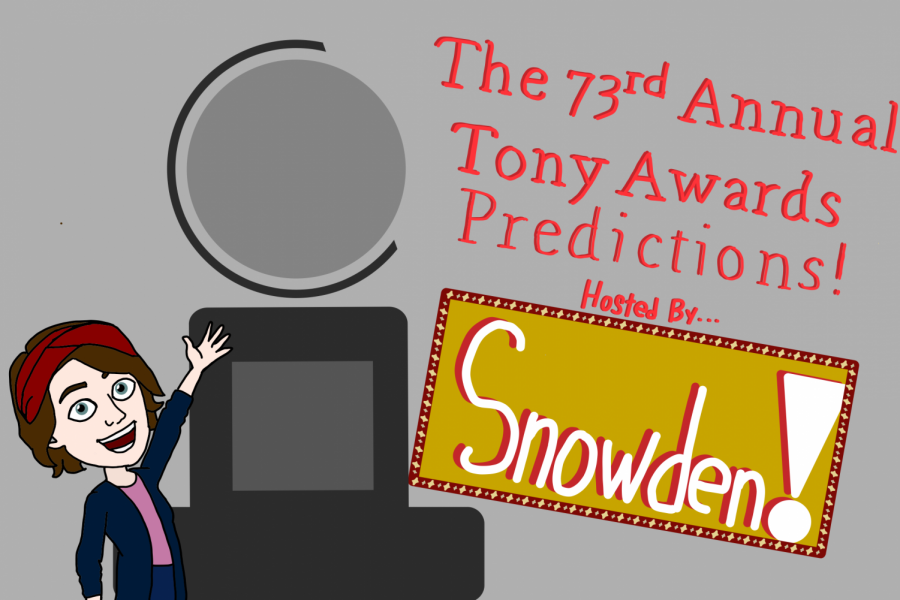 Photo: Spencer Cotham
2019 Tonys: Complete List of Predictions!
Snowden predicts all 26 categories of the 2019 Tony Awards
Just in case you get dragged to a Tonys party, check out this list, so you can seem educated and shock everyone into thinking you have an extensive knowledge of Broadway!
Click below on the hyperlinks (the red titles) to be redirected to my in-depth analysis of the category, if you'd like.
Also, comment below if you disagree! Who do you think will take home the Tony?
---
Who I want to win: "The Prom" and "Hadestown"
Who I think will win: "Hadestown"
Who actually won: "Hadestown"
Best Play
Possible sneak attack: "What the Constitution Means to Me"
Who I think will win: "The Ferryman"
Who actually won: "The Ferryman"
Who I want to win: "Kiss Me, Kate"
Who I think will win: "Oklahoma!"
Who actually won: "Oklahoma!"
Best Revival of a Play
Possible sneak attack: "The Waverly Gallery"
Who I think will win: "All My Sons"
Who actually won: "The Boys in the Band"
Best Book of a Musical
Who I want to win: "The Prom"
Who I think will win: "Tootsie"
Who actually won: "Tootsie"
Best Original Score
Who I want to win: "Hadestown"
Who I think will win: "Hadestown"
Who actually won: "Hadestown"
Best Direction of a Play
Who I want to win: Bartlett Sher, "To Kill a Mockingbird"
Who I think will win: Sam Mendes, "The Ferryman"
Who actually won: Sam Mendes, "The Ferryman"
Best Direction of a Musical
Who I want to win: Rachel Chavkin, "Hadestown"
Possible sneak attack: Daniel Fish, "Oklahoma!"
Who I think will win: Rachel Chavkin, "Hadestown"
Who actually won: Rachel Chavkin, "Hadestown"
Best Leading Actor in a Play
Possible sneak attack: Jeff Daniels, "To Kill a Mockingbird"
Who I think will win: Bryan Cranston, "Network"
Who actually won: Bryan Cranston, "Network"
Best Leading Actress in a Play
Possible sneak attack: Annette Bening, "All My Sons"
Who I think will win: Elaine May, "The Waverly Gallery"
Who actually won: Elaine May, "The Waverly Gallery"
Best Leading Actor in a Musical
Who I want to win: Brooks Ashmanskas, "The Prom" and Santino Fontana, "Tootsie"
Who I think will win: Santino Fontana, "Tootsie"
Who actually won: Santino Fontana, "Tootsie"
Who I want to win: (ALL OF THEM) but Stephanie J. Block, "The Cher Show"
Possible sneak attack: Eva Noblezada, "Hadestown"
Who I think will win: Stephanie J. Block, "The Cher Show"
Who actually won: Stephanie J. Block, "The Cher Show"
Best Featured Actor in a Play
Who I want to win: Gideon Glick, "To Kill a Mockingbird"
Possible sneak attack: Benjamin Walker, "All My Sons"
Who I think will win: Bertie Carvel, "Ink"
Who actually won: Bertie Carvel, "Ink"
Best Featured Actress in a Play
Who I want to win: Celia Keenan-Bolger, "To Kill a Mockingbird"
Who I think will win: Celia Keenan-Bolger, "To Kill a Mockingbird"
Who actually won: Celia Keenan-Bolger, "To Kill a Mockingbird"
Best Featured Actor in a Musical
Who I want to win: André De Shields, "Hadestown" and Patrick Page, "Hadestown"
Who I think will win: André De Shields, "Hadestown"
Who actually won: André De Shields, "Hadestown"
Who I want to win: Amber Gray, "Hadestown" and Ali Stroker, "Oklahoma!"
Who I think will win: Amber Gray, "Hadestown"
Who actually won: Ali Stroker, "Oklahoma!"
Best Scenic Design of a Play
Possible sneak attack: Jan Versweyveld, "Network" or Santo Loquasto, "Gary: A Sequel to Titus Andronicus"
Who I think will win: Rob Howell, "The Ferryman"
Who actually won: Rob Howell, "The Ferryman"
Best Scenic Design of a Musical
Who I want to win: David Korins, "Beetlejuice"
Possible sneak attack: Rachel Hauck, "Hadestown"
Who I think will win: David Korins, "Beetlejuice"
Who actually won: Rachel Hauck, "Hadestown"
Best Costume Design of a Play
Possible sneak attack: Toni-Leslie James, "Bernhardt/Hamlet"
Who I think will win: "Gary: A Sequel to Titus Andronicus"
Who actually won: Rob Howell, "The Ferryman"
Best Costume Design of a Musical
Who I want to win: Bob Mackie, "The Cher Show"
Possible sneak attack: William Ivey Long, "Beetlejuice" or Michael Krass, "Hadestown"
Who I think will win: Bob Mackie, "The Cher Show"
Who actually won: Bob Mackie, "The Cher Show"
Best Lighting Design of a Play
Who I want to win: Jennifer Tipton, "To Kill a Mockingbird"
Possible sneak attack: Neil Austin, "Ink"
Who I think will win: Jan Versweyveld and Tal Yarden, "Network"
Who actually won: Neil Austin, "Ink"
Best Lighting Design of a Musical
Who I want to win: Kenneth Posner and Peter Nigrini, "Beetlejuice" and Bradley King, "Hadestown"
Possible sneak attack: Peter Mumford, "King Kong"
Who I think will win: Bradley King, "Hadestown"
Who actually won: Bradley King, "Hadestown"
Best Sound Design in a Play
Who I want to win: Scott Lehrer, "To Kill a Mockingbird"
Possible sneak attack: Nick Powell, "The Ferryman"
Who I think will win: Eric Sleichim, "Network"
Who actually won: Fitz Patton, "Choir Boy"
Best Sound Design in a Musical
Who I want to win: Nevin Steinberg and Jessica Paz, "Hadestown" and Peter Hylenski, "Beetlejuice"
Possible sneak attack: Peter Hylenski, "King Kong"
Who I think will win: Nevin Steinberg and Jessica Paz, "Hadestown"
Who actually won: Nevin Steinberg and Jessica Paz, "Hadestown"
Best Choreography
Who I want to win: Warren Carlyle, "Kiss Me, Kate" and David Neumann, "Hadestown"
Possible sneak attack: Sergio Trujillo, "Ain't Too Proud: The Life and Times of the Temptations
Who I think will win: Warren Carlyle, "Kiss Me, Kate"
Who actually won: Sergio Trujillo, "Ain't Too Proud: The Life and Times of the Temptations"