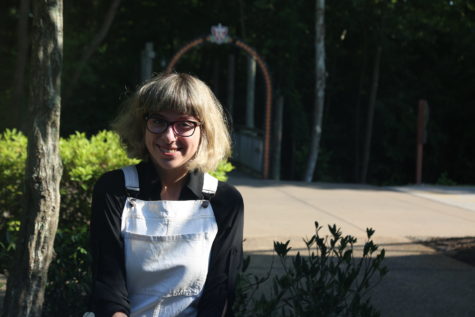 If senior Elle Vaughn is not drawing, she is sitting at her computer, telling herself she should be productive, before giving up and drawing the rest of the day. Elle can usually be spotted wearing her "I am retired, golf is my life" hat, one of her most prized possessions, around town. Elle is known for her sense of humor, always cracking jokes even in the most awkward situations.
"I tell jokes to cover up the fact that I am a shadow of a person," Elle said.
Elle is the kind of person to go to a party and notice the dog first, as she has a dog of her own, a weimaraner named Captain. She is an INFP personality type, meaning that she is laidback and sincere. Among her many quirks is her inability to drink water unless it is freezing cold. Elle is going to be the Lodge's first-ever illustrator this year, so look for her artwork scattered among the issues' pages.
Elle Vaughn, Illustrator
May 17, 2017

Coming out of the darkness

(Media)

May 16, 2017
May 16, 2017

Planes, trains and automobiles

(Story)

Mar 06, 2017

How to survive Heifer Ranch

(Story)

Feb 14, 2017
Feb 14, 2017

With great power comes great responsibility

(Media)

Feb 12, 2017

How does Humpty Dumpty relate to taxes?

(Media)

Feb 14, 2017

It's all about the money

(Media)

Jan 31, 2017

Making a difference one march at a time

(Media)

Jan 25, 2017

Five Questions with Kai Taylor

(Media)

Jan 22, 2017

Painting a difference

(Media)

Jan 11, 2017

Are you prepared to surmount the "swoon?"

(Story/Media)

Nov 21, 2016

Hamilton's special number

(Story)

Nov 14, 2016

Protecting families, preserving lives

(Media)

Nov 14, 2016
Nov 12, 2016
Nov 14, 2016

Guns are a responsibility, not a right

(Media)

Nov 10, 2016
Nov 16, 2016

Hate speech is free speech, too

(Media)

Oct 27, 2016

Just up the river

(Story/Media)

Oct 27, 2016

SG responds to the Commercial Appeal

(Media)

Oct 13, 2016

I am not a "starving artist"

(Story/Media)

Oct 01, 2016
Sep 26, 2016

Double Standards, Double the Controversy

()

Sep 20, 2016

5 Questions with Emily Stephens

(Story)

Sep 21, 2016
Sep 02, 2016

Pottery, painting, drawing, oh my!

(Story/Media)

May 12, 2016
Mar 31, 2016
Dec 17, 2015

The alums are coming!

(Media)

Jan 14, 2016

Can't we all just 'Meet in the Middle?'

(Media)

Dec 07, 2015

"The Hunger Games" trilogy goes out with a bang (literally)

(Media)