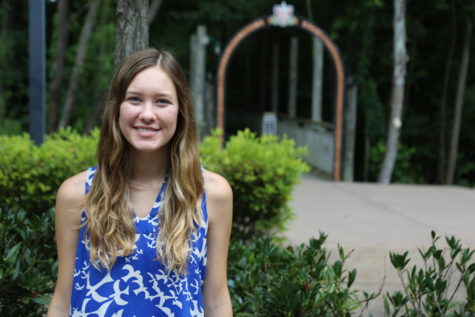 Annika Conlee, or as some people pronounce Aneeka or even Monica, is a junior who has been at St. George's since her freshmen year. Although Annika spent her summer summarizing depositions at a law firm, she now works at Mempops, which she said really enjoys because making popsicles is fun and easy.  When not at school or Mempops, Annika can be found reading, cooking, or watching a wide variety of shows including the 100, Gilmore Girls, Sherlock, and Gossip Girl. She also enjoys spending time with her family and her Jack Russell which she lovingly nicknamed Mo.
"I got him in the fourth grade when I had just started taking Latin and I was really stupid and decided to name him Amo, which means to love. So now we call him Mo."
Another unusual thing about Annika is her inability to drive and her habit of hitting curbs, which she sheepishly owns up to. Annika has a very outspoken, intelligent personality, which will be very useful in her first year of newspaper.
Annika Conlee, Reporter
May 17, 2017
Apr 30, 2017
Apr 17, 2017
Apr 05, 2017

Making memories and yearbooks

(Story)

Jan 28, 2017

New year, new classes

(Story/Photo)

Jan 22, 2017

Five reasons why you should be St. George's next beekeeper

(Story)

Dec 09, 2016

Capture the light

(Story)

Dec 02, 2016

Five Questions with Kirby Betchick

(Story)

Nov 10, 2016
Nov 03, 2016

Dyslexic Goldilocks

(Story/Photo)

Oct 11, 2016

Breaking the routine

(Story)

Sep 06, 2016

One big, happy family

(Story/Photo)