Which veggie burgers made the cut?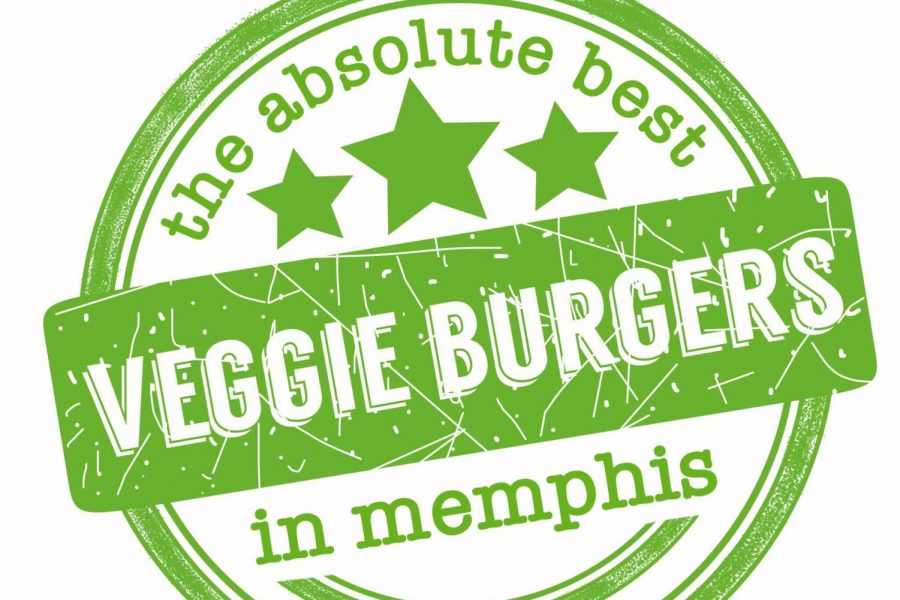 Belly Acres
Since 2014, Belly Acres in Overton Square has marketed itself as a unique and "citified farm fresh" dining experience, and it definitely lives up to this description. This establishment offers two vegetarian burgers, and we opted for the lentil and onion. This burger is served open faced with spicy seasoned fries on the side. The patty itself was delicious, and the melted cheese made it all the better. The lentil and avocado pairs well, and the sweet bun was the perfect topper. As for toppings, the onion and pickles added a nice kick. Overall, this was our favorite burger of the five we reviewed. We were very impressed, and we're sure you will be too. Try this burger with one of their smooth, homemade milkshakes.

Babalu Tacos & Tapas
The Babalu black bean burger was a hit. With its unique Latin-inspired menu, Babalu Tacos & Tapas has been a Memphis favorite since its Overton Square opening in late 2013. This burger is served with a toothpick through the top on a simple white plate. The patty has a nice crunch on the outside. Instead of crisp lettuce, Babalu opts for a soft avocado topping, which balances the patty's texture nicely. Our only gripes with this burger were that the patty was a bit too big for the bun, and the avocado was not spread out evenly across the patty. This left us with some avocado-laden middle bites and some sadder, drier outside ones. All in all, the Babalu burger is a strong contender, earning it spot number two.

Farm Burger
The Farm Burger veggie quinoa burger is fantastic. Ever since the opening of Crosstown Concourse in Midtown, Farm Burger has graced the Memphis area with both its deliciousness and ethical sourcing. This burger is served in a metal basket lined with a sheet of parchment paper. As strange as it may sound, the patty is a bit gooey on the inside, with a delightful crispness on the outside. Considering it is composed mostly of quinoa, the patty is far from chunky. It's smooth texture pairs well with the slice of gouda and sesame bun. Our one complaint would be that the patty is a bit too thick for its circumference, resulting in fatter, more challenging bites. To complete your meal, try a side of their signature garlic parmesan Farm Burger Fries.

Huey's
Huey's is a Memphis classic, and its comfortable atmosphere and distinct decor make both local and visiting customers alike feel at home. The Huey's black bean burger is quite the monster. It is served in a wooden basket with a piece of checkered parchment paper, giving it that "all American" vibe. The patty itself could be a whole meal, but don't let that dissuade you. The melted cheddar and mayonnaise complement the soft veggie patty well, and the tenderness balances nicely with the crunchiness of the lettuce, onions and pickles. Overall, this dish is pretty basic, fulfilling its claim of being a black bean burger. This is the choice that won't leave you feeling hungry, and an order of Huey's loaded cheese fries is sure to fill you up if the colossal burger isn't enough.

The Trolley Stop Market
The Trolley Stop Market is a downtown staple, with its diverse menu ranging from pizza to vegan wraps, as well as their house made shakes. The Trolley Stop's "build your own" black bean garden burger is served on a metal plate with a side of hand cut fries and actually tastes pretty similar to the Babalu burger. It is heavily black bean based and is served on a sweet bun with the choice of regular and premium toppings. The patty is soft with a hint of spice, and both the beans and other veggies inside are easily identifiable. Something we noticed about this patty was its chunkiness compared to the other contenders, which we didn't love. Ultimately, due to the texture and simplicity, this was our least favorite of the five, but still a solid choice. Try this sandwich with a slice of one of their homemade cakes for dessert.
Illustrations: Emily O'Connell