Space for change
Junior project for transforming locker bays to become reality.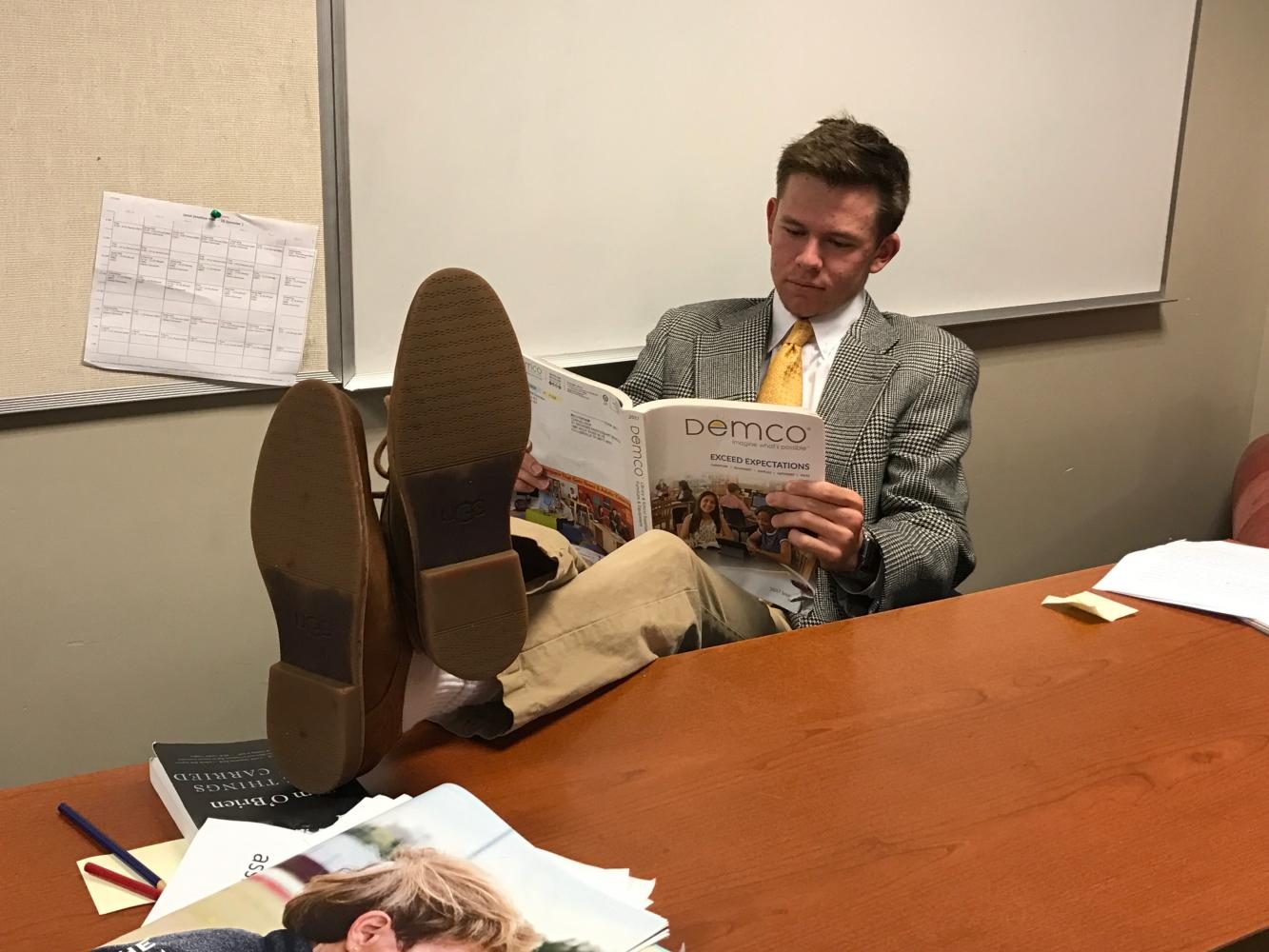 The St. George's Bunkhouse. A place of service, citizenship and now, the home of innovation. There, a group of juniors created a plan to revolutionize study spaces at St. George's as early as next year.
On the last night of the junior trip to the Bunkhouse, students were asked to come together in groups to brainstorm ideas for school improvements to be presented to the Head of School, Mr. J. Ross Peters.
One group in particular came together to focus on a major problem: the lack of dedicated study spaces. While St. George's has several spaces for students to gather, the group felt that most were either too noisy for silent study or were not always available for use.
All throughout the night, the group brainstormed solutions. What they came up with was a plan to remove the lockers from some of the locker bays in favor of study spaces open to all.
The new spaces would likely include a bar on the back wall with comfortable seating that was also useful for study.
The group picked junior Dalton Reese to present for the group, so when the rest of the group retired for the evening, Reese tirelessly worked on the presentation. The following morning, Reese presented the idea to his classmates and Mr. Peters.
Mr. Peters was intrigued.
"What I really liked about the way Dalton was thinking, [the way] that group was thinking, was about how we take advantage of potential that we already have and how we make it something better," Mr. Peters said. "Reimagining that space to me is exciting. It gives us something to play with."
Since his presentation at the Bunkhouse, Reese has spearheaded the project.
"It was a group thing, but I have really taken it on," Reese said.
Reese followed up with Mr. Peters, meeting with him as well as other members of school staff about the logistics of making the project a reality.
"[Mr. Peters] was really supportive of it," Reese said. "He was really good about hearing me out and hearing why I think we can make this work."
After several meetings, it was decided that one locker bay will be converted next year, with the ultimate goal being to convert all of them in the years following.
"I want to do the bay closest to the science labs," Reese said. "We need more study space upstairs than we do downstairs right now because we already have the two lounges, so I thought starting it off upstairs would be a good pilot for next year."
Funding for this project will be quite limited in the pilot run, but more funds will likely be directed towards it if it proves successful, according to Mr. Peters. Reese is working with Director of Advancement Mr. Jay Philpott to reach out to families who own businesses affiliated with the school that can help fund and support certain areas of the project.
"Part of this is like any pilot idea, if it works great, you double down on it," Mr. Peters said.
Of course, the community of those who use their lockers often may be impacted negatively.
"I am concerned because every day I use my locker, and I store all of my books and all of my binders in there," junior Harrison Mullaney said.
However, many students at St. George's do not use their lockers, and therefore will not have their daily lives obstructed by this change.
"I couldn't even tell you where my locker bay is," junior Griffin Gillam said.
Reese is not too concerned about losing some of the school's lockers, as he believes most people can do without this storage. As for those who cannot, the project does not call for the elimination of lockers altogether, and there will be locker space available for those who need it.
"I think less than half of the people in every grade use their lockers on a day-to-day basis to where they don't use it to a point where they couldn't give it up," Reese said.
Reese has high hopes for the project as it takes its first steps this summer.
"It's going to be a change, it's going to be different and I'm really looking forward to it," Reese said.