A 'rajun' cajun celebration
Porter-Leath's annual Rajun Cajun Crawfish Festival returns to Memphis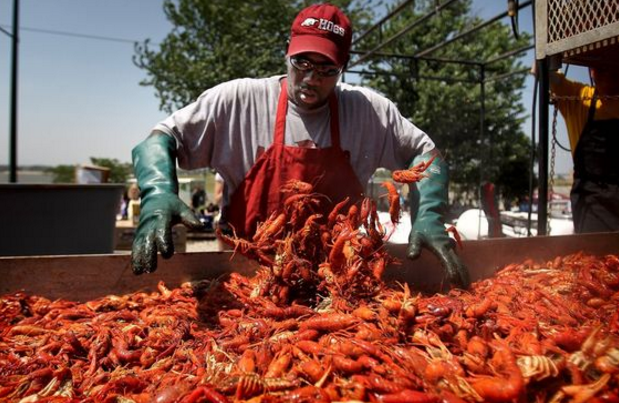 Crawfish lovers filled the streets of Downtown Memphis on Sunday afternoon to chow down on over 16,000 pounds of crawfish for the 25th annual Rajun Cajun Crawfish Festival.
The Rajun Cajun Festival is the largest crawfish festival in the Mid-South and benefits the Porter-Leath foundation, which helps over 12,000 local at-risk children in their families, according to the program's website.
This year, the festivities lasted from 11 a.m. to 7 p.m. at Wagner Place and Riverside Drive, between Union Avenue and Beale Street.
Despite the chilly weather, thousands of families gathered to listen to live music and to participate in contests, such as crawfish eating, bobbing and racing, alongside eating the fresh, spicy Louisiana crawfish. Festival favorites included the annual Gumbo Cook-Off, where 24 teams competed for a trophy and over $1,000 in cash prizes.
People who wanted an upgraded experience could purchase tickets for a Swamp VIP Tent and the Bayou Bash. According to Porter-Leath's website, attendees with VIP tent tickets "[could] enjoy an unlimited crawfish and Cajun cuisine buffet that includes sodas, water, and a nice spot to enjoy the music."
Junior Braylyn Little attended the festival with her family and enjoyed the variety of foods and activities that were suitable for both her and her siblings.
"The unique thing about the crawfish festival is that it is designed for all ages. We equally had a great time enjoying the different foods, like crawfish to BBQ to quesadillas and fried oysters and shrimp," Little said. "I enjoyed the music and food, but most importantly, the mixture of a kid friendly and adult atmosphere."
Senior Travis Kelly was also among the fellow crawfish eaters at the festival and enjoyed the lively ambiance along with the crawfish.
"I loved the atmosphere that was created through the music. I felt that the combination of crawfish and the upbeat music took my mind off the rainy weather," Kelly said. "It's an event that I would attend every year."
The Rajun Cajun Crawfish Festival was a great start to the spring festival season for a big appetite and even bigger cause.