Allie Buckmaster spreads warmth with blankets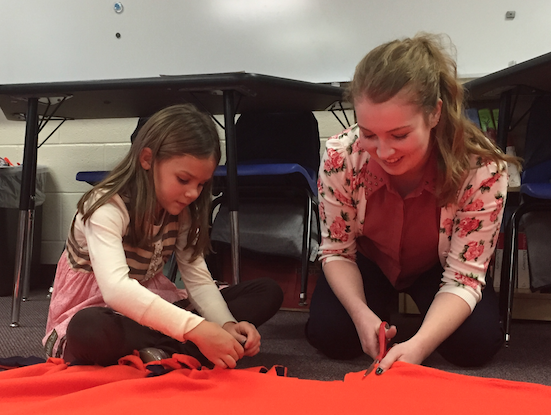 Hang on for a minute...we're trying to find some more stories you might like.
When she was in tenth grade, Allie Buckmaster, a senior, co-founded Fleece of Faith. She wanted to find a service project she could become passionate about and really involved in, so she and Anna Dunavent established Fleece of Faith as a club that makes blankets for shelters in the Mid-South.
"I really feel like it's my spiritual responsibility," Buckmaster said, who is considering a career that will involve service. She lives out her faith in her life, going wherever God leads her. She hopes to spread God's word and the light of Jesus through giving back to her community.
On Friday, December 5, Buckmaster and the Fleece of Faith club visited the lower school to collaborate on blanket-making and learn more about service. While working, Buckmaster talked with the other second and fourth graders in her group to ensure that they were comfortable with the project and knew what it was for. She also worked with the elementary teachers and other groups.
Buckmaster is also an ambitious entrepreneur who attended an entrepreneurship camp over the summer where she had to go through the steps of starting her own business. She took the knowledge she gained that summer to start her own food truck called PB Palooza and decided that 2-3% of her profits would go to local food banks.
"I like the idea of keeping it local because this is my hometown," Buckmaster said. She wants to keep her business in Memphis because she wants to give back to the the city that she grew up in.