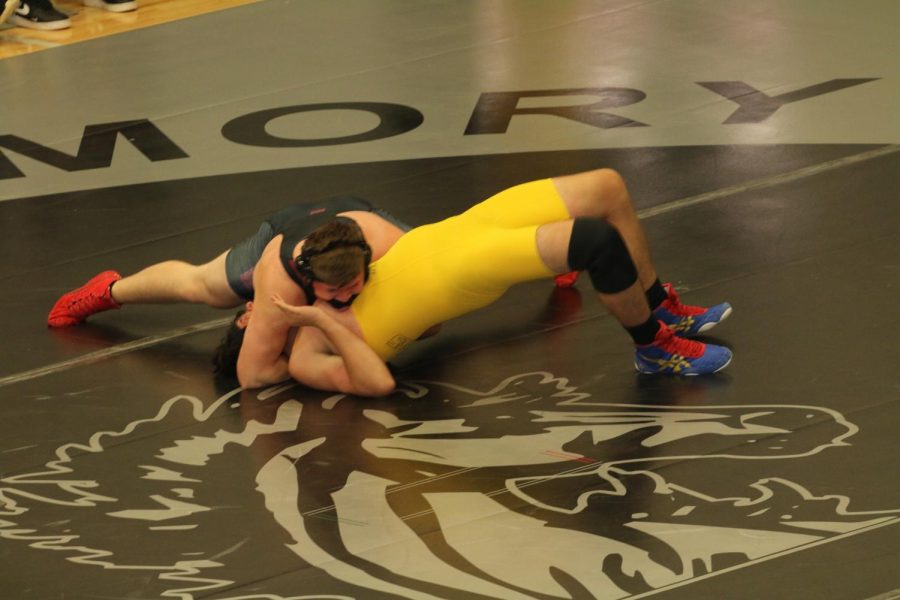 Shaun Burgess
The wrestling program at St. George's may be small but it is mighty, with only one high school athlete, Josh Taube, who is led by head coach Eddie Martin.
 Wrestling is nearly impossible to practice alone, so not having anyone other than Josh on the team can make practicing complicated. "We have two other coaches just for Josh. We do integrate in joint practices with Briarrest and St. Benedict," coach Martin said.  The lack of wrestlers on the team can make practicing difficult, this only drives Josh to do better.
"I feel like if I can place or win state it would give it a better image and more kids may want to join, and make the program bigger," Taube said, "So it pushes me farther and makes me want to become more." With this mindset, Josh placed highly at state last year. 
"Last year I placed sixth, and I'm looking to do anything better than that, hoping for first but it's going to be tough. It's going to be a grind this year." Taube said. Placing at state as a sophomore shows promise for his final two years on the team. 
While the team is composed of only one wrestler right now, coach Martin is hopeful for the future of wrestling at St. George's. Martin has focused on raising the youth wrestling team in the last three years, in hopes of expanding the high school team in the future. 
"There's about twelve wrestlers on the youth team so once they get to high school it will be a bigger program," coach Martin said. Among these 12 wrestlers, there are four in eighth grade that are promising and could play varsity this year. The number of wrestlers on the team is not ideal, but the future of St. George's wrestling excites both coach Martin and Taube. 
"I think they could make it a long way and take this program to the next level. I'd like to see it one day when I come back." Taube said.