St. George's Basketball Starts on a Fast Break
Boy's Basketball team triumphs over Macon Road Baptist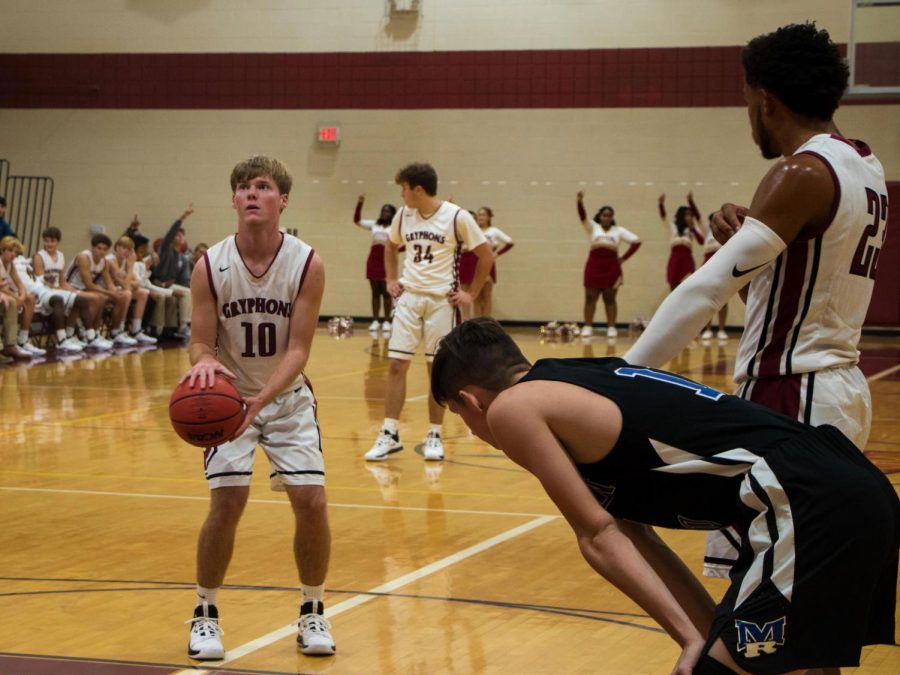 It was a cold November night at St. George's, but inside the Slatery Gym, tensions were heated.  It was the boys basketball team's first game, and their chance to make a statement and start their season off with a win.
The team had been practicing for weeks in preparation for their upcoming season, and especially for their first game against Macon Road Baptist on Nov. 22. 
"We've had what I feel has been three really good weeks of practice." Coach Jeff Ruffin said in a pre-game interview. "In doing so, we've really placed an emphasis on fundamentals, tailoring our personnel to the offenses and defenses we'll run, and evaluating each player to see where each one best fits into the program, and how each one can maximize his potential." 
After losing several tall and skilled senior players that graduated this past year, the team has lost a lot of height, a factor that has been deemed almost necessary for a strong basketball team.
Junior Wes Smith explains how the team expects to work around this obstacle.  
"We're definitely not the tallest, but we're in good shape. We're quick on the court, we can move the ball well, everyone has played with each other since middle school so we all understand how each other play, and no one is selfish with the ball, so I think we'll be able to play very well."
Senior Isaac Smith (no relation to Wes Smith) also emphasized moving forward.
 "Those guys were really key for us. They were really big and played strong roles, but we can't dwell on losing them. We just have to be like "Next man up". Someone else has to come fill that role that was held by the ones who left. I think we're going to be fine in losing them, we just have to play a different kind of basketball game. We won't be able to play how we used to play in the past couple years.  I think we're going to have to play a faster, more up- tempo type game, and there's nothing wrong with that, so I think it's going to be okay."
And the Gryphons did just that.  They held the Macon Road Baptist team to only 2 points in the first quarter, while also scoring 12.  The Gryphons' defense shut down Macon Road's offense, keeping them at only 29 points after all four quarters while the offense ran circles around their defense, earning a total of 59 points.  Senior Isaac Smith and Freshman Josh Holloway are the new offensive dynamic duo, with Holloway scoring 15 points and Isaac another 16 points, 9 rebounds, and 5 assists.
When asked about the toughest teams the Gryphons would face this season, Coach Ruffin looks forward to them as a challenge.
"We play Lausanne twice, St Benedict, Harding twice, Northpoint twice, the Nighthawks, and our opponent in the Southwind Classic," He said. "These teams are all generally very, very talented."  
This season might look like an uphill battle for the Gryphons but they're ready to face whatever challenge comes their way.