Elton John is STILL on Fire
Review of Elton John's final concert in Memphis on Oct 30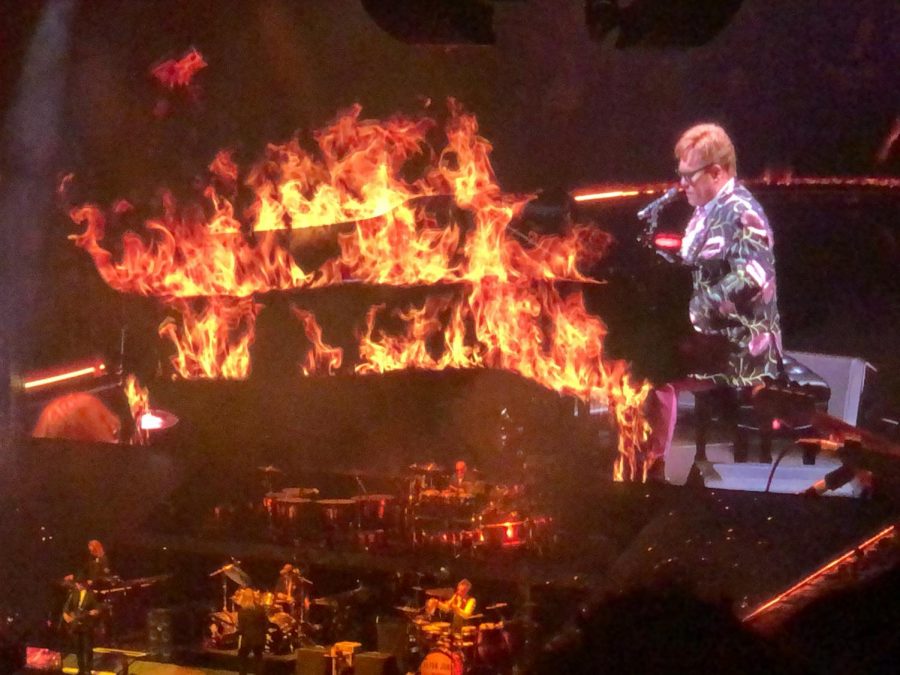 "This is our last performance in Memphis, so we're going to make it special, okay?" Sir Elton John said during his performance at the FedExForum on Oct. 30.
Elton John made his first appearance in Memphis back in 1971 on his second US tour and has played in Memphis ten times since.
The Rocket Man did indeed make his final performance in Memphis special, with a three-hour-long set. Throughout this set, his voice still sounded as powerful as ever, even after struggles with addiction and decades of touring. The 72-year-old still rocks the piano, and it blows me away how remarkable he still is.
The setlist was packed with songs written entirely before the 21st century, with the most recent song in the set being 1994's hit "Believe." The show was fantastic, and he delivered most of his popular songs for the audience. It is hard to have a very successful career spanning over five decades but still manage to find the time for nearly every hit in the catalog. 
He opened with his iconic smash-hit "Bennie and the Jets," which got the audience on their feet and grooving, and finished with the title track of the same album, "Goodbye, Yellow Brick Road." He prefaced his songs by telling stories and telling of the work he's done with his AIDS Foundation. He started "Border Song" by mentioning Aretha Franklin's cover of the song, and started "Indian Sunset" by saying it had "lyrics that were five pages long." 
He introduced his long-time six-piece-band individually throughout the show while also turning his 1971 hit "Levon" into an instrumental jam session that highlighted each of the band members. He finished the main set before the encore with his energetic, bright hits "I'm Still Standing," "Crocodile Rock" and "Saturday Night's Alright (For Fighting)." 
Overall, this show was definitely worth every penny. The concert was both a celebration and a farewell to the Rocket Man himself, Elton John. The concert was very memorable, and I'm thrilled that I got to go see it on its final run in Memphis. Although this concert was a goodbye, it was definitely a good end to his shows in Memphis.