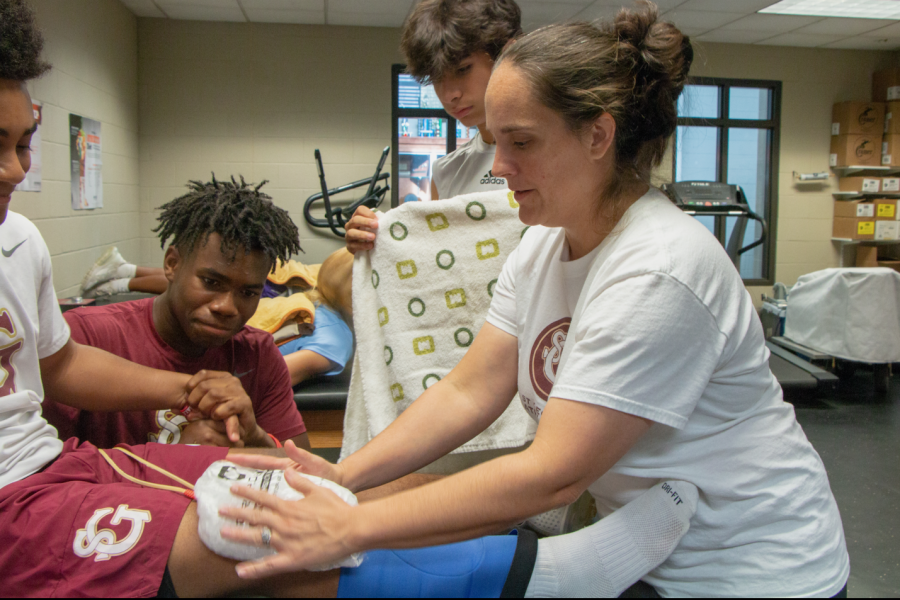 Callie Hollis
Two years ago, Carsten Haddad took the field on a Thursday night in autumn for Mid South Futbol Club. Haddad had been playing for the club since it was created, when he was eight years old. It had been a fairly normal Thursday for Haddad, a freshman at the time. He had gone through the typical St. George's academic day, then suited up for an evening match. The talented young striker, having been on the St. George's varsity team the previous year as an eighth-grader, was poised to have a breakout season for both club and school.
Unbeknownst to Haddad as he jogged out onto the pitch, something else would break that night. It would be his tibia, broken clean in half.
"I was running onto the ball, and the other team's goalkeeper was running at it too, so it was a 50-50 that I thought I could win," Haddad said. "I was trying to run over the ball and he slid at the ball, and he slid with his studs up and he slid high, so his studs went into my shin."
It was immediately apparent that something was very wrong after the tackle, both to onlookers and to Haddad himself.
"I was trying to walk it off, but I couldn't walk," Haddad said. "So my teammate came over, and he told me to lay on the ground. One of our team moms is a doctor. She knew something happened, so she ran onto the field and told me not to move my leg. And my coach ran onto the field and told me that I [was] done."
Haddad said that his father told him that the tackle "sounded like a gunshot," likely a result of the opposing goalkeeper's tackle breaking his carbon fiber shin guard into pieces.
Injuries like Haddad's are not uncommon among high school athletes, and can take a toll on students who are trying to juggle recovery with academics. These injuries can create mental hurdles that science can't heal. For some, community with teammates, coaches and trainers help mend those wounds.
Once Haddad got to the hospital, he was prescribed Oxycontin and Percocet for his pain.
"I would be lying in bed in a lot of pain begging my mom to give me more medicine," Haddad said. "She couldn't because that kind of medicine is addictive, and she was afraid that it could mess me up."
Her concerns about the medication were not unwarranted. Opiate pharmaceuticals, such as Oxycontin and Percocet have been the center of a national crisis. According to the U.S. Department of Human Health and Services, over 11.4 million Americans have abused prescription opioids at some point. The Center for Disease Control published that between 1999-2017, over 200,000 Americans died due to overdoses related to prescription opiates.
And while Haddad says that he never experienced any sort of addiction to the drugs that were prescribed to him, he did feel as though his academic performance slumped while he was on painkillers.
"I was on the medicine for two weeks, and mentally, it takes a toll on you," Haddad said. "I had an awful memory during that time. I remember nothing of what happened that weekend. When I would be trying to study I would have an awful time trying to memorize things."
Injuries not only take a toll on an individual but also can have an effect on a team as a whole, especially when many occur in quick succession.
Boo McWaters, now a senior on the St. George's soccer team, suffered a grade three ankle sprain in a game against Briarcrest Christian School during her sophomore year.
"I was on defense and I was going towards the ball. It was coming in, and I collided with the girl and the ball at the same time," McWaters said. "My ankle like rolled over the ball, and I landed on the ground, and I could hear it crackle and pop. It was really gross."
McWaters' injury was the first in a long string of injuries for the Gryphons that year, which McWaters said had an effect on the team's morale.
"I think at first, all of the people getting injured affected the mojo on the team, and people were kind of like, discouraged," McWaters said. "All this stuff kept happening, so I think it led to more and more struggle with mojo, but we ended up winning state so, you know, it paid off."
Mr. Andre Lott, varsity football coach, understands the struggle of having to keep a team's morale high after an injury.
"We always tell the guys one play at a time. Play every play like it's your last play," Mr. Lott said. "You really have to focus on that. I know nerves can get you going when something like that happens, but the guys do a good job at it."
And while the soccer team was able to overcome their issues, going on to win the state championship that year, McWaters still struggled with losing her role on the team.
"I felt useless on the team, I know people say like 'Everybody has a purpose, whether you're on the bench or on the field,'" McWaters said. "Knowing that I literally couldn't practice with the team, and I wasn't putting in the work with everybody, [it] made me feel really disconnected from everybody, and that was hard."
Haddad, who was a captain of his team when his injury occurred, expressed having a similar feeling during the time of injury.
"Being the leader of the team and seeing them go through struggles without you, losing games that we should be winning, or playing poorly," Haddad said. "It was really hard for me to watch because I'm in a full leg cast, and I can't do anything to make it any better."
Coach Lott, no stranger to serious injury, expressed that a key part of a speedy recovery is an optimistic outlook.
"Through anything, you have to stay positive. I remember when I had my first surgery, I tore my pectoral, one of my old teammates Matt Bowen, he was just 'Stay positive, it's just an injury, you can get through it,'" Mr. Lott said. "It's nothing to get down on yourself about, especially at this age, it's really tough, so having the support of your teammates and your coaches is very important."
Both McWaters and Haddad echoed exactly that sentiment, as both told of having their respective communities rally around them. "[Ms. Juliet Wagner, assistant coach of the soccer team] really helped me, and was a good friend in all this. She's the coach but she was also a support," McWaters said. "She helped me through it, both long term and short term and hung out with me while I was on the side. She helped me try and find purpose."
Haddad said that the kindness his teachers showed to him made his return to school smoother.
"I had to spend a lot of extra time working with my teachers, but they were all great, They were super understanding of what happened so they made it easy for me to get back in the swing of things," Haddad said. "All of my teachers rallied behind me, and they put my recovery and how I [was] feeling first and me getting their work done second."
Another common thread between Haddad's and McWaters' stories is Mrs. Tina Cole, the head athletic trainer, affectionately known by just her first name to many St. Geroge's athletes.
"Tina is amazing. I love her," McWaters said. "She always contacted me. I saw her almost every day during x-block after school, and she was always available for me to do my [physical therapy] and to help me to do [electronic stimulation therapy] and give me advice on what I should do. Tina is very good at what she does."
While Haddad did his physical therapy elsewhere, he said that Mrs. Cole also played a big role in making him feel secure when he got back on to the field.
"When I came back and I was getting ready for school soccer, she gave me a lot of strengthening for my ankle, because of all the extra cartilage that built up in there made it really stiff," Haddad said. "She worked on a lot of movement things for my ankle to make sure that all that cartilage breaks up and that my ankle is strong enough to work without that cartilage in there."
Mrs. Cole said that she entered the athletic training profession as a way to stay around sports in her adult life after being an athlete herself in high school.
"I enjoyed being around the health care profession, and I was wondering what ways I could still be around sports and also help people," Mrs. Cole said. "That's why I chose to be an athletic trainer."
Mrs. Cole said that welcoming her son into the world has given her a new perspective on the work she does with young people.
"Being a mom now, it makes it a little bit easier to understand [parents'] concerns, and also having an athletic background, explaining to them that things happen but we can also work around it and make sure they're comfortable with their children playing sports," Mrs. Cole said. "I want to make sure that if this was my child, that I would treat them the same way."
Mr. Lott also acknowledged how helpful it is to have trainers and doctors on staff to help deal with injured players, especially in the immediate aftermath of the injury.
"We're lucky to have trainers and doctors with the team," Coach Lott said. "Tina takes care of all of that as well as Dr. [Thomas] Gill [St. George's football team doctor]."
Overall, Haddad says that the struggles he endured during his recovery helped to set him back on the right track.
"What seemed as a curse then, I look at it now as a blessing in a way because of what I learned. I learned so much about myself. I became stronger. Not only literally did my leg become stronger but mentally I can take so much more, and I focus so much more on myself," Haddad said. "I paid attention to not only what I can do physically on the soccer field but also who I am in my own head. It helped me discover so much about myself that looking back on it, it was an amazing opportunity for myself."