Chapel Sermon Causes Controversy
St. George's students were pulled out of class at noon yesterday for a chapel follow-up after a controversial reflection was given by Reverend Thomas Momberg on Tuesday, Sept. 17 during all-school chapel. 
Rev. Momberg works as the Vicar at Holy Trinity Episcopal Church, housed on St. George's Memphis campus and is the president of the board at Memphis Lynching Sites Project, an organization that, according to its vision statement, aims to "create a new legacy of racial equality and justice by shining the light of truth on lynchings in Shelby County, Tennessee."
Rev. Momberg's reflection Tuesday morning was based on Psalms verse 56:3, "When I am afraid, I trust in you." 
In his talk, Rev. Momberg spoke anecdotally about a time that his fears were cleared by having faith in love, telling about a time that he crashed his family car. Rev. Momberg stated that his faith in his parents' love was able to wash away his fears and anxieties. 
The Reverend also spoke on a time where the subsiding of his fears had nothing to do with his faith. He told an anecdote about a time in 1966 when he felt as though he needed to lock his car door because of three young black men, who were, according to Rev. Momberg having "their kind of fun," which made him feel anxious. 
The Reverend attempted to circle back to this point later in the sermon, speaking about his later experiences with a program run by Bridge Builders in 2016 called Incarcerated Youth Speaking Out for Change. 
Rev. Momberg pointed to a moment when he heard one young man in the program speak about attempting the impossible and considered its implications for himself. 
"'Maybe it is time for the impossible' I thought. 'Maybe it's time to take a look at my fear when I saw those three young men on the street corner, 50 years ago. Maybe I need to trust what I'm hearing from these three young men'," Rev. Momberg said.
He then went into a portion of his sermon talking about Einstein and his question over whether the world is inherently good, which left many in the audience feeling like Rev. Momberg did not circle back enough to make a clear point on his personal growth or to critique his own earlier prejudices.
Additionally, some students were confused by Rev. Momberg's choice to emphasize the race of the men on that Memphis street corner in 1966, seeing the verbiage of the speech as offensive. 
Oct. 3, the Lodge received the following letter of apology from the Rev. Thomas Momberg in response to concerns about his chapel talk of September 17. The letter follows in full: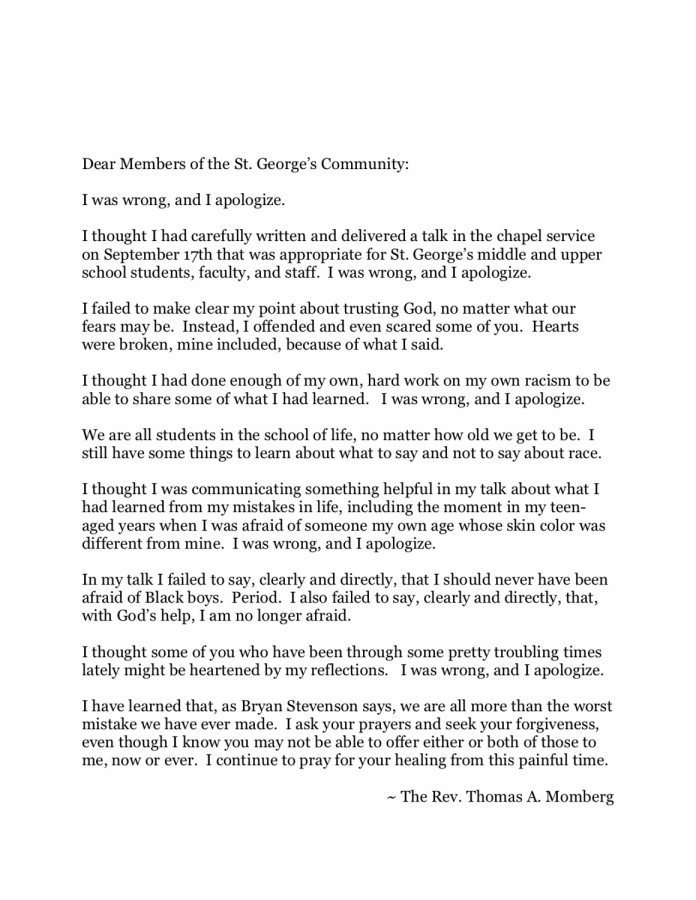 The remainder of this story was written before the Lodge received the letter.
Sophomore Thomas Miller thought that he understood what the Reverend was trying to say, but that the speaker didn't quite get his point across. 
"I think that later in his talk, I got the idea that his view on racism had changed, and that he was accepting now," Miller said. "But I don't think that he stated that clearly enough. I think he should have been more careful with the selection of the words that he used."
Rev. Momberg's sermon, following in the wake of recent controversy that stemmed from articles written about race at St. George's in the Commercial Appeal, has become a hotly discussed topic on campus. 
Junior Kennedi Hopkins said she felt concern for her emotional safety as a person of color in spaces within the school. 
"The African-American population [at St. George's] has already felt discriminated [against] and very uncomfortable," Hopkins said. "Now, this chapel talk has happened, I don't know how to feel coming to school."
The administration called an impromptu all-school meeting at noon in an effort to reach out to those students who were disturbed by the chapel talk. 
Director of Spiritual Life and Head Chaplain Ms. Jessica Abell gave a tearful apology, while Head of School Mr. Ross Peters also gave a statement from the school's administration. 
"I am heartbroken by this morning," Ms. Abell said during the follow-up. "I am heartbroken for all of us, and I wanted just to take an opportunity to say that to you." 
Mr. Peters echoed Ms. Abell's sorrowful sentiment, while also reinforcing that the morning's reflection is not representative of the administration. 
"It was wrong to stereotype young black men, it was insensitive, it was not helpful to our community. It is not what we believe," Mr. Peters said. "At St. George's, differences are sources of strength. They build upon our shared experiences and deepen our community. And they enhance our growth as helpful, caring, contributing human beings."
Neither Ms. Abell nor Mr. Peters were available for comment after the chapel follow-up.
Some students are starting to see racially charged incidents like the sermon appear as a pattern, rather than an exception. Junior Zion Boggan said that he has felt numb to the recent racially charged events at St. George's. 
"The sad thing is that when they give a speech like this, that they even have to have a chapel recap to apologize and cry over it," Boggan said. "At this point it's sad, but I'm not even affected by it at this point because of how much that has happened at St. George's. It doesn't surprise me anymore, but it should."
Junior Alicia Hardrick was thankful for this afternoon's apology, but she felt as though it was not enough.
"This whole apology thing, it's a step towards the right direction, like doing something about it right after it," Hardrick said. "But the fact that [Rev. Momberg] even came to our school and said that to us really hurts still. And it didn't make my school environment feel any safer."
Upper School Dean of Students Ms. Kayln Underwood said that students' ability to recognize the rhetoric and speak out against it gave her hope for the future. 
"While I'm really saddened by how people are feeling right now, and I can see why people are feeling the way they feel right now and it's painful, I'm also really hopeful, because when chapel concluded today you could look at people's faces and see that they were like 'What just happened?'" Ms. Underwood said. "There weren't people going 'Right,' and I find that very encouraging that people regardless of what demographic they are that [they recognized] that that was not okay. "
Mr. Michael Masters, biology teacher and 11th-grade faculty team leader, said that before there's a movement towards a solution, there needs to be intentional thought about healing. 
"I think we have to think intentionally about how people cope and provide different opportunities for that. I think at times because it's messy water, we avoid conversation. I don't think that's probably the right way to do things," Mr. Masters said. "We are scared of what the outcomes may be, and we don't want to unintentionally hurt someone in those discussions…, so sometimes we steer clear of it, but I think we've got to find a way to share our pain as well as our stories and our healings. I think from that conversation would potentially arise a way to go."
Miller said that there needs to be work done, rather than just noting the rhetoric as racist in order to improve the school's environment. 
"I think we should try to fix some of the issues that are prevalent, because it's not like if we just say they're bad they're just going to go away," Miller said. "If we work at it, to fix some of the issues, then I think the school could be a better place."
This story was updated on Oct. 3 upon receiving an apology letter from Rev. Momberg. This story will be updated as more details and voices surface.
Editor of Photography Callie Hollis and Reporter Madeline Sisk contributed to the reporting of this story.
View Comments (2)