Acting and Activism
Local theater group is working to build community for the queer youth
"When I moved to Memphis and began working at Playhouse, I approached the Playhouse On the Square staff with the idea of adding a Queer Youth Theater to our education department, and everyone was on board," Ms. Carley Crawford said. "Thus, Q&A was born."
Ms. Crawford founded the group in 2015 with Ms. Claire Rutkauskas in 2015. Ms. Rutkauskas grew up in midtown Memphis as a part of the LGBTQ community.
For many LGBTQ youth, finding an accepting community and space is essential, but rather than waiting on society to change, Q&A, a Memphis-based queer youth theater troupe, has created one for themselves. The troupe admits members from ages 14 to 21 and is sponsored by Playhouse On the Square, as well as the National Pride Youth Theater Alliance.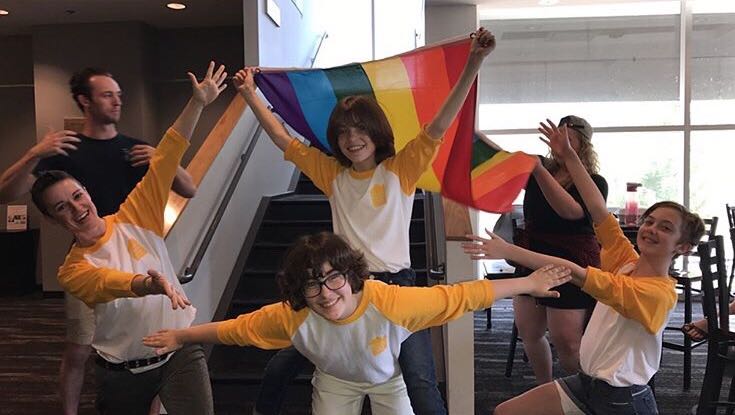 "It's been great to watch [the members] growth and the fact that now they're in college, they're very active in their Gay-Straight Alliance clubs and their theater communities," Ms. Rutkauskas said. "Theater helps confidence a lot, so there's that aspect, and then, of course, they're socializing with people their own age."
One adolescent feeling the effects of the Q&A program right now is Lucy Nassif, a freshman at St. Mary's, who openly identifies as bisexual.
"I came out, and then a few months later my mom mentioned something about Q&A." Nassif said. "For me that was a big deal because I knew that she was okay with my bisexuality."
Q&A not only serves as a safe haven but also a creative outlet. Members create original plays each year based on their experiences as LGBTQ youth using writing workshops and improvisation sessions to create the scripts.
"The fact that this has a goal, an objective: the teamwork, and also how to talk to the not-queer community about queer issues and to have patience for questions and things like that," Ms. Rutkauskas said. "Those are some of the big growths that I've seen."
This year, Q&A is touring, taking the four original scripts that they have written to churches, businesses and schools to perform. Afterward they hold a 20-30 minute talk with the audience to create an even better understanding of the issues plaguing the community today.
While the plays that Q&A produce are often politically charged, Ms. Rutkauskas says that the statements they make are carefully planned.
"
'I hear you and you're completely valid, but if you go see a show and someone yelled at you about how awful and closed-minded you were, would you leave that show feeling any more open-minded?'"
— Ms. Rutkauskas
"Because we represent Playhouse on the Square, we have to be very particular in how we approach political topics," Ms. Rutkauskas said. "We definitely aren't afraid to talk about politics, but we just don't want to send the wrong, volatile message. [Politics] do come out in our writing, but it comes out in a very thought-out, planned way."
Ms. Rutkauskas thinks that creating something is a productive way to get across a message of tolerance, as well as inform the public about the struggles that many LGBTQ people face. The group is mindful in creating their scripts so as to not isolate their audience.
"As a teenager, a lot of times it's very easy to feel misunderstood or alone, judged, and so when they're writing their scripts, a lot of times there's a lot of anger and being mad at people," Ms. Rutkauskas said. "One of the things that I had to talk to them about is that, 'I hear you and you're completely valid, but if you go see a show and someone yelled at you about how awful and closed-minded you were, would you leave that show feeling any more open-minded?'"
This line of thinking is essential to the creation of a welcoming community within the program.
"Q&A provided a space where I could be myself," Nassif said. "It really allowed me to see people from different parts of the city because our city is so segregated."
Nassif said that the group has helped her become equipped to be an ally to others within the community, as well as how to communicate the community's concerns to those outside of the community.
This level of aspiration for the state of our social climate as a nation is the product of an upbringing taking place in a massive time of change.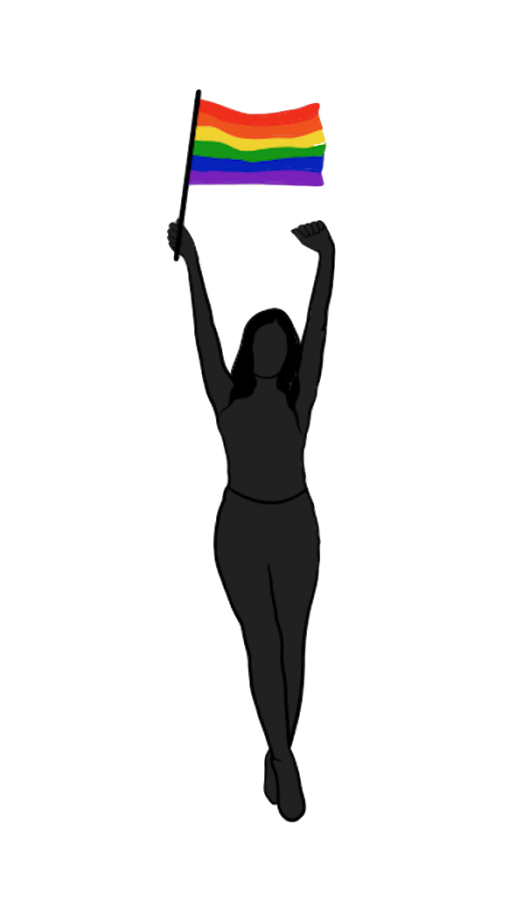 Every high school and middle school student today was born during the era of Don't Ask, Don't Tell, which created an opportunity for homosexuality in the military, so long as it was disclosed. At the time, ending the ban on homosexuality in the military was a major step forward for LGBTQ rights.
"We went from zero in 1969 to hundreds of pieces of legislation at the local, county and state levels that are really the changes are including the change in the military," Ms. Tracy Baim said.
Ms. Baim is the founder of the Windy City Media Group, a Chicago-based LGBTQ media outlet founded in 1985. She has written three books about LGBTQ issues and has long been involved in activism.
The progress made in the field of equality for LGBTQ rights has been easily visible for Baim, along with the shifting priorities of the LGBTQ community over the years.
"In the 2000s, marriage was not the front line issue that the gay movement was pushing for," Ms. Baim said. "But it made activists out of everyday people and put people on the cover of publications across the country in ways that didn't happen in other parts of the movement."
Ms. Baim has also seen the recent spike in activism and political involvement across the nations' many demographics.
"The protests these days attract tens of thousands of people," Ms. Baim said. "We are in a moment in time for activism, whether it's March For Our Lives or the Women's March, these are marches that have a size and magnitude that I've never seen in my lifetime."
The effects of the recent surge in activism throughout the younger generations has made a real impact on the progress made in the rights of LGBTQ people on both a national and local scale.
"In 2012 to 2017 there was some really great growth," Ms. Rutkauskas said. "Marriage was legalized, and so much of the terminology and the understanding around gender identity and things like that [were created]."
The environment that young people have grown up in is wildly different from the environment that many of the adult figures in the community lived in.
"I come from an artistic family in midtown Memphis," Ms. Rutkauskas said. "I was always around very open and accepting people, so I consider myself lucky in that sense. Overall, I remember when Ellen DeGeneres' first TV show came out, that was right around the age that I started thinking about coming out, so to see that across the country people weren't really accepting it was crazy. Even in my relationships, I've never been able to have PDA just because I always have it in the back of my head that someone's going to judge me."
Members of the LGBTQ community have had different experiences, depending upon the era in which they grew up.
"
Remember that the younger generation is going to change the world, and remember that we have the power to make a difference."
— Nassif
"I came out before a lot of people in my grade came out, and even my personality was very masculine around time that I came out." Nassif said. "People would ask me questions, 'When I did come out?' and asked me if I was bi-curious. I got questions like 'How do I come out to my family?' People ask me questions all the time. Honestly, it makes me feel good that I can help someone and understand their situation, but safety is most important. I always tell people that. But it feels nice to get to help people and show them it is okay to be you, and that even if people don't accept it you can still be yourself."
LGBTQ youth have been shaped by recent events both negative and positive, such as the Pulse nightclub shooting in 2016 and the legalization of marriage in 2015. Through the highs and the lows, the community has created space for themselves through programs like Q&A.
"I do think that some of the youth are worried, but they also have so much fire behind them and passion behind them that it helps me," Ms. Rutkauskas said. "It's easy for me to feel really defeated, but being around them they are like, 'No, we're going to fight it. We are going to make it right.' It's really exciting energy to be around."
Nassif emphasized the empathic attitude of our current time.
"I know it seems like there's a lot of bad stuff happening right now," Nassif said. "Remember that in the end, we are the people who will grow. Remember that the younger generation is going to change the world, and remember that we have the power to make a difference."
Leave a Comment